If you are like me, you love the idea of having a great idea, dashing into your studio or sewing room, and zipping out a sample or prototype to see if it will work. And, if you are like me, you will find that to be a bit of a pipe dream. This whole spontaneity thing is a great theory, but it never quite works that way in my world.
With the 6-week Totally Textured class starting next week, I knew I would have a lot more fun if I had a bunch of fabric sorted, pressed, and ready for paint. I like to paint along with the group, and I often have to do an experiment to answer questions. But I hate, hate, hate chasing down a piece of fabric on short notice. Clearly, a bit of prep work was in order.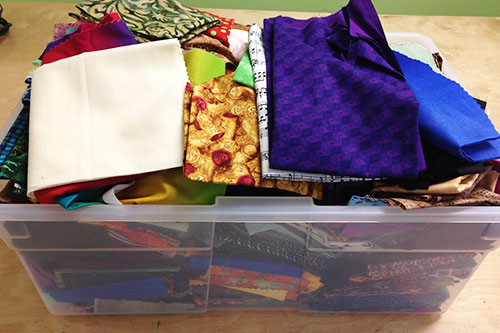 This is my bin of miscellaneous commercial fabric, otherwise known as the Bin of Oblivion. If it's less than half a yard, it's probably in this bin — often never to see the light of day again.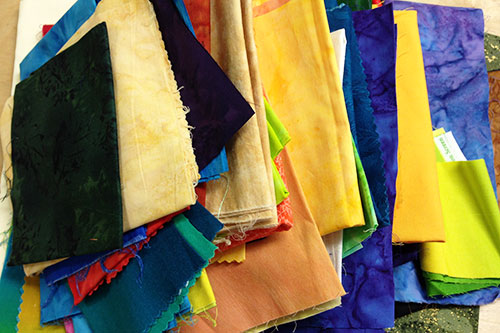 In one pile, I put everything that was solid or "sort of" solid. Single-color batiks, color-gradations and plain old solids wound up in this pile. I was pleasantly surprised at how much fabric wound up in Pile #1.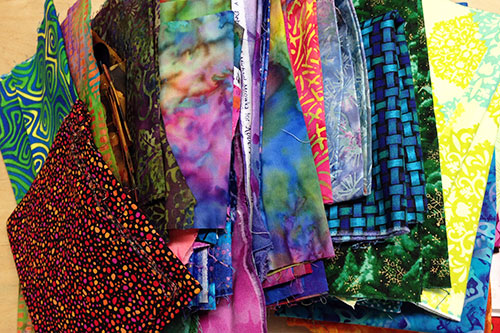 All of the obvious prints went into the second pile. Adding Paintstik rubbings to these fabrics would be a waste of time and paint, although I did check the back side of the prints to see if they were a solid color. If so, they went in Pile #1.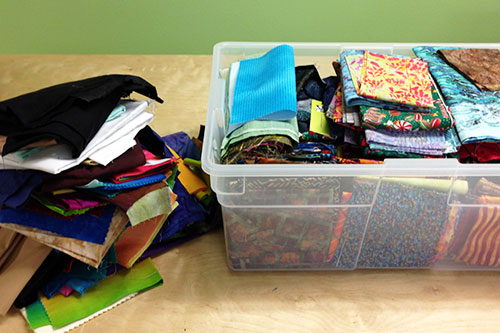 It was really tempting to just stuff the prints back into the bin, but I took the time to tidy up the stacks of fabric. It only took a few extra minutes and it looked much better.
My pile of "solid" fabric looked a bit overwhelming, but I heated up the iron, put on some good tunes and proceeded to press, sort and make a new set of piles. (I sorted by size, not by color.)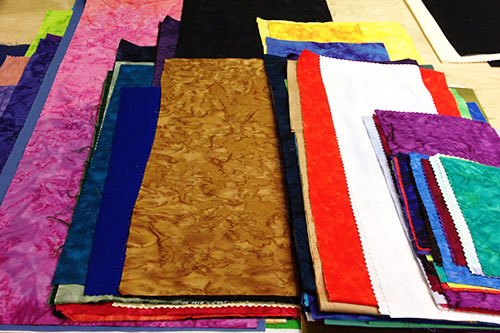 Once I finished, I had bunches of fabric ready for painting at a moment's notice. Woohoo!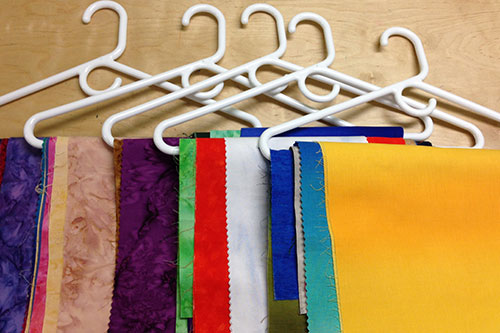 I was excited to have all this fabric pressed and ready to go — but not sure where to store it. I clearly could not leave it laying all over my table, and folding it up was not an option. I found a few extra heavy-duty hangers in one of my closets and draped the pressed fabric over the hangers.
It Is Okay To Use That Piece Of Fabric
As I was sorting through the bin, I noticed a good bit of commentary running through my brain. Sort of like a tennis match between two fabric fairies, one sitting on each shoulder. (And my brain was stuck in the middle!)
The Use-Every-Scrap fairy celebrated every time one of the "solid" fabrics came to the top of the pile. Yeah! Another piece of fabric that can be rescued from the Bin of Oblivion and turned into something beautiful! She was pretty darned excited.
The Save-Every-Precious-Piece fairy on the other shoulder was not having a good time. She did okay with the small stuff, but when I started pressing those large pieces, she was pitching a fit. OMG! You might need that for a project some day! I can't believe you are going to waste perfectly good fabric "experimenting" with paint!
I doubt that I will use all of the fabric I rescued from the bin, but I can guarantee one thing. When I'm ready to play — or do a quick experiment — I won't be staring into my closet or digging though the Bin of Oblivion trying to find a suitable bit of fabric. My two and a half hours of preparation will yield many hours of spontaneous fun with my paint.
What Is Your Strategy For Spontaneous Fun?
How do you "prepare" for spontaneous fun? Is there something you do that makes it easier to make those 20- or 30-minute blocks of time more fun and productive? Leave a comment below or add a comment over on our Facebook page. I would love to hear your stories!