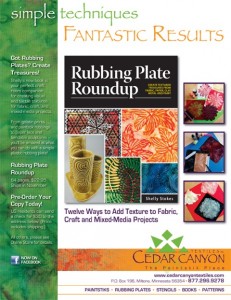 My mailbox was full of wonderful stuff this morning. In addition to my new rubbing plates, my copy of the October issue of Quilting Arts magazine arrived. Right inside the front cover is the ad announcing my new Rubbing Plate Roundup book.
Rubbing Plate Roundup is a collection of twelve fantastic techniques for adding visual and tactile textures your fabric, craft and mixed media projects. It is simply the definitive guide to making textured treasures from simple plastic rubbing plates. If you love texture, this book should be at the top of your got-to-have list!
Now I'm more than a little excited about the new book. I've had the most wonderful time playing with our rubbing plates and an almost endless supply of art supplies. It seems like every time I looked around this summer I had yet one more new-to-me tool or coloring agent that I just had to have for an experiment. (Not that it broke my heart — you know how much I love new toys!)
Anyway, back to our ad. In the ad, we promised that you could pre-order a copy of the book. I'm going to sweeten the pot and make this a really special offer.
When you pre-order your copy of Rubbing Plate Roundup today, you will automatically become a Cedar Canyon VIP. As a VIP, you get three special benefits:
You deserve to be first, and we'll make that happen. You will be the very first group of people to get your hands on this great new book. You probably already have a collection of our wonderful rubbing plates, and now you'll be first in line for the definitive guide to using the plates to add visual and tactile textures to your fabric, craft and mixed-media projects. If you've got rubbing plates, you need this book! (And if you don't, well why not?!?)
Second, I'm going to personally sit down and sign each and every pre-ordered copy of this book. This is not something I offer lightly. I'm a very busy person and I rarely take time to sign books unless I am teaching or attending special events. If I signed every book that went out the door here, you might never hear from me. But, I'm going to make an exception for those of you who think enough of my work to pre-order this wonderful book. You are a special group of people and I want you to know I appreciate you. For you, I'll sign the books.
Finally, I'm going to do something I've never done before. I'm going to have my shipping staff add not one, but two free rubbing plates. I can't tell you exactly which plates will be in the package, but I can assure you that one of them will be from the new Doodles Rubbing Plate set that will be formally launched next week.
How to Pre-Order Your Book
Click on this link to reserve your spot at the front of the line. The link will take you directly to a special order form that does nothing but process pre-orders for Rubbing Plate Magic. (You can also find a link to the order form on our Home Page.)
If you have a US shipping address, you will be charged an even $30. That's $22.95 for a signed copy of Rubbing Plate Roundup, 2 free rubbing plates and just $7.05 for VIP Priority shipping.
For our customers outside the US, the cost will be just $37 USD. (That's $22.95 for a signed copy of the book, 2 free rubbing plates and VIP Priority shipping of just $14.05) We know that international postage rates are outrageously expensive, but you're in luck! We'll pack your book and rubbing plates in a flat-rate envelope instead of a box and that will allow us to send it for a fraction of the usual postage charge. And you've got to love that!
In case you missed it, here is that link again…
Yes, I want to Pre-Order my copy of Rubbing Plate Roundup Today!