I had a lovely phone call from Shirley Suettinger in Wisconsin a week or so ago. At the end of our conversation, she said "I have a suggestion." I love to hear that – because there's always something interesting coming – and this was no exception. Shirley told me she uses a potato peeler to remove the film from her paintstiks rather than a paring knife.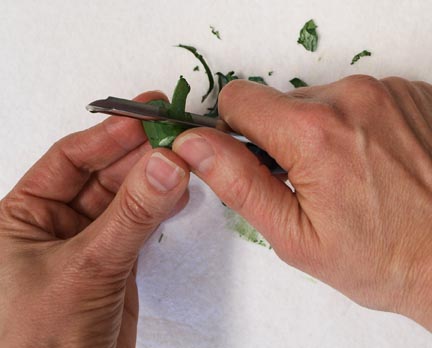 Talk about your V-8 moment! This ranked right up there with Nancy K telling me to paint with the side of the stick! Now you may wonder why I would be so excited about a vegetable peeler, but I think it's a wonderful idea. (And, I think I can safely take one in my carry-on luggage without the airport security folks confiscating it from my bag.)
The best part about using the peeler is that it removes the film and just a bit of the soft paint underneath. Not too little, not too much. Just right for getting under that film!
Oh — by the way — there is no reason to remove the film from the entire paintstik (all the way around the stick) to make rubbings. If you peel the film from about 1/3 to 1/2 of the paintstik, you can hold onto the portion of the paintstik that still has the film and your fingers won't get nearly as dirty.
Happy painting!