by Shelly Stokes, Founder and Creative Mentor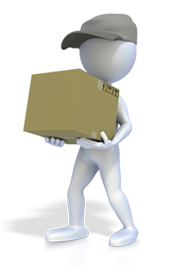 I am happy to announce that postal shipping is back! Now you have a choice of delivery methods when you place an order through our Online Store.
Unfortunately, US Shipments will be sent by Standard Post, with expected delivery in 2-8 days, depending on your location.
International Customers can choose between First Class and Priority Mail. (First Class rates are only available for packages that weigh less than 4 pounds.)
How We Set Our Shipping Rates
While most of know the cost of shipping a package through the mail. We look at the thing to be shipped, decide what kind of envelope or box it will fit in, and choose the shipping method that is least expensive. Unfortunately, most shopping cart software is not nearly as smart or flexible as a human. With that in mind, here are a few things that determine our shipping charges — which will only match our actual shipping costs once in a blue moon.
Rates are based on weight, including product and packaging.
Our Shopping Cart software does not understand things like product dimensions, and it cannot tell whether something should fit in an envelope or a certain size box.
Our software does not know that you live next door instead of 1500 miles away.
Finally, our shipping rates are set by our fulfillment service, not by the postal service. And, rates are set at about 65% of the high-end of the rate table. That means that some of you will pay a little more and some a little less than our actual cost. I wish it could be perfect, but this is the best we can do.
For most of you, our postal shipping rates will offer a better rate, but you will always have the option to choose UPS if that delivery service works better for you. Enjoy the savings on your order today!