I'm thrilled to introduce a new series of short lessons involving stencils and non-traditional materials. This series has been put together by Susan Stein of White Bear Lake, Minnesota. Susan is a talented quilter, author, instructor, and recently retired quilt shop owner. Susan's most recent books are Fabric Art Workshop and Fabric Art Projects, both from Creative Publishing, International.
Susan traveled to Houston with me in October to help out at Fall Quilt Market. She brought a number of fascinating samples made from our new stencils, most made with techniques and materials that are not a part of main-stream quilting. I'm so glad she was willing to put this series of lessons together for us. So, without further ado, here's the first installment in the Playing with Stencils series!
Liquid Frisket through a Stencil ~ Playing with Stencils 1
by Susan Stein
This technique is for working with paper, not fabric.
Supplies: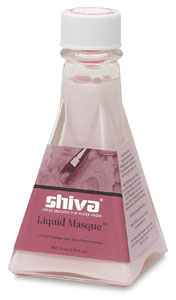 ~ Cedar Canyon Textiles stencils
~ Shiva® Liquid Masque™, commonly called liquid frisket (actually latex)
~ Disposable sponge for frisket
~ Sponges and sponge brushes for paint
~ Spray adhesive like 404™ Spray and Fix
~ Heavy paper, colored, marbled, or printed (fabric does not work)
~ Watercolor paper, white
~ White eraser
~ Opaque paint like Lumiere™ by Jacquard
~ Transparent paint like Dye-na-Flow™ by Jacquard
Step 1 – Prepare the stencil
Spray the back of the stencil with adhesive.  Let it dry so the adhesive won't transfer to the paper.  Stick the stencil onto the paper.
Step 2 – Apply frisket to paper
With a sponge or sponge brush, fill the stencil openings with frisket.  I use a sponge and very light application, which gives a less defined image-use the mask more heavily if you want a perfectly shaped image.  Pull the stencil off immediately so the frisket doesn't lift off the paper with the stencil, and then let the paper dry.  Rub the excess frisket off the stencil with your finger or an eraser.
Here's another photo showing frisket applied to white water-color paper.
Step 3 – Paint the paper
Paint over the paper, using as many colors as you like.  You can paint right over the image, since the frisket will act as a resist.   Let the paint dry.
Step 4 – Remove frisket, add additional colors if desired
With a soft eraser, remove the frisket.  If you are using white watercolor paper and transparent paint, dilute a contrasting color and wash it over the white image and into the background.  Let the paint dry.
Note: papers vary greatly and the only way to predict your results is to do a test sample.
Finished Samples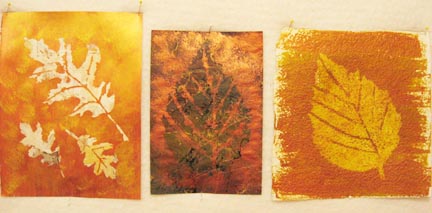 Left: Frisket applied to colored paper using Oak Leaves stencil. Paper painted with copper paint, then sponged with a second paint. Frisket removed to reveal paper.
Center: Frisket applied to dark, marbled paper using Birch Leaves stencil. Paper sponged with copper paint. Frisket removed to reveal paper.
Right: Frisket applied to white textured paper using Birch Leaves stencil. Paper painted with copper paint. Frisket removed to reveal white paper. Paper painted with translucent paint.
Learn more about stencils from Cedar Canyon Textiles here.
Shiva® Liquid Masque is available at art supply stores and online sites.
404 Spray and Fix adhesive is available at quilt shops and sewing stores. Or check the list of retailers at JT Trading for a source.