First up today, I want to share an article from my friend and coach, Morna McEver Golletz. Morna is the founder of the International Association of Professional Quilters. I often tease her that she writes her articles specifically for me. It's a wonderful reminder (that I need frequently) that Perfect is the enemy of Done — and that it's more than OK to be imperfect — and happy about it!
Give Up Being Perfect
Morna McEver Golletz
Give up Perfectionism? No way, you say! Everything must be just so, the best, perfect. After all, it's probably served you well in the past, and perfect has its place. Besides, what will happen if it's not perfect?
This is something some of my clients wrestle with. And, I'm going to come clean and include myself there. Actually I never really thought I was squarely in that boat, or at least that it wasn't that obvious to others. This past Sunday after church, I had a conversation with our priest, and she said to me, "You need to give up having to be perfect." Whoa! Back to working on imperfect!
Truth be told, I had already realized this about myself and thought I'd been making progress to move from this. And, I have. I know where my perfectionism comes from and when it crops up. I know what needs to be perfect and what doesn't, though I do struggle with it on occasion. Perfectionism has its good points. It can also become a dead end. Here are some things it can lead to:
Procrastination and/or indecision. If you need everything to be perfect, you wait for the best solution or the right time. You don't want to miss it, so you wait and wait.
Missing the big picture because you are focusing on the details. It's like missing the forest for all the trees.
Loss of creativity. I think this one is tied into procrastination, because you want perfect results so you put it off. You don't have "failed creative efforts." And, of course if you did, they could lead to growth. (Ironically, growth is one of the reasons people want to be perfect.)
Perfectionism in the extreme can lead to depression and alienation of relationships.
So how do you work on becoming a recovering perfectionist? Here are some tips to try:
Be aware of why you are a perfectionist and recognize when it rears its head. Know whether it's good perfectionism or obsessive perfectionism. I think that's often half the battle.
Ask yourself, "What will happen if it's not perfect?" or even, "What will happen if I don't have to do it perfectly?"
Aim for good enough. I have two signs in my office. One says "Good enough is good enough." The other says, "Progress, not perfection." It's not license to slack off, it's license to finish.
Look at the big picture, i.e., look at the forest not the trees. Prioritize to figure out if all the trees, aka tasks, are necessary to fill in the big picture. If not, get rid of that tree.
Learn how to delegate. Once you do this and begin to have faith in other people's abilities, it becomes easier to delegate. You don't have to do it all to be perfect. And, it may not be perfect to your way of thinking, but it will be done.
Just once, set a goal to do something poorly. What a concept! This is really freeing. Imagine being perfectly imperfect!
Celebrate. My clients know I like to have a weekly Success and Strategies Summit. If you've managed to let go of some of your perfectionist tendencies, celebrate it as a success.
I love quotes and searched for the perfect (!) quote on perfectionism. In the end, I decided to share the words from one of my favorite authors, Anne Lamott, from her book Bird by Bird:
Perfectionism is a mean, frozen form of idealism,
while messes are the artist's true friend.
Morna McEver Golletz is the founder and CEO of the International Association of Professional Quilters, an association to help quilters, fiber artists and other creative arts entrepreneurs build business success. Her weekly e-zine offers tips, techniques and inspiration to help you craft business success from your creative arts passion. You can sign up for a F.R.E.E. subscription at www.professionalquilter.com.
Thankfully "Imperfect"
Here's my big, creative WIN for the week. I created a Thank You folder to hold all the lovely messages that come into my mailbox on a regular basis. I read them and enjoy them, but haven't made it a point to save them in a special place. Until now!
Here's the front of my folder. I chose a bright green batik because I adore lime green. I wanted to do this project quickly without getting bogged down, so I poked through a couple of drawers to see what I could rustle up that would fun to work with — and fast! I found a bunch of brightly colored felt and I knew I was on the right track.
I cut the letters (freehand) from the bright colored felt, arranged them on the dark felt background, and ran over them several times with my felting machine. With the letters firmly attached to the background, I was on to constructing the front and back panels.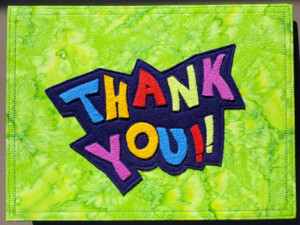 I covered 2 pieces of that wonderful, stiff Peltex (Timtex) with fabric for the front and back panels and then spent some time pondering how to make them into an expandable folder.
When I can't figure something out right away, I usually wander off and do something else for a while. On Sunday, I took a break to cook dinner for my husband. (I'm known to skip that when I get into a project…)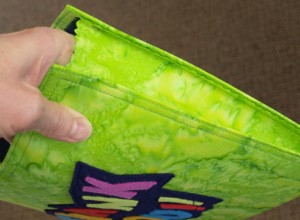 I finally decided that fabric gussets were the way to go. I didn't want to fight with turning corners, so I cut 3 panels from fabric and stitched them onto the front and back panels. It's far from perfect — but it's done! (And DONE imperfectly is far better than perfectly NOT DONE!)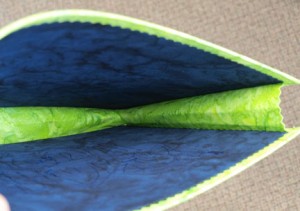 The inside actually looks pretty nice. There's a gap at the corners, but I really don't care. It will hold my treasured Thank You notes just fine and I'm more than a little pleased with myself for getting something DONE in less than 4 hours. Woohoo! Now, all I need are a bunch of wonderful letters to fill it up… (Hint, hint, wink, wink!)
Would you like to make your own Gratitude folder?
Here's your chance to give me some feedback. If you would like to make your own folder, you need to add a comment below that says "Yes, I want to make my own Gratitude Folder." (Or you can send me a note in the e-mail from our Contact Page.) If I hear from a bunch of you, I'll put a quick tutorial together for next week's newsletter. If not, I'll move on to the next topic. It's up to you!