In the middle of December, I holed up in my studio for a weekend and started playing with the suede I got from Bella Nonna Design Studio. Jayme and Megan have a new line of leather and suede, and Megan came to see me at the Houston Quilt Market to see if our Shiva Paintstiks would work with the leather.
I found that the finished leathers were not terribly interesting — it's difficult for the paint to adhere to the smooth finish. But the suede — oh my goodness — it's nothing short of fabulous! You really have to give this a try. It's beyond fun and the possibilities for the finished suede are endless.
Paintstiks on Leather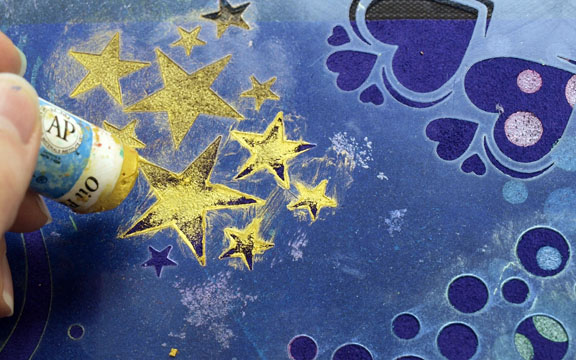 The first thing I learned is that suede soaks up a LOT of paintstik color, so you need to be generous with the paint. Applying color to suede it the ONLY time I actually apply paint with the paintstik directly on a stencil and then smooth is out with a brush. Yes, you need that much paint!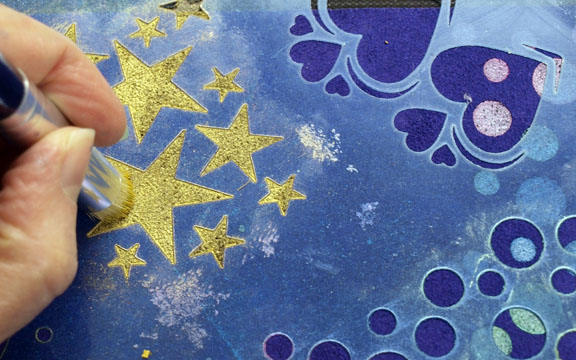 Scrub the paint into the suede with our short-bristle brushes. Suede has a lot of nap, so I had "scrub" the paint in a circular motion, both clockwise AND counterclockwise. It's a little bit of work, but the results are just gorgeous!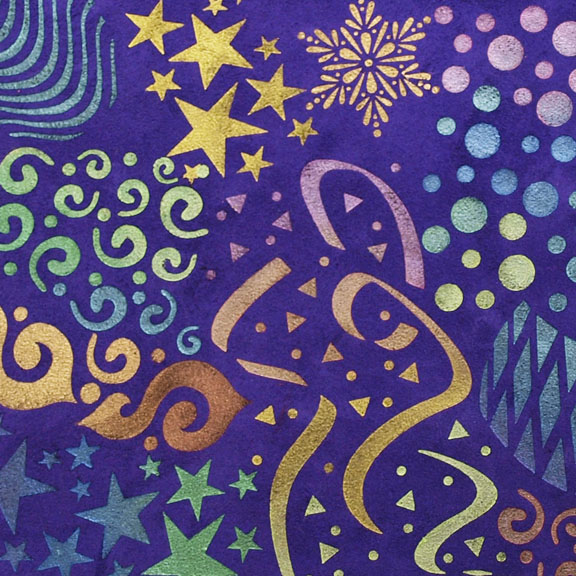 I used shapes from our Celebrate, Ornaments and Snowflakes stencils to cover this purple suede. Now that it's dry, it's ready to become a series of bookmarks, a set of coasters, a checkbook cover, a cell phone cover, or whatever else tickles my fancy!
I recorded my first experiments with suede in this blog entry. At that time, I cut the suede into one-inch squares because I was playing with an idea I saw in Quilting Arts Magazine. My first thought was to make these into a little quilt. Here are my one-inch patches.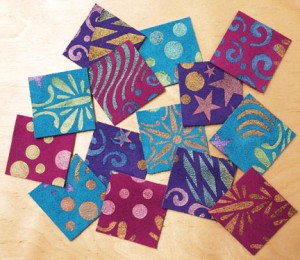 And here are some of my patches arranged on a background.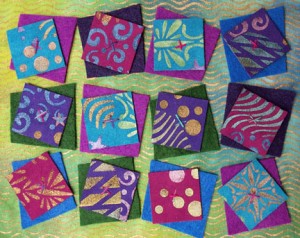 After looking at it for a while, I decided I wasn't crazy about this in a small quilt format. (That's why we let projects "age" — or at least that's my excuse…) I changed my mind and used some of the pieces to embellish a pillow.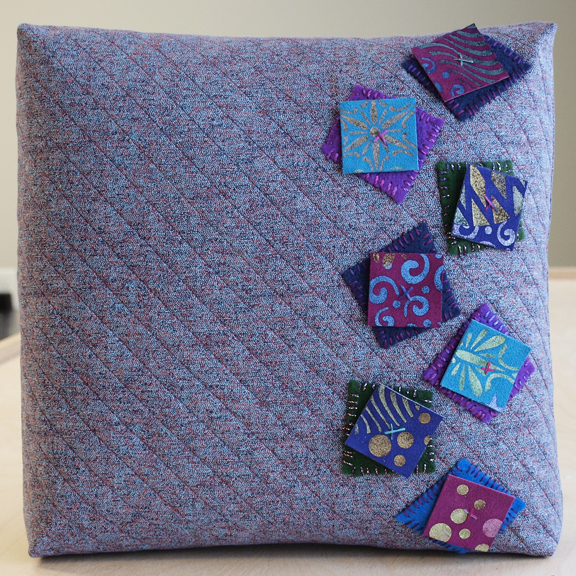 To make the embellishments on my pillow, I used embroidery floss to attach the suede pieces to felt, then stitched the felt pieces to the pillow top with decorative threads and a blanket stitch. I found it too difficult to do a lot of stitching through the suede by hand, but it's very easy to stitch by machine. I didn't do anything fancy for the pillow front, just a light layer of Hobb's Thermore batting and diagonal channel stitching. Simple!
I did one more experiment with the suede to get things ready for a Quilting Arts TV segment. I'll post those on another day.