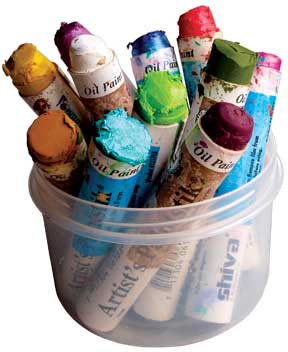 Lots of people ask me how to store paintstiks, and I have to admit that just about anything works. The only thing that's really important is that you store them in a way that will keep your other supplies safe from the "open" paintstiks – which can make a real mess until the film re-forms over the outside of the paintstiks.
You can stand them up in a container, you can literally toss them in a zip bag and put them in a drawer, or you can hunt high and low for the perfect paintstik case. That said, a lot of you want something a bit more "organized." So here's a simple, inexpensive idea from the Back-to-School section that you can often find in a local store.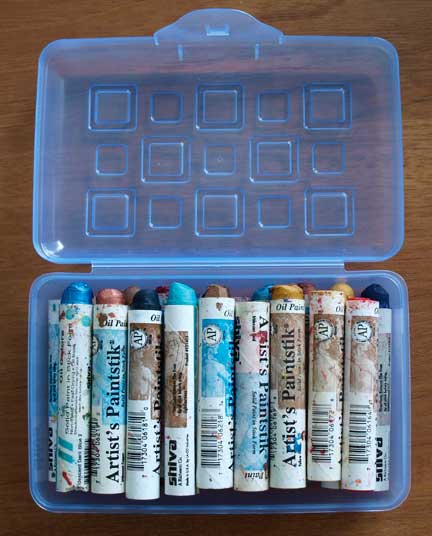 I stopped into my local big-box store to pick up a few things and found these colorful pencil boxes made by Sterlite. They looked like they might work, so I picked one up. It turns out they are just the right size to hold paintstiks, (and you can't beat the price). You can put half the paintstiks in the lid while you're working and then close up the box when you're finished. Pretty neat!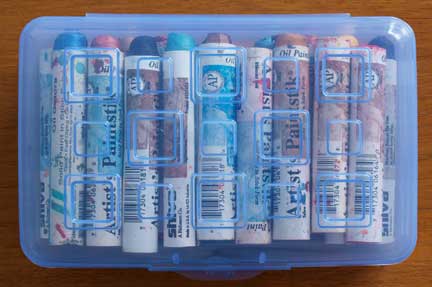 This small pencil box holds 19 or 20 paintstiks comfortably. I'll bet you can put another layer (for a total of 30) in the larger version. They come in several colors, and you can see through the plastic, so it's easy to see what's inside. I think I'll have to pick up a few more the next time I'm in town.