by Judy Gula, Artistic Artifacts

Paintstiks are the perfect product to use for creating rubbings from Vintage Indonesian Tjaps. [Tjap is pronounced "chop."] Tjaps, both new and the antiques I'm featuring here, are batik tools that are handcrafted from narrow strips of copper and copper wire that are used to stamp wax patterns into fabric. Tjaps are works of art on their own; while they can still be used to create batik fabric, many people simply display them to admire.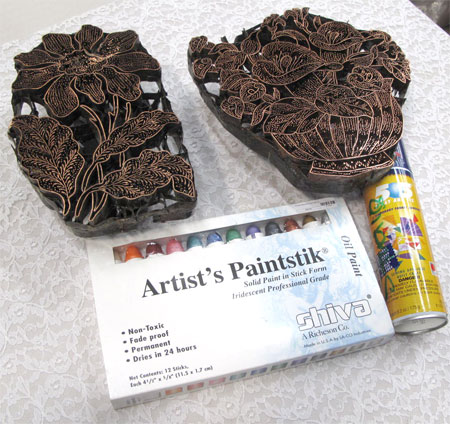 After several attempts on my own at using my tjaps to batik in the traditional method, I now prefer to buy my batiks! Instead, I now use my tjaps as rubbing plate. I'm still creating beautiful fabric and using it in my quilts.
To follow along with my tutorial, you need the following
One or more vintage tjaps
Assorted of colors of Shiva® Artist's Paintstiks®
404 or 505 Spray and Fix (a temporary, repositionable, fabric adhesive)
Potato peeler
Baby wipes
Stable surface to work on
Artist's Paintstiks are an oil-based fabric paint in a solid crayon form. They arrive sealed and after use will self-seal — creating a thick and firm skin on the surface, which prevents the Paintstik from drying out and becoming unusable. The skin can be twisted off the tip with a paper towel or using a paring knife, but once I finally found out about using a potato peeler, it's now my favorite method. It allows you to peel the coating off with minimal waste while creating a wide surface to use while rubbing.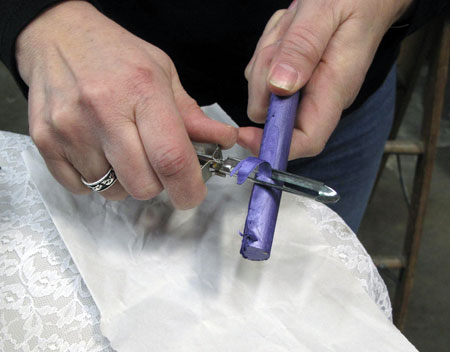 When I am creating a rubbing, I only peel the cover off the one side that I will use. While they are terrific for other uses, I no longer try to use the mini Paintstiks for tjap rubbings: they don't give me enough surface to hold onto or paint with. I prepare all the colors I plan to use first, and then wipe my hands with a baby wipe to remove the wayward paint before I begin handling the fabric.
In the past I have tried to create a rubbing without using a temporary adhesive, because I was worried that it would hurt the tjap. Not true, as I found when I finally experimented after some less than crisp results. I find that spraying the fabric with 505 Spray and Fix means my fabric will not slide and allows me to create a crisp and clear rubbing.

After spraying 505 — again, on the fabric, not on the tjap — I place the fabric sticky side down atop the tjap and gently smooth it out.
[Shelly here: I checked with Judy on this. Either 404 or 505 will work just fine – spray only the fabric, not the tjap. Judy does not attempt to wash her fabric to remove the spray.]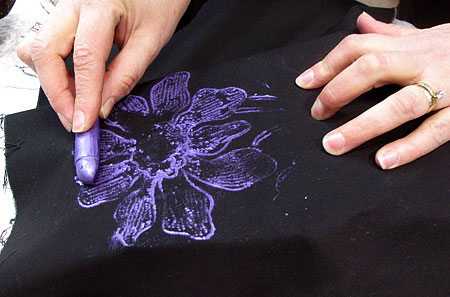 I begin rubbing gently with the full side of the Paintstik. You only need a very little pressure when you are rubbing. You will see that it's easy to feel the edges of the vintage tjap. My own experience has been that the vintage tjaps that feature a lot of intricate details create a much more interesting rubbing.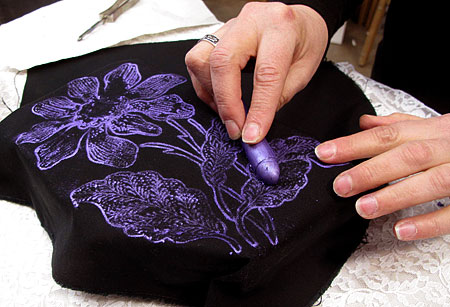 Once you have completed your rubbing, allow the Paintstiks to fully dry on the fabric. Shelly Stokes of Cedar Canyon Textiles, a Paintstik expert, writes that "Rubbings (and any direct application technique) take longer to dry. Allow 3-5 days for the paint to dry. I allow 7 days if I make several layers of rubbings — or during humid times of the year. Test the paint by rubbing your finger over a section of paint. If you see paint on your finger, it's not dry yet. Set the fabric aside for another day. Once you no longer pick paint up with your finger, it's ready to heat set."
Shiva Paintstik color is permanent on fabric and washable once it has been heat-set with an iron; so if you choose, you can incorporate a fabric rubbing into a garment or tablecloth. (Note that because of the oil composition of the paint, note that fabric can't be dry-cleaned.) While it's not necessary to heat set your fabric rubbing for an art quilt that won't be laundered, it doesn't hurt to do so, and it's a quick process.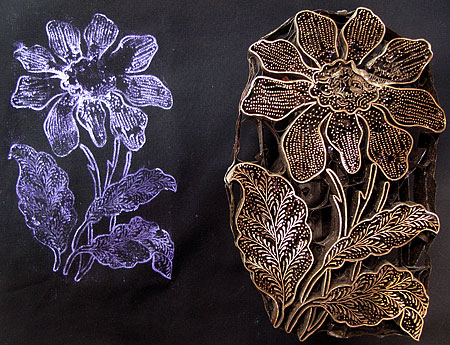 Above is the finished Paintstik rubbing and the vintage tjap together pictured together. Pretty cool, huh? (The tjap looks slightly larger than the rubbing because it is resting flat on its handle and thus is a couple inches closer to the camera.)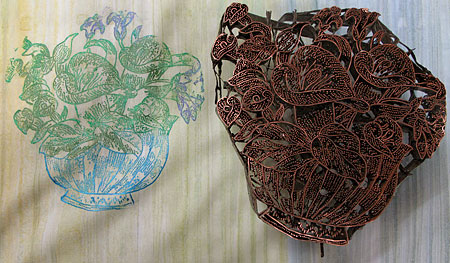 The above sample, pictured with the vintage tjap, was created with two Paintstik colors on a light batik fabric. It's a pretty illustration that the fabric doesn't have to be black for the rubbing to pop.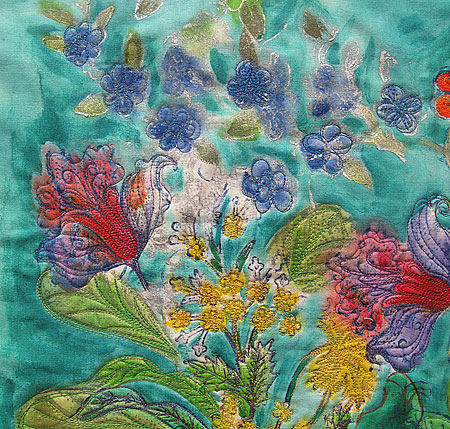 [Once the Paintstik rubbings are dry, you can further embellish your fabric with textile paints and all manner of stitching. Click over to this entry in Judy's Blog for a complete list of the tools and materials that went into the making of this delightful quilt.]
I hope I've encouraged you to give Paintstik rubbing a try — it is an easy and satisfying method of surface design!
Limited Time Offer from Judy at Artistic Artifacts
Shelly here again. My special thanks to Judy Gula for sharing her knowledge about working with Paintstiks and tjaps with us today. In addition, Judy is has a special offer for you!
Save 15% on Vintage Tjaps from Artistic Artifacts through April 10th
Vintage tjaps are nothing short of amazing. These are tools that have been "retired" from the batik-making industry and they are works of art unto themselves. Judy brings them over from Indonesia where she purchases them from local artisans.
To collect your savings, visit the Vintage Tjaps page, select your favorite tjap, and enter CCT in the coupon code box. Judy's generous offer is valid through April 10th.
And while you are there, be sure to poke around the entire site at Artistic Artifacts. I keep telling Judy that it's a good thing that I don't live too close to her store — I would be having way to much fun!