by Shelly Stokes, Founder and Creative Mentor

As I started today's post, I realized that I have been working with Paintstiks for nearly 15 years. Holy buckets, Batman! Where have the years gone?
In that time, I confess that I have made every mistake in the books – and then some. Worse yet, I made them frequently until I really sat down to study the process and see what worked and what did not.
Today, I want to talk about making personal prints with Paintstiks and Rubbing Plates, and share some strategies that will allow you to avoid two really common mistakes. Yes, you get to learn from all of my experience – and the gazillion goofs I have made over the past decade and a half.
To follow along, you will need:
One piece of relatively plain fabric (a fat quarter is fine)
One Cedar Canyon Rubbing Plate with an overall pattern
3 or 4 Shiva Paintstiks that coordinate with your fabric
If you are brand new to Paintstik Rubbings, go back to Part 1 of this series for a review. Pay attention to the information about sticky mats, sticky spray and using the side of the paintstik for making rubbings.
Create Personal Paintstik Prints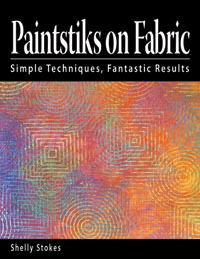 To make an overall print like you see on the cover of Paintstiks on Fabric, you simply fill up your fabric with rubbings, using one or more plates and several colors of paint. Easy, peasy, right? Well, not quite. It is a whole lot easier if we start at the beginning.
Just so you know, there are two classic pitfalls just waiting for you, an unsuspecting victim. Yes, you are going to make these mistakes. It happens to the best of us – you are in good company.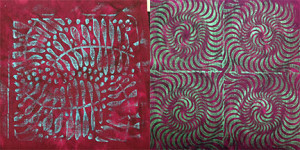 Mistake #1 is running off the side of a rubbing plate and leaving a big smudge of paint where you don't want it. Mistake #2 is attempting to line up (or "register") paintstik rubbings one after the next to make a continuous design.
Both of these problems can be hazardous to your "happiness" quotient, so I am here to share my strategies for avoiding them like the plague. I like to be happy while I paint. 🙂
Step 1: Prepare to Paint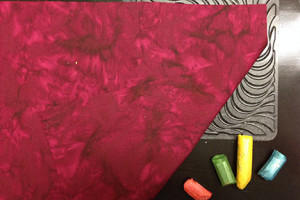 Remove the film from the side of 3 or 4 Paintstiks. Spray the top of a rubbing plate with 404 sticky spray. Place a Grip-n-Grip mat on your work surface. Press your fabric to remove wrinkles. I'm using one of the Op Art Rubbing Plates for this demo.
Step 2: Paint the First Image
Lay your fabric over the rubbing plate. Press the fabric gently onto the plate. (The sticky spray will hold it in place.)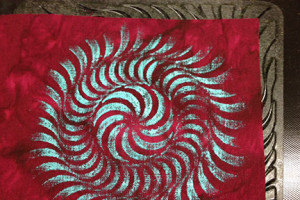 Using the SIDE of a Paintstik, paint from the center of a rubbing plate toward the edge, stopping before you get to the edge of the plate. (The fact that a plate is 7" square does not mean you have to paint the the whole thing.)
By painting a portion of the image and stopping before you get to the edge of a plate, you stop Mistake #1 dead in its tracks. Woohoo! I love stopping mistakes before they happen.
Step 3: Move the Fabric, Paint the Next Image
Lift the fabric from the rubbing plate and move the plate a few inches. The edges of the first painted image should still be on the top of the plate, but not right in the center.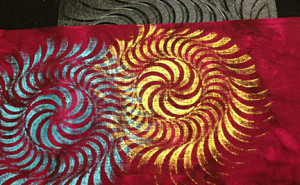 Using a different color Paintstik, paint the second image. Start in the center of the plate and stop before you get to the edge. Allow the second image to overlap the first image for a short distance.
Whatever you do, DO NOT attempt to "register" or "line up" rubbing plate images one next to the other (Mistake #2). You can't see through the fabric to get the plate in just the right spot, and all you will do is get frustrated, grumpy and desperately in need of chocolate!
If you are really masochistic, be my guest, but don't say I didn't warn you. I actually attempted this for one project and just about drove myself crazy. Trust me, it's not meant to be.
Step 4: Fill the Fabric with Painted Images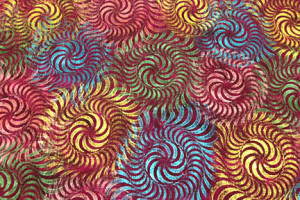 Once you get started, this is pretty easy. Paint a portion of a rubbing plate image, move the plate a few inches, change colors, and paint the next image. Then again, and again.
Your overlapping images will fill the fabric gracefully and create a really beautiful result. You will have what I call a "Personal Print" that will be unique to you, and make your next project really stand out! Here are a couple of examples.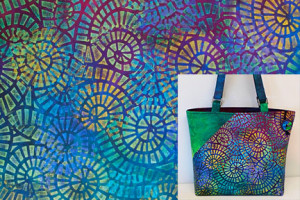 To create this piece of fabric, I used one of the Doodles plates and a bunch of Iridescent Paintstik colors. I used my favorite Candice Bag pattern from Lazy Girl Designs to make a bag that I used until I literally wore it out.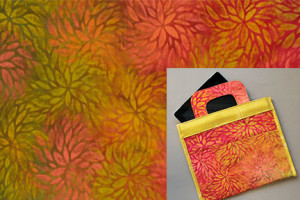 For this gorgeous fabric, I used one of the Floral Fantasy rubbing plates and a couple of Matte Paintstik colors. The matte colors are not as smooth as the iridescent colors when you are painting, but the effect is still lovely when it is all done. This cute little bag is made from the iSnap pattern from Stitchin' Sisters.
What's Your Secret for Making Personal Paintstik Prints?
Now that I have shared my best strategies for avoiding two messy mistakes, I want to hear from you! Do you have a method for making paintstik prints with rubbing plates? Please share with your friends here in the community. You can leave a comment here, or click over to our Facebook page.