by Shelly Stokes, Founder and Creative Mentor

It has been a few weeks since we last checked in on Paintstik Rubbings. Today I want to continue our series with a look at a couple of ways to make softer images.
If you have just joined us or want to review, here are the links to the first 4 articles:
Part 1: Clean Crisp Images
Part 2: Sticky Stuff Alternatives
Part 3: Joyfully Messy Rubbings
Part 4: Detailed Rubbings from Stamps
Got an hour? Let's play!
This post is formatted as a tutorial. If you want to play along, you will need:
As always, I am using a Grip-n-Grip mat and a can of sticky spray (404) to keep my fabric from sliding around as I work. (See Part 1.)
Soft, Subtle Rubbings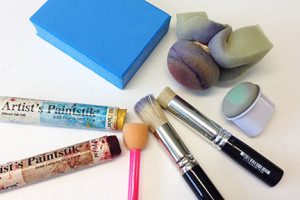 To make a "direct" Paintstik rubbing, all you need is a texture, some fabric and a paintstik. For softer images, look around your studio and gather up any tools you think might work. Don't analyze too much. If it looks interesting, put it in the pile.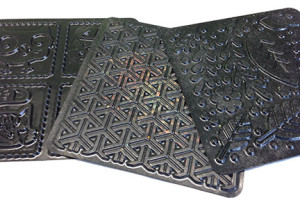 Next, choose a couple of rubbing plates. I used plates from the Triangles and Forest Friends sets.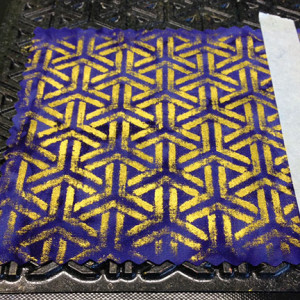 Step 1: Direct Rubbing
On one section of your fabric, make a direct Paintstik rubbing. By direct, I mean using your Paintstik directly on the fabric to create the image. (Go back to Part 1 if you are new to rubbings.) The direct rubbing gives you a comparison point for the other options.
Step2: Softened Rubbing
Next, make a direct rubbing on your fabric and then soften it with a brush. The brush will smear the paint and soften the image.
If you do not have brushes handy, wrap a piece of fabric around your finger and use that to soften the image. Or just get wild and crazy and smear the rubbing with your fingers! Hey — we are just playing, remember?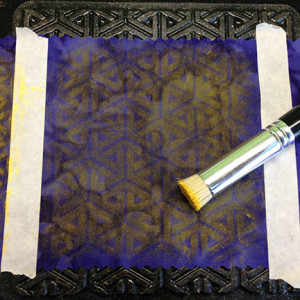 Step3: Brush Rubbing
In the third section of your fabric, make a brush rubbing. To do this, load Paintstik color on your brush and then apply the paint to the fabric with the brush. Try using different brushes. Do you prefer the look from a softer brushes or denser brushes? Which is easier to work with?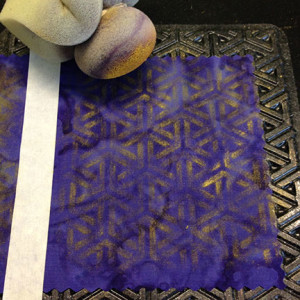 Step 4: Dauber Rubbings
Finally, create a rubbing by loading paint onto a dauber and rubbing it lightly over your fabric. I used a home-made dauber made of a firm center wrapped in foam. I started making these years ago and like them better than anything I have found in the stores.
There are any number of tools you could use to make these soft rubbings, but I am going to stop here before I create a novel. You, on the other hand, are free to experiment until your heart is content.
Compare The Results
When I am playing with a something like this, I like to create different versions of the same image. That makes it easier to compare the results. Let's take a look.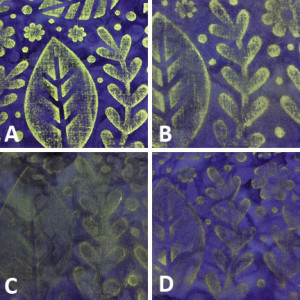 Here is another sample on dark fabric. I have labeled the photos as:
A:  Direct rubbing
B:  Softened rubbing
C:  Brush rubbing
D:  Dauber rubbing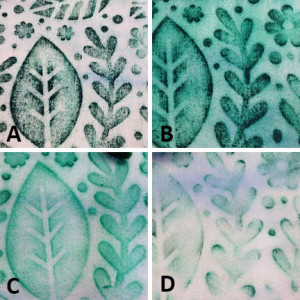 And here is the same image on light fabric. I used a matte green paintstik on this sample and found the color to be very strong when I softened the rubbing with the brush.
Save Your Samples Or Use Them Up!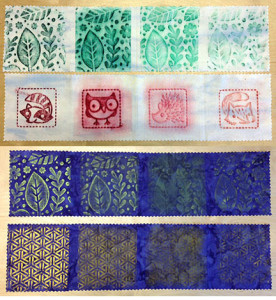 If you like to keep a Sample Book, cut squares from your painted fabric and make sure they are labeled so you can reproduce the look without going back through the experiments. As you can see, I worked on strips of fabric and separated the sections with masking tape.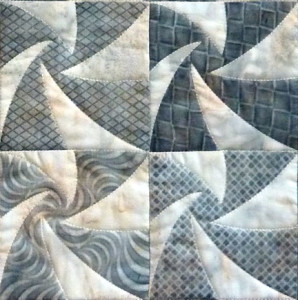 If you prefer to turn your experiments into something of use, cut them up, turn them into blocks, or find another way to use them.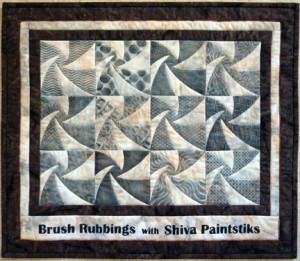 Here is the full photo of this quilt by Linda Clark. Linda hails from Ontario, Canada. She created this quilt as a sample for one of her Paintstik classes.
Have you got any tricks up your sleeve?
Have you experimented with "soft" Paintstik rubbings? What is your favorite way to make these shadowy gems? Leave a comment here or over on the Facebook page. I can't wait to hear what you have been up to!