by Shelly Stokes, Founder and Creative Mentor

In the Part 1 of this series on making Paintstik Rubbings, we discussed how using the side of a paintstik can make a cleaner rubbing. Today, I want to talk about one case where this is definitely not the case. First, let me give you the links to the first 3 articles in this series so you can get caught up or go back for a review:
Part 1: Clean Crisp Images
Part 2: Sticky Stuff Alternatives
Part 3: Joyfully Messy Rubbings
All Rubbings Are Not Equal
As I mentioned in Part 1, I am more than fond of using the side of my paintstik for making rubbings. I love that the larger surface area allows me to glide over the raised surfaces on textures without dipping down into openings where I do not want to be. But I want to be clear that this is not always the best practice.
When you want to make rubbings from detailed stamps or textures, the end of the paintstik can be a much better tool. Especially if you want to produce fairly bold images.
To illustrate this point, I am going to make rubbings from one of Laura Murray's stamps. Fair warning: Laura's stamps are absolutely beautiful and can be highly addictive! Just do not say I did not warn you!
Detailed Rubbings From Stamps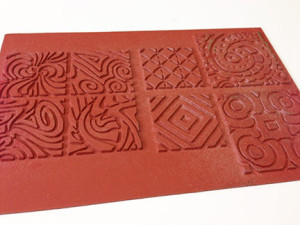 Laura's stamps (and all unmounted rubber stamps) are naturally "sticky," so I do not find it necessary to use a Grip-n-Grip mat. However, the stamp is not sticky enough to prevent the fabric from slipping over the stamp as you paint, so a good spritz of sticky spray on the top of the plate is in order.
Remember, all sticky spray goes on the design surface of the stamp or rubbing plate, not on the back of your fabric.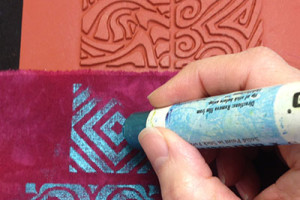 To make rubbings from stamps, use the end of your paintstik rather than the side. The smaller surface area on the end of the stick is actually your friend when you work with detailed images, particularly if you want to use more than one color in a small space.
By using the end of your stick, you can also apply a bit more pressure and get a darker, bolder image.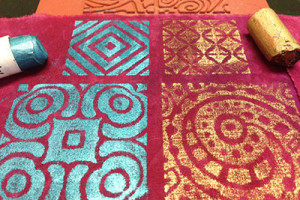 Here is a comparison to illustrate this point. On the left, I painted with the end of the stick with Iridescent Turquoise. On the right, I painted with the side of a stick of Iridescent Gold.
As you can see, I was able to get a bolder look with the end of the stick as I was working with Laura's stamp.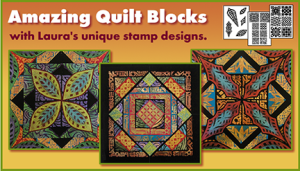 If you want to learn more about making paintstik rubbings with Laura's stamps, click over to the learning center at LauraMurrayDesigns.com.
The Right Tool For The Right Job
This is yet another example of how there are exceptions to all of our "rules." While I constantly promote sticky spray, sticky mats and using the side of a paintstik for rubbings, that is not always the best choice.
So, whenever you start working with a new tool, take a few minutes to play. Grab some scraps (or some "wonder fabric" from the closet) and take 15 or 20 minutes to run a few quick tests. You will be glad you did.
What Is Your Secret Weapon?
Do you have a favorite method for making paintstik rubbing? Many of the best ideas I have ever shared with you come from readers just like you! I  would love to hear your thoughts here or over on our Facebook page.