by Shelly Stokes, Founder and Creative Mentor

Today I want to take a HUGE step away from everything I have ever said about making Paintstik rubbings. Today, we're going to talk about making "messy" rubbings. And not just a little bit messy — we are going straight for the joyfully messy version!
(By the way, if you are just joining us, you can read the posts on making "not messy" rubbings by clicking over to Part 1 and Part 2 of this series.)
Start by Calling A Truce
Before we start, I have a confession to make. It is hard for me to make purposefully messy rubbings. I have a really strong perfectionist streak in me that wants to make everything perfectly. Unfortunately, my inner perfectionist is absolutely no fun to play with!
So today, when I went into the studio to make experiment and take photos, I had to have a little chat with Miss Picky. I (gently) told her she needed to take a time out and just let me play. She was not too happy, but we managed to maintain a truce for about an hour while I was working on this post. (And we both survived!)
If you have similar perfectionist tendencies, you may want to do the same thing. It is a whole lot easier to sit down for some pure play-time if you give yourself permission to make a bit of a mess in advance!
Joyfully Messy Rubbings
In the first 2 parts of this series, we talked about various strategies to keep our fabric from shifting on our rubbing plates as we add paint. Today, I tossed all that advice out the window and played around to see what would happen. Here is how my experiment unfolded in the studio.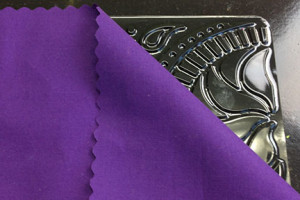 I put a sticky mat on my work table, placed a clean rubbing plate on the mat and covered the rubbing plate with fabric. (Yes, I used a sticky mat. I was not up to chasing my rubbing plate around the table.) The key here is to skip the sticky spray and use a clean rubbing plate.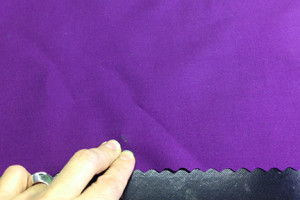 During my experiment, I only allowed myself to hold my fabric down in one spot at any given time. I generally opted to hold it down at one corner of the rubbing plate.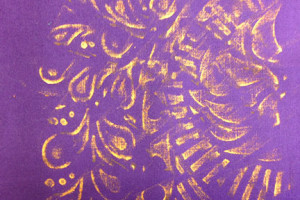 I added the first later of the paint using short strokes with my paintstik. I pushed the paint from closer to my hand to further away, and I allowed the fabric to stretch on the bias (diagonal) as I painted. (Miss Picky was having a hard time keeping quiet right about then!)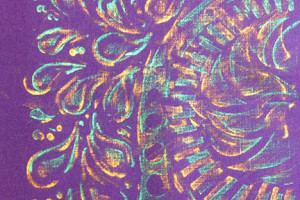 Next, I added a second color of paint, not worrying about whether the images lined up properly. (Can I admit that I had to keep telling myself that it was perfectly OK that the images did not line up?)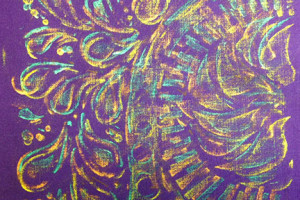 Finally, I added a 3rd color of paint and called it quits. By this point, I could see that I was reaching the point of diminishing returns. I liked the results of the first 2 layers, but after the third, I was not so sure. I actually made about half a dozen of these images and several of them turned out pretty cool.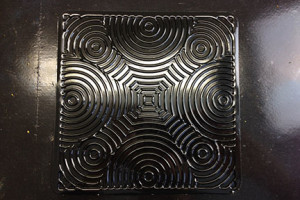 Next up, I wanted to try to make a random-looking pattern that I could use as a background for a project. I chose one of the Op Art plates and flipped it over to use the back side so it would not look quite so tidy. (Hey, if we are going to be messy, let's go all the way!)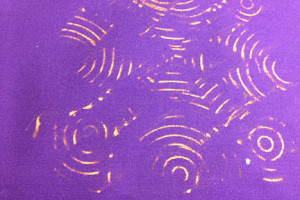 Holding the fabric down at just one point, I applied Paintstik color to random areas of the fabric.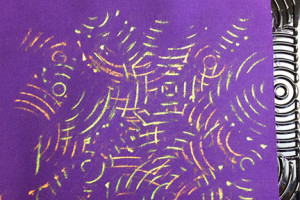 I shifted the fabric on the plate and added the second color.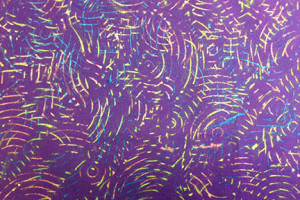 Again, I wrapped this up after adding a third color. But with a random pattern like this, I think we could add 6 or 8 colors (or more) without feeling like we had gone "too far."
When I finished up my experiments, I stepped back to take a closer look at the results. And you know what? I like them! These willfully imperfect rubbings have a totally different energy about them than the "clean" rubbings I typically create. Now I just have to find a way to keep "Miss Picky" quiet while I incorporate these delightful bits of fabric into a project.
What do you think?
How do you like your rubbings? Do you go for clean and crisp or delightfully imperfect? Do you have any secrets for keeping your own "Miss Picky" under control as you play?
Do tell! I am always interested to hear your thoughts, ideas and strategies — especially when it comes to play. My inner 6-year-old is a little rusty and she needs all the help she can get!