by Shelly Stokes, Founder and Creative Mentor

Last week, we talked about my favorite method for creating clean, clear paintstik rubbings. To do this, I shared my fondness for sticky mats and sticky spray. Well, that's all and good if you happen to have these items on hand. But what if you don't?
I am happy to tell you it is not the end of the world. When I first discovered paintstiks, I did not know a thing about sticky mats or sticky spray. I played around long enough to figure out how to make pretty good looking rubbings in spite of all the slipping and sliding. It is not as easy, but it can be done.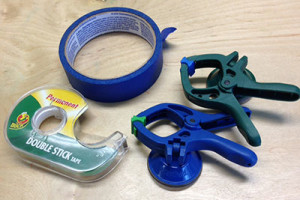 You can actually get by just fine with a roll of masking tape — or perhaps a couple of other tools you might just happen to have around the house. A roll of masking tape is our first line of defense, but you can also experiment with double-stick tape and clamps.
Problem 1: How to Keep the Rubbing Plate Steady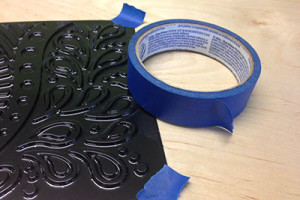 The chief reason for a sticky mat is to keep our rubbing plates from sliding around. If you do not have a mat, add masking tape at the corners of the rubbing plate or along two sides. When you position the plate on your table, use the tape to hold it in place.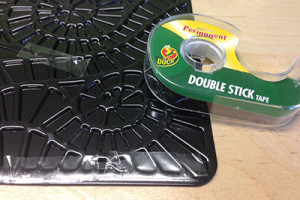 You can also experiment with double-sided tape. It is hard to see in the photo, but I put several pieces of this tape on the bottom side of my plate. When you position your plate, press on it so the tape "sticks" the plate to your table. Personally, I like the masking tape better, but I encourage you to see what works for you.
Problem 2: How to Keep the Fabric From Sliding Around
When you do not have a can of sticky spray handy, you can keep your fabric from sliding by securing one edge of the fabric to your work surface and holding the other edge with your "non-painting" hand.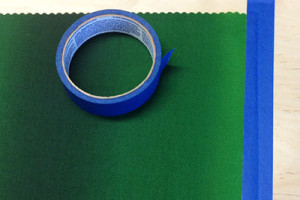 You can do this with masking tape…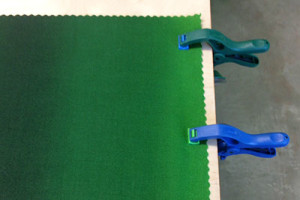 … or with a couple of clamps.
Clean Paintstik Rubbings with NO Sticky Stuff
Now that you have alternatives for a sticky mat and sticky spray, let's take a look at the process:
First, tape or clamp one side of the fabric to your work table. If you are right handed, secure the right edge of the fabric. If you are left-handed, secure the left side. you will start painting along the taped edge and work back toward the non-taped edge.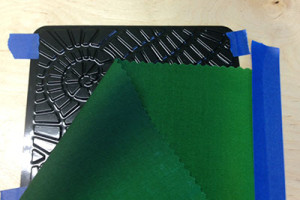 Position a rubbing plate under your fabric and secure it with tape.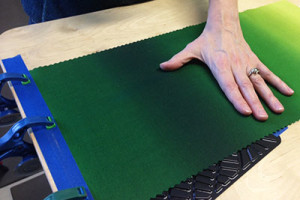 Smooth your fabric over the plate and hold it down with your hand. Your hand should be flat on the fabric.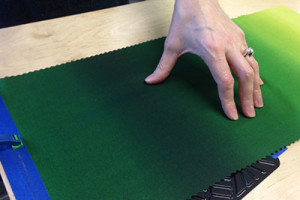 Holding with your fingertips is NOT a good idea. The fabric will move more than if you keep your hand flat on the fabric.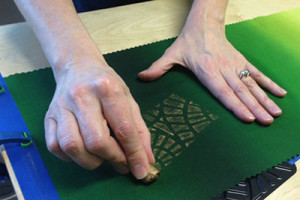 Paint in one direction, away from your "holding" hand and toward the taped edge of the fabric. Do not go back and forth.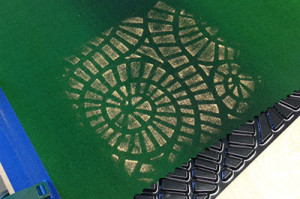 As you can see, it is possible to get a clean rubbing without sticky stuff, (at least without a sticky mat or a can of spray).
How Hard Do You Want To Work?
While it is, indeed, possible to make clean paintstik rubbings without my favorite "sticky" tools, it is a lot more work. I painted yards and yards of fabric before the creative gods had pity on me and sent messengers bearing tidings of sticky mats and sticky spray.
This process works; but, I'll be honest, it takes far more practice and patience to make clean rubbings this way. Just because I CAN do it this way, does not mean that I WANT TO do it this way. There is no way on God's green earth that I am going to give up my Grip-n-Grip mat or my stash of 404 — at least, not without a fight!
But it is always good to have "Plan B" in your pocket, ready for those times when you need to make something up quick and you do not have access to all your favorite tools. Right?
What's Your Story?
Do you have a favorite technique or "secret weapon" for making clean rubbings? I would love to hear about it! Please leave a comment below or click over to our Facebook page.