by Shelly Stokes, Founder and Creative Mentor

One of the comments I hear most frequently from readers, students and shop owners is "wow, my paintstik rubbings don't look anything like that!" Rather than telling you what I think is the right way to make rubbings, I thought it might be a lot more fun to explore a bunch of possibilities for paintstik rubbings so we can get the effect that we want, when we want it.
This will be a bit of an adventure. I expect that you will find some of the ideas more interesting than others. But you never know when an unlikely variation will be "just right" for a project, even if it is not something you choose to do every day.
Ready to go? Great. Let's start with the most comfortable option — how to get nice clean images as you create paintstik rubbings.
If you want to play along, you will need:
Clean Crisp Paintstik Rubbings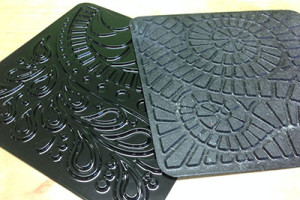 As much as I love working with molded plastic rubbing plates, they have one significant downside. The darn things are slippery! They want to wander around my table top, and my fabric wants to slide all over the place while I'm trying to paint. Fortunately, there is an easy fix for both problems.
When you want nice, clean images from your rubbings, the first step is to spray the top of the plate with sticky spray. I prefer to use a repositionable adhesive such as 404 Spray and Fix (ODIF) or KK2000 (Sulky). Once sprayed, the plates are transformed from a slippery shine to a tacky matte surface that feels like a post-it note. So far, so good.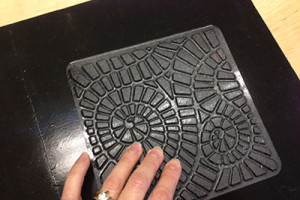 Next on the list is a sticky mat. Years ago, Veronica Cox watched me do a paintstik demo and said, "You need a grippy mat." Then she promptly brought over one of her Grip-n-Grip mats and my life was changed forever! (I know, that sounds dramatic… but it is true!)
Here's the scoop. Whatever you put on one of these mats stays where you put it. They are "grippy" on both sides, so they stay put on my work table AND my tools, fabric, or whatever stay put on the mat. Slick!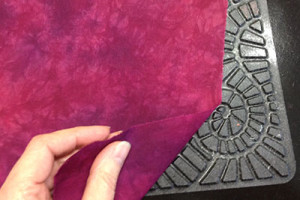 The next step is to lay fabric over your rubbing plate, press it onto the plate lightly, and you are ready to paint. Well almost… first we have to "open" our paintstiks.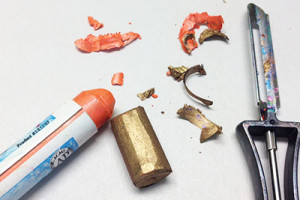 There are several ways to peel the film from paintstiks, but my favorite is to use a potato peeler. With the peeler, it is easy to remove the dry skin/film from the outside of the paintstik. Sometimes I use the end of my stick, but most of the time I use the side of a stick for making rubbings. Both have their place.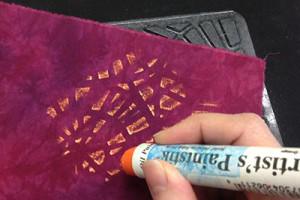 It's always an option to use the end of a paintstik to make rubbings. Just keep in mind that the surface area at the end of the stick is pretty small and it takes a bit more work to fill in the design completely.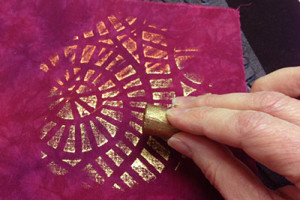 I most often use the side of my paintstik when I want clean images. I've got a much larger surface area to paint with, and it is much faster to make the images. Plus, the stick glides over the open areas of the plates and does not dip down into places where I do not want paint.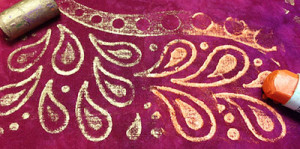 The difference between painting with the end of the stick vs. the side of the stick is much more obvious when a rubbing plate has large space between the design elements, like this plate from the Doodles collection. I used the side of the Iridescent Gold paintstik on the left and Iridescent Orange on the right as I made this rubbing.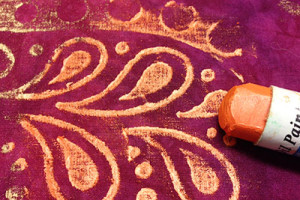 If you look closely at the section painted with Orange, you'll see that the image is not as clean. This happens when the end of the stick dips down into the open spaces while I am painting.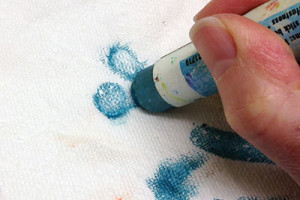 One last thing, before I forget. As you are working, it pays to wipe your paintstik on a paper towel whenever the stick starts looking messy. There may be little bits of paint film coming loose, or just some build-up of paint from the pressure you put on the stick. Wiping the stick will go a long way to creating nice, tidy images.
The Bottom Line on "Clean" Paintstik Rubbings
The best advice I can give you for "clean" paintstik rubbings can be summarized in just a few short tips:
Use a sticky mat to keep your rubbing plates from moving around.
Spray your rubbing plates with sticky spray to keep your fabric in place as you paint.
Use the side of your paintstik rather than the end of the stick as you paint.
What works for you?
Do you have a neat trick for making clean Paintstik rubbings you would like to share? Great! Add your comment below or click over to our Facebook page. I'd love to hear your thoughts!