Believe it or not, paintstiks are not just for fabric. While painting on fabric is my passion, paintstiks have been around almost as long as I have, and they have most often been used on anything but fabric.
Paintstiks will adhere to any porous surface such as canvas (think fine art painting), metal, wood, paper – you name it, you can probably paint it. People have used paintstik colors to stencil images on walls, ceiling, and floor for decades, and they are still popular in the decorative painting world. Skip the glass (unless it it etched) the glazed ceramics and stainless steel – there is nothing on these shiny surfaces for the paint to grab onto.
Given their versatility, paintstiks are really a mixed media tool. You can use them to add color and wonderful finishes to found objects, metal washers, wood, chipboard, paper and that very cool stuff called Grungeboard.
Great for Grungeboard
I used grungeboard letters for the latest Cedar Canyon ad. It's in the new Cloth Paper Scissors magazine and will show up in Quilting Arts and Studios as well. Before I get 389 e-mail messages with the same question, here's a quick lesson on painting grungeboard.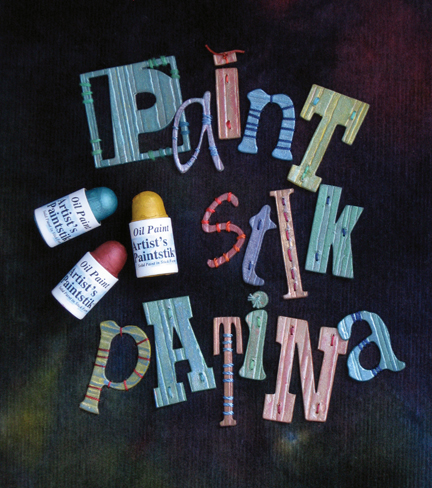 First, I know at least a few of you are thinking "what in the world is grungeboard?" According to the package, grungeboard is a compressed, flexible sheet of dingy material with a debossed texture tha can be painted, inked, sanded, hammered or grunged. (Whatever that means…) Grungeboard is from Tim Holtz and you can click here for a YouTube video. You may have seen it referenced in Cloth Paper Scissors or Quilting Arts. It's big in the paper market and I found a package of grungeboard alphabets at my local scrap booking store. There is one sheet for each letter. Here is the letter S.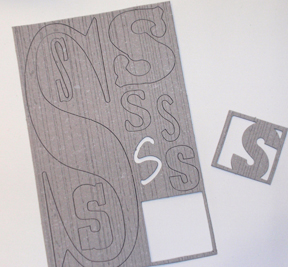 Paintstiks on Grungeboard
Painting these letters was an exercise in finger painting more than anything else. I pulled on a pair of latex gloves to protect my hands, peeled the film off my paintstiks and got to work. The letters are textured, so I rubbed the paint directly on the letters and then worked the color around with my fingers. (Using a brush was too slow – can you say ad deadline?) I also wanted to make sure the edges of the letters were painted. Since grungeboard is flexible, I just bent the letters and smeared paint on with my fingers.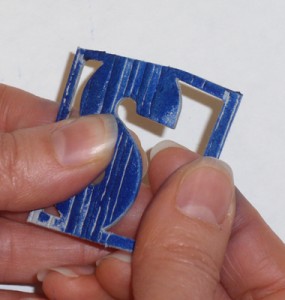 After I got a good coat of paint on a letter, I usually added a second color by dragging a paintsitk across the raised portion of the letter.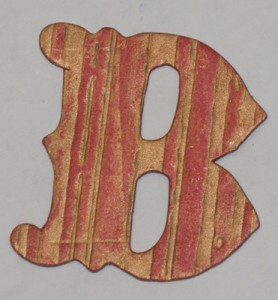 Now here's the real test – you have to let it dry.  Being the impatient person that I am, I wanted to finish my little experiment the very next day. (Did I mention that I had an ad deadline looming?) All the time I was stitching my letters to the fabric, I had paint coming off on my fingers. Not a lot, but the paint definitely was not dry after just 24 hours. I finished the piece without making a big mess, and decided to check the sample every day to see how long it took the letters to dry completely. After 3 days, the letters were dry – and I was really happy with my little paintstik patina adventure!
Before I forget, one quick warning about trying to stitch through grungeboard… It's very easy to stitch through this material by machine, but I found it very challenging to stitch by hand. The needle just did not want to slide through the grungeboard. To make this easier, I un-threaded my sewing machine and took the foot off. I used the machine needle to punch holes in the letters and then stitched by hand. My fingers were pretty sore by the time I finished, but I was happy with the results. And yes, I got the ad done on time.
Happy painting!