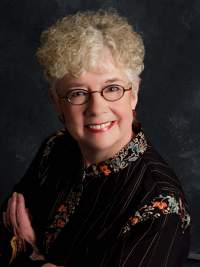 Years ago, I grabbed Laura Murray during a quiet spell at the Minnesota Quilt Show and dragged her over to my booth. I said, "Laura, you've got to see these really cool Paintstiks. I just know you'll love them!" For any of you who have met Laura at a quilting or sewing show, you know that Laura has become one of the biggest Paintstik fans and evangelists anywhere.
Laura not only took existing ideas for using Paintstiks on fabric and ran with them, she created new tools and techniques to expand the possibilities. She discovered that unmounted stamps make great rubbing plates, and developed a line of stamps. Then she wrote a fabulous book called StarBuilders that explains how you can create endless variations of stars with a simple Paint, Fuse & Cut method.

Laura's latest addition to her line of innovative techniques is the Painted Quilt Block. If you love to play with block possibilities, without the headache of actually piecing them, you're going to love Laura's Painted Quilt Blocks. As you can see from the photo above, you can make blocks that are small to large, simple to complex. Look Ma, no piecing!
Creating Painted Blocks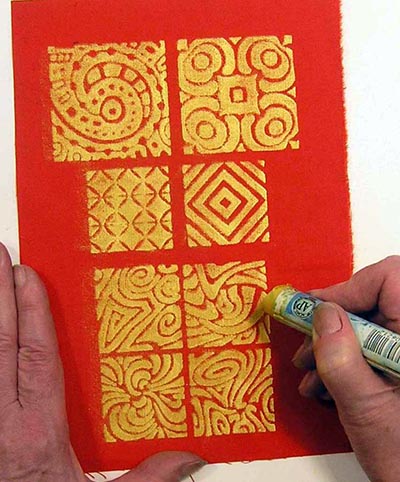 I can't do Laura's technique justice in a short article, but she generously shared a couple of photos to illustrate the process. First, you use unmounted stamps as rubbing plates, and paint up a bunch of fabric. After the paint is dry, you add fusible webbing to the back of the fabric. Then you cut up all that glorious fabric into block "parts."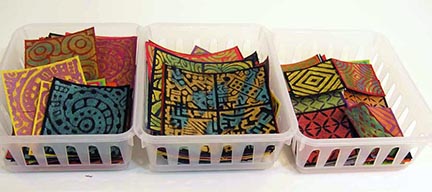 With a bunch of block parts on hand, you're ready to play! At this point, Laura steps you though a bunch of possibilities for arranging the block parts in layers and how you can cut them up, rearrange them, and make endless variations of blocks. All with no piecing!
Want To Know More?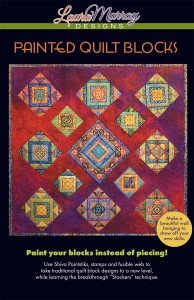 If you are curious about Laura's methods, click over to this page at LauraMurrayDesign.com. Then be sure to click over to the Stamps page to see her entire collection of really cool unmounted stamps. Just so you know, Laura's website is scheduled to get a makeover in the near future. If the links in this article don't work, you can simply visit www.lauramurraydesigns.com.
Feeling Lucky?
Check out the next article to enter our Paint Your Blocks Giveaway. Laura and I are teaming up to give one lucky winner the goodies you need to create your own painted blocks. That winner could be YOU! See you there.