During my vacation on Lake Superior's North Shore, I had plenty of down-time on my hands. We stayed at Split Rock Cabins near Beaver Bay, Minnesota. It's one of those lovely old-fashioned places with no phones, no TV, no radios and no internet. To top that off, you have to drive a good 3 miles in either direction to get cell service. A perfect place to really get disconnected for a week.
Of course, all that down-time can be challenging for those of us who have become very accustomed to the connectivity of the modern world. I didn't make it to the library before the trip, but I did pack my stitching. Whew!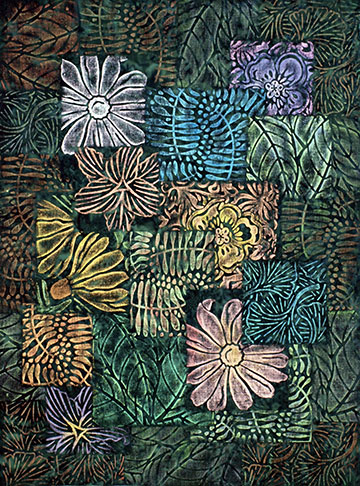 Before Quilt Market, I painted up a whole-cloth collage using one version of my Shape Shifter technique. It's a pretty nice piece, but it begs for definition and embellishment. Since then, I've been outlining the sections of the piece with embroidery stitches, learning new stitches as I go along.
During my vacation, I finished up the outline stitching and decided to tackle one of the Sunflowers.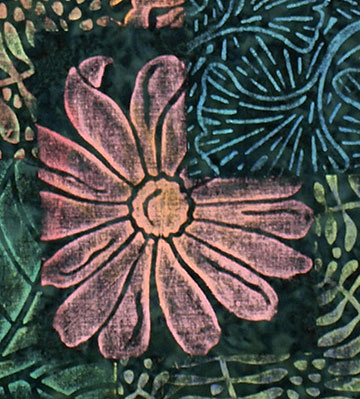 Here is a photo of this section of the piece before any stitching was added. Just doing the outlining around the sections made a big difference, but I've been having a lot of fun with the stitching, so I thought I would tackle the individual sections. And before you ask, these images were created by making rubbings from our Leaves, Garden Flowers, and Floral Fantasy Rubbing Plates.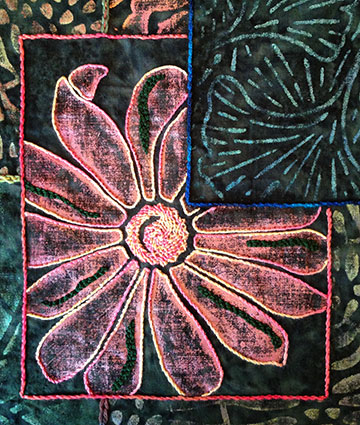 As you can see, the stitched version of the flower is incredibly more vibrant and interesting. I worked to retain the design as it was painted, but I had to say that I'm totally in love with this lovely flower now that it has some texture.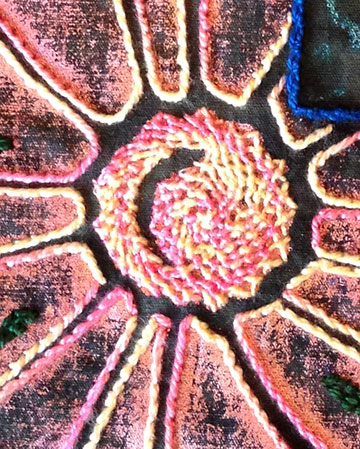 I stitched the petal outlines and center with one of the beautiful pearl cottons from Artfabrik.com. I think this one is called Nasturtium, but don't hold me to that. It's pinks and yellows and perfect for this flower.
For the center, I chose a Trellis stitch that I found in Sue Spargo's Creative Stitching book. (More on that in a moment.) The directions for this filler are a bit complicated, so I stitched out a test before tackling this on my collage piece. To outline the petals, I chose a simple stem stitch. I love the way the color of these threads change as I stitch.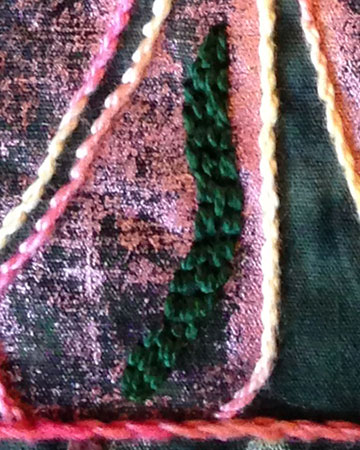 My last challenge was to figure out what stitch to use for the "open" areas in the petals. I wanted to maintain the painted design, but these needed more definition. Thankfully, I had picked up some dark green pearl cotton at the MN Quilt Show that is close to my fabric color. After ripping out several types of stitches, I settled on using a simple backstitch to outline and fill these areas. These little sections are not very big, but I like the extra texture.
Another Great Stitching Guide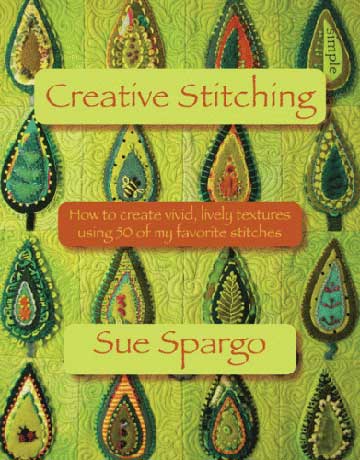 I had the pleasure of meeting Sue Spargo at Spring Quilt Market. She had completely sold out her supply of Creative Stitching books by the time I arrived at her booth, so I looked them up online. Thankfully, my local shop owner had ordered one in, so I was able to get a copy without doing an order for just one book.
I have to say that this book is incredibly well done. I love Sue's contemporary folk art style, and the photos of her samples are absolutely gorgeous! They are eye-candy of the highest order and even more satisfying than chocolate. Oh my… did I really say that?
Really, the book is worth far more than the price tag if you are looking for new and different ways to think about using stitching on your fabric art, and the ideas she presents work just as well for enhancing painted images as they do for appliqué.
What Are You Stitching?
Are you having fun adding stitching to your painted images? I'd love to see what you are doing! Leave a comment below or post a photo over on our Facebook page.
Until next time, happing painting — and stitching!