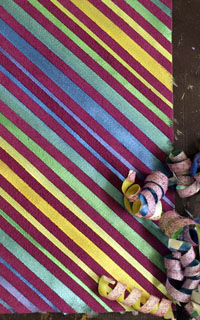 Hola! I'm in sunny Chapala, Mexico soaking up the warm temperatures and magnificent local colors. One of my dear friends moved down here several years ago and I am finally making good on my promise to come for a visit. After a very long, very cold winter in Minnesota, it is absolutely wonderful to spend some time in a hot, sunny city!
Before I left home, I put together my second set of notes for painting on suede. You can go back to the first post on this topic by clicking here. It turns out this was a great item to post during my trip. The iridescent paintstik colors on the magenta colored suede look like they belong in a fiesta! Ole!
If you are looking for suede, hop on over to Bella Nonna Designs. Jayme and Megan will be happy to take care of you.
Not only do they have delicious colors of suede, they have a couple of patterns that have a gazillion little projects that can be made from either 4″ squares or the larger sheets of suede. Actually, they have quite a lot of cool stuff on their site. It's definitely worth a visit.
The Magic of Masking Tape

Masking tape is wonderful stuff. Especially if you want to play with suede. You can use tape to create stripes, squares, diamonds, or even just a bunch of random shapes.
I've been using 1/4″ tape for my suede projects because they are small. When I'm working on large pieces of fabric, I use wider tape. Our friends at Bella Nonna have a Deco Tape product that is 7mm (.28 inches) wide and is a little less sticky than masking tape. It pulls up from the suede a little easier than standard masking tape.
Here's a quick sequence of steps for making one of Bella Nonna's Zippety Bags. They have kits for this project in several colors, or you can use your own materials with their pattern.
Of course, you can make stripes (or other shapes) on suede and make it into anything else that trips your trigger. I'll show you how to make the stripes — you choose the project!
Stripes on Suede
Step 1: Use narrow tape to mask off stripes on the suede. The areas under the tape will be unpainted. The areas between the tape will become the painted stripes.
Step 2: Apply color directly with the paintstik. Rub firmly in both directions. I used iridescent light gold (yellow) lime green, green, turquoise, dark blue and purple.
Step 3: Use a stencil brush to "scrub" the paint into the suede. If you don't mind getting getting a little paint on your hands, use your fingers. I found it easier to use my fingers in this case — and the iridescent colors are all non-toxic. (Clean your hands with our Brush Soap to remove the paint without drying your skin out.)
Step 4: Remove the tape and set the suede aside to dry. I put a lot of paint on my suede when I made this sample and it took at least a week to fully dry.
Confession: I did NOT wait until the paint was fully dry to complete my sample — I had to send it off to Pokey Bolton for a Quilting Arts TV segment. I had no problem with paint smearing after 2 or 3 days. It just was not completely dry.
Step 5: Cut the suede using the pattern piece for the Zippety Bag. Stitch the zipper to the edges of the bag. I had my doubts about going around the curves, but I followed the directions carefully and it worked just fine.
Step 6: Zip up the little bag and enjoy!