If I've said it once, I've said it a million times. I can paint a whole lot faster than I can appliqué! And if you're wondering what brought that on, let me share a few photos from your sisters in the Cedar Canyon Community.
Fun in the Sunflowers with Yvonne Sparks
First, Yvonne Sparks, from Houston, Texas sent a photo of her version of our Sunflower Quilt. Rather than making a square quilt, Yvonne chose to make a long, narrow quilt to fit her space.
While the flowers may look like appliqué, they are much easier (and faster!) to create by making a freezer paper stencil and simply painting them on to the fabric with our amazing Shiva Artist's Paintstiks.
Here are several photos from the FREE Sunflower Quilt Pattern that goes out to each of our new Community Members. (If you don't already have this, you click over to the Learning Center to get your very own copy!)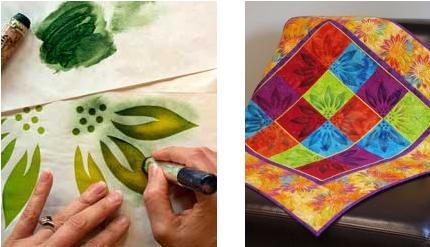 As you can see, the painting is fast and easy. And you'll be amazed at how many times you can use a freezer paper stencil as long as you treat it kindly as you paint and peel it up from the fabric.
Give it a try — I know you'll like it!
On the Wing with Iris Waite
Still not convinced? Here's another great example of adapting an appliqué pattern for paintstiks.
Iris Waite, from Ellenboro, North Carolina, used the Dragonflies in Flight pattern from the Pacific Rim Quilt Company to make her delightful Dragonflies quilt. (Dragonflies in Flight is one of the many 2 Fabric Appliqué quilts you will find on that site.)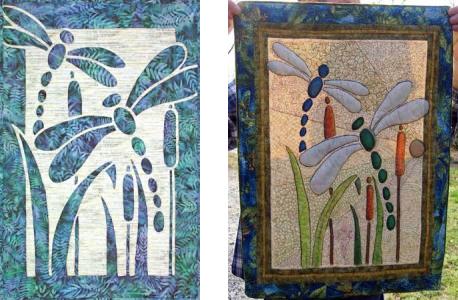 The talented designers at Pacific Rim (Nancy Lee Chong and Janice Lee Baehr) have a ton of beautiful designs that are easily adapted to paint. Simply transfer the designs to freezer paper, cut out the openings, press the freezer paper onto the fabric, and paint!
I hope you have enjoyed seeing quilts from several of our talented community members. If you have a project you would like to share, please send photos or post them over on our Facebook Page. I love to see what you're up to!
Mini Madness Extended for Several Days
[Heads Up!: We ran this special last week — and I'm extending it for a few extra days at the request of several instructors running classes this weekend. This sale absolutely ends on Monday, June 11.]
When I first started playing with paintstiks (more years ago than I care to admit!), almost all of the colors were sold in full size sticks. There were a few sets of mini paintstiks in the matte colors, but nothing in my favorite iridescent colors. How times have changed!
It took a lot of arm twisting, but I convinced the paint company to make mini paintstiks in iridescent colors, and you have been snapping them up like candy ever since. Good things really do come in small packages!
I'll be the first to admit that I really like the full-size sticks, but when it comes to travel — or if I'm tight for storage space, the minis are a perfect solution. Big enough to contain lots of paint, small enough to fit a large collection in a small box. As Goldilocks would say, they are "just right!"
Stock Up Today — Save 20%!
If you want to round out your collection of paintstik colors, or simply want a set that's easier to travel with, I've got a great deal for you! We've marked all of our mini paintstiks down at least 20% for the next week.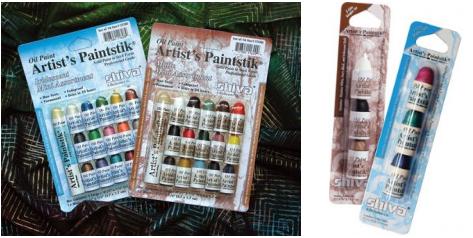 Our sale includes every set of 3 mini paintstiks — and those gorgeous mini assortments that are so popular. As a matter of fact, between the Matte and Iridescent Mini Assortments, you have everything you need to travel in style. What's not to love about that? Here are the links you need to round our your mini collection:
Click here to find your favorite Matte Mini Colors
Click here to find your favorite Iridescent Mini Colors
As always, our special offers don't last forever. Actually, they don't last very long at all! Stock up today, save at least 20% — and get your paintstik minis while the price is "just right!"
[Prices good through Monday, June 11.]