The fabulous new Doodles Rubbing Plates are finally in the warehouse and ready to ship. Hooray! I had hoped to have them a month ago, but they are certainly worth the wait.

As always, the plates are packaged with a header card that has a series of thumbnail images, so you can see what's in the package. There are 6 plates in the package. Most of the plates are segmented into 2 or more sections. Several plates have bold graphic images. Two are split between positive and negative versions of the same designs, and one is styled to resemble a mosaic tile pattern. Here they are!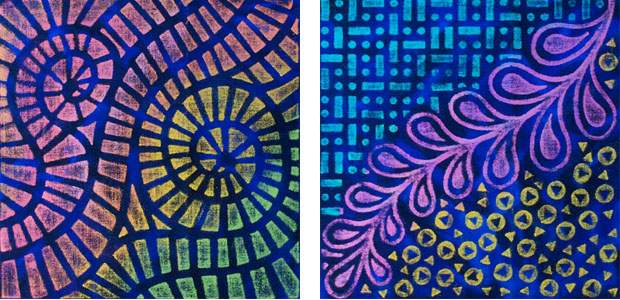 As you look at the plates, you'll see that almost all of the design elements show up on at least 2 plates. You'll find the teardrop shapes in the feather above and the plate below.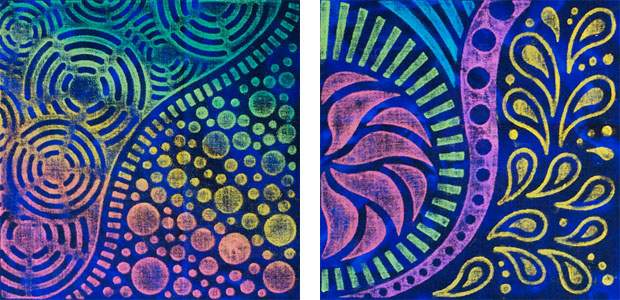 We made extensive use of dashed lines and circles in one form or another.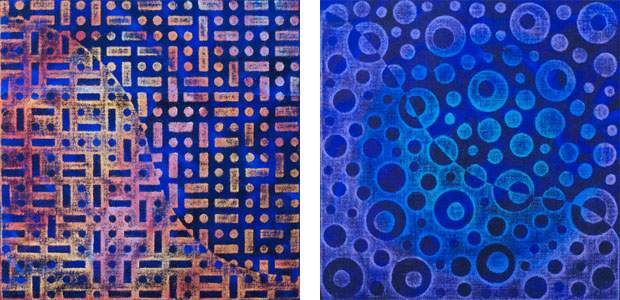 The final 2 plates are wonderful for filling in backgrounds. The plate on the left makes me think of both Morse code and the binary code used in today's computers. (That's the engineer in me that still peeks out from time to time.) And the plate on the right? Hey — can you blow bubbles?
As you can tell, I'm totally in love with the new plates. This was my first venture off into pure design in a long time. I drew out designs with paper and pencil, then Matthew took my ideas and turned them into workable drawings. I've been blessed to work with such a talented artist for the past 5 years. He has skills I can only aspire to — and he does a wonderful job of making my dreams into reality. I am so blessed!
Order Your (Made in the USA) Doodles Plates Today!
The Doodles Plates are now available in the Online Store. At just $11.95 per set, these plates are an incredible value. Yes, the price is higher than our current line of rubbing plates. (The price of oil bites us yet again.) I hate raising prices as much as anyone, but I also hate the idea of putting myself out of business by being stubborn! I choose to look at the positive aspects of how we do business rather than dwelling on things I can't control.
Our rubbing plates are an American-made product from start to finish — and I'm proud of it. The plastic comes from a US manufacturer. We use re-cycled plastic to make the plates and that's good for our environment. The plates and header cards are both manufactured in Brainerd, MN. The plates are packaged by a workshop for developmentally disabled adults in Alexandria, and we ship them right here from our warehouse in the middle of Minnesota.
Does it cost a bit more? Yes. Are the plates still a fantastic value? You bet they are. Are we keeping jobs here in this country rather than shipping them off to another country? Absolutely, positively, YES!
And one last note regarding the price of rubbing plates. At the end of this year, the price on ALL of our beautiful sets of rubbing plates will be going up to match the price of the new Doodles plates. If you've been meaning to round out (or start!) your collection of rubbing plates, do it now to beat the price increase. You can't control the price of oil, but you CAN add a bunch of fabulous rubbing plates to your stash before the price goes up. (That's your fair warning. Take advantage of it while you can!)
Here's the link to the Rubbing Plate page once again…
Yes, I want to order the fabulous new DOODLES Rubbing Plates!
Next week, I'll show you some bonus images that come with the Doodles rubbing plates — stay tuned for some great photos of our backside bonus designs!
Be sure to check out new questions from Donata and Laurie on our Frequently Asked Questions page.