Even though I've been making paintstik rubbings for a gazillion years now, I still find myself running off the edge of a plate and putting paint where I don't want it. Or dropping my paintstick on the fabric, or something that causes me to say "Oops!" (Yes, sometimes I say something other than "oops" but I won't share those comments here — I don't want to tarnish my image…)
First off, let me say that I'm not usually looking for perfection. When I'm adding designs to fabric, especially with rubbings, it's perfectly OK that they look hand made! I'm not a machine and I don't need my fabric to look like it was made by a machine.
Having said that, there are times when I want a "pretty darn good" image when I'm making a rubbing. It took me a lot of practice, trial and error, but I've got a couple of tips for minimizing those pesky "oops" moments and rescuing a piece of fabric rather than starting over.
A Quick Review
In the past 3 weeks, I shared my Top Tips for Great Rubbings. If you have just joined us, or you missed those articles, you can scroll back through the blog entries or use these links.
1 – Better Tools for Better Rubbings
2 – I Should Use Which Part of My Paintstik?
3 – Are You Allergic to Single Colors?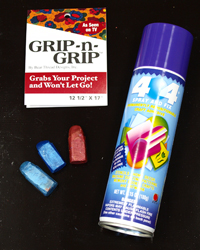 I've said it before (and I'll say it again!) — my "secret weapons" for making rubbings can really make your life easier. Here is a brief recap of my Top 3 Tips for Great Rubbings.
1. A Grip-n-Grip mat on your work surface will keep the rubbing plates from moving around while you work.
2. A coating of 404 spray on the top of your rubbing plate will keep the fabric where you put it.
3. Using the SIDE of your paintstik rather than the end will keep you from dipping down into any large openings in the plate design as you paint. If you want to know more, pop over to the blog with the links above to refresh your memory.
Fixing the "Oops!"
I'm quite confident that I'm not the only person that runs off the side of my rubbing plates or has some extraneous "drag" marks on my fabric. (Don't feel bad — it happens to the best of us.) With all my years of experience making these boo-boos, I thought I should share a few tips for minimizing the mistakes.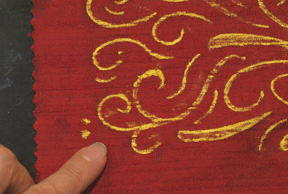 Here is a typical rubbing. The elements are colored in, but I have run off the edge of my plate and I've got some drag marks between the design elements. Because I was making this rubbing for a sample quilt for my friends at Brewer Quilting Supplies, I wanted my blocks to be pretty clean. Not perfect, but cleaner than where I started.
Masking Tape — The Magic Eraser
I've learned to keep a roll of masking tape handy. I call it my Magic Eraser. Here's how I use it: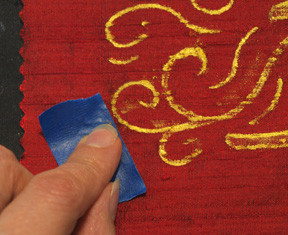 When I have paint where I don't want it and it's easily accessible, I use masking tape to lift off the excess paint. I used blue tape for the photos, but the regular tape actually works better as it's a bit stickier than the blue painter's tape.
The first step is to put the tape over the excess paint and rub it firmly into the fabric.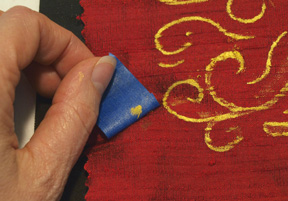 The second step is to lift the tape off the fabric. Most of the paint will come with it. You may need to repeat this 2 or 3 times. The tape will not pick up the last traces of the paint, but the mistake will certainly not be as glaring as it was to start with.
Masking tape is also useful for picking up those pesky bits of paintstik skin that always seem to appear when I'm making rubbings. I just take a piece of the tape and use the sticky side to gently blot the areas with those little blobs of paint. (Gently is the key word here — you don't want to pick up too much paint.)
If I'm working on a piece of yardage, I'll even (gently) use a masking tape lint roller to clean up any excess paint blobs. If you decide to try this, put a towel or some batting under your fabric and roll very lightly over the painted fabric. If you use too much pressure, you'll pick up far more paint than you had intended.
Q-Tips To The Rescue
I mentioned that I use tape when the "oops" is accessible. It works wonders around the edges of a rubbing, but it's too clumsy for cleaning up drag marks in the middle of a rubbing. At this point, I break our the cotton swabs.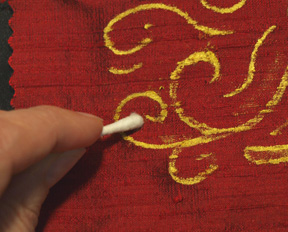 I put my fabric on a grip-n-grip mat to make sure it doesn't move around, and I pull most of the cotton from the end of the swab. Then I rub over the areas with the drag marks with the swab. Some of the paint comes up on the swab. Some is worked into the fabric. Between the two, the rubbing looks much cleaner and I'm a happy camper.
All Cleaned Up!
Here is the same rubbing after I minimized the boo-boos with masking tape and cotton swabs. (No, I did not hide anything with Photoshop!) It's not perfect, but it's pretty darn good and definitely suitable to take it's place in my quilt.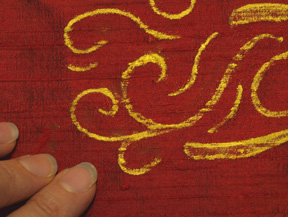 Paintstik Patches
I was looking through my photos, and I couldn't find a finished photo of the red and green silk quilt I made for Brewer Sewing. Here's a photo of the quilt I made from the Happy Holidays rubbing plates. (This quilt was the first time I contemplated making Rubbing Plate Portraits to use as quilt blocks.)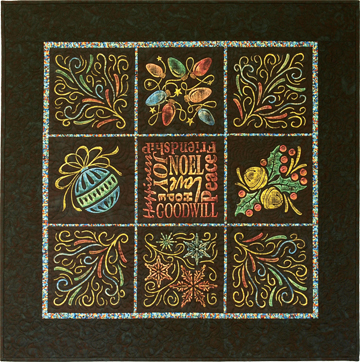 I also made a table runner from rubbing plate portraits. I used brighter fabrics and the Floral Fantasy Rubbing Plates.