If you are like me, you have way too many things going on in your life. You've got work, a spouse (who I hope qualifies as your "better half"), the kids, maybe grandkids, 4-legged friends, 2 legged friends, you name it! Oh, and don't forget about your creative interests. They definitely belong on The List. Sound familiar? I thought so.
So here's the dilemma. You're doing one thing, and an idea pops into your head about something else. Or you're at the office and you think about something that needs to be done when you leave. How in the world do you remember all this stuff???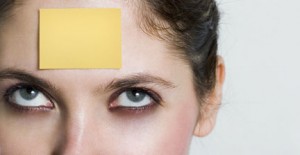 I have a couple of coping mechanisms. The first is a healthy supply of sticky notes. I haven't quite resorted to sticking them on my forehead, but it may come to that yet!
In all honestly, I don't want to carry pencil and a pile of sticky notes with me all the time. If I'm out for a walk with Jack, the point is to spend time with him, not to be thinking about work or my current project. But let's be honest. Ideas happen when they happen. And it's good to be able to remember them. Here's a very cool idea that I picked up from Rich Schefren, a marketing expert that I follow.
Instead of replaying the idea over and over in your mind, set a mental trigger. Here's how it works, straight from Rich:
I imagine first sitting down at my desk (which I know I'll be doing when I get back from the walk) and remembering the idea. Then I visualize myself writing it down. 
When I get back from my walk, I replay the trigger in my mind of sitting at my desk and then having that idea pop up. That alerts my brain to remember whatever it is when I sit at my desk. 
It's giving your mind a trigger, "when this happens, do this."  It works every single time.
The next time you have one of your "aha" ideas while you are walking or driving, imagine yourself going to your studio or office, pulling out the supplies you need, and remembering your great idea. With a little bit of practice, you'll be remembering those often-fleeting ideas almost every time!
Before I leave this topic, I'll share one of my sticky-note strategies.
I'm an out-of-sight, out-of-mind kind of girl. I can forget almost ANYTHING. When I absolutely need to remember to do something away from home or the office, I'll put the note on a bright-colored sticky note and staple it around the handle of my purse. Works like a charm.
Got a favorite way to remember? Please share!