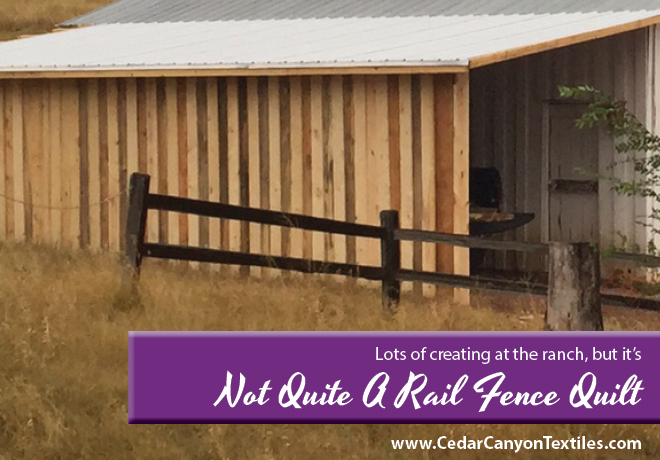 There was plenty of creating going on during our visit to the ranch – but none of it turned into a rail fence quilt. Instead, I was introduced to the fine art of building "board and batten" walls as we helped Paul work on the addition to his shop.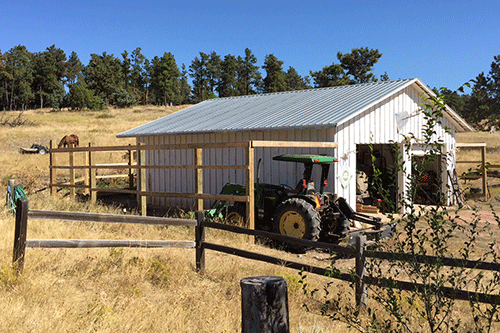 When we arrived, Paul was using the tractor to level out the dirt in the two lean-to sections. (In case you are wondering, a lean-to is an addition to a building that has no door.)
A few days later, gravel trucks arrived delivering 2 huge piles of crushed granite gravel. I asked Paul what that translated to in weight, and and I just about fell over when he said 18 tons. Thank goodness he could do most of the work with the tractor! I helped push gravel around with a rake for a couple of hours – and then headed for a hot shower. This city-girl is not exactly accustomed to ranch projects!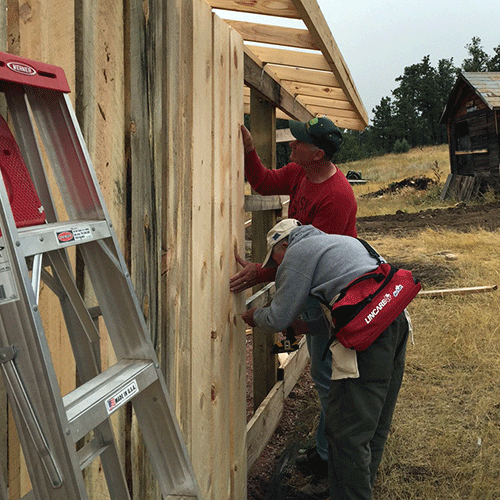 After Paul had the roofing framed, we got to work on the side walls. The lumber is all rough-cut boards from a local saw-mill, and the first step was to add 10" wide boards. We left a 2" gap between the boards. As a non-carpenter, this seemed odd to me. But, I could see from the original shop walls that the gaps would be covered later.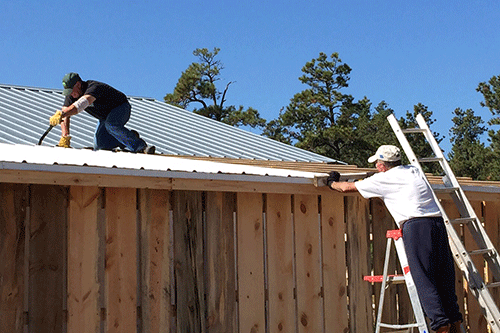 When the wind was calm, Paul and Jack added the steel panels to the roof. As with any "addition" this looked a whole lot easier than it was. Paul had to lift the sheets of steel from the original roof and slide the new sheets underneath – while Jack pounded on the ends of the sheets to push them into place. In quilting terms, it was a bit like trying to add blocks to the middle of an already finished quilt. You can make it work, but it's WORK!
The final step was to add the narrower "batten" layer of boards to the outside of the walls. These were 6" boards, plenty wide enough to cover the 2" gaps between the original layer of 10" boards.
I still wasn't quite clear on the reasoning for this type of construction, so I clicked over to Google for a look-see. I found a good explanation at at DIY site for building cabins. According to this site…
"Board and batten siding is fairly simple siding system of gapped wide vertical boards with narrow overlying vertical battens to cover the gaps. The technique is time-tested, durable, easy to repair and allows for the natural expansion and contraction of the siding material."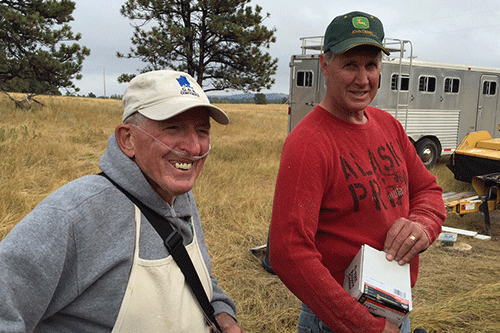 It was rewarding to watch Jack help Paul with this project. Jack is happiest when he has something to work on. The altitude at the ranch made it more difficult to regulate his oxygen levels, but Jack managed pretty darn well. I hope he will be well enough for another visit next fall. If not, I'll know we went out with a bang! (Make that bang, bang, bang!)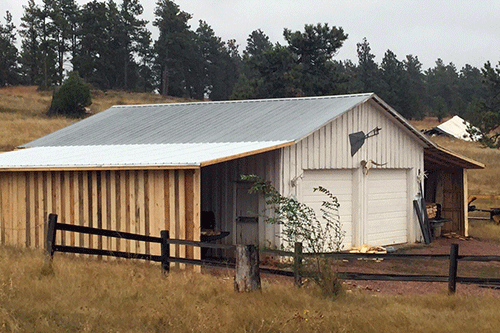 The day before we left, I worked with Paul and Jack to finish as much of the side walls as we could stand. It was cold and windy, but we managed to add the "batten" layer to 60 feet of side walls. Then we sided another 16-foot wall for good measure. Paul figured we put up 1500 pounds of boards in 3 ½ hours, which is pretty darn amazing.
The lean-to on each side of the shop is ready for use. We didn't make it all the way around the back, but I'm sure Penny and Paul will have that done before the snow flies.
Now you know what we did on our "vacation" to the ranch! There are plenty of rail fences – and new additions to the shop – but still no rail fence quilts. I think I have a project for this winter!
Your Turn
Do your "vacations" turn into projects – or am I the only crazy one out here? If you've got a good story, chime in below.