On Friday, a message arrived from Linda Clark (Ontario, Canada) to let me know she had been playing with Stencil Brush Rubbings. But here's the catch… Linda did her experiments in January — long before I posted the article at the end of February. (If I were more technically savvy, I'd play the theme from Twilight Zone here in honor of this nifty coincidence.)
Here's the photo from Linda Clark that really got my attention. Linda teaches a wide variety of quilting classes, and this is a sample she made for a paintstik class. Linda used a stencil she had cut from plastic, then placed a different textured surface under the fabric as she stenciled each of the repeating images. Very simple, yet very effective.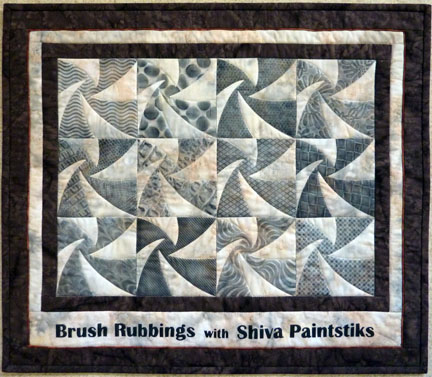 I asked Linda where she found all the textures. She literally went around her house one day and made stencil brush rubbings from everything she could lay her hands on, including the bottom of various shoes, some of her dishes, and all manner of interesting objects. Now that's a good idea for a rainy (or snowy) day! Call it a "texture hunt" instead of a treasure hunt.
Here's a closer look at 4 of the squares from the sample.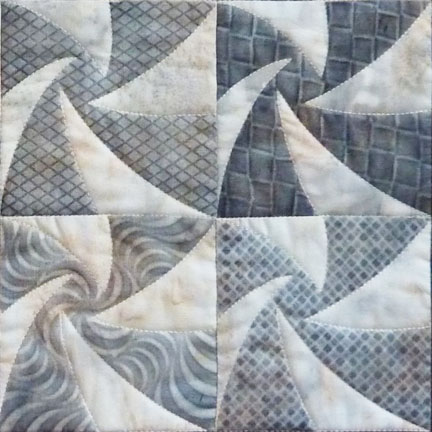 Now, let's expand on this idea a bit…
Stencil Brush Rubbings Redux — Beautiful Borders
After viewing the photo of Linda's quilt, my brain started cranking around. I love it when one good idea leads to another. Here are a few photos from the play time in my office Wednesday morning: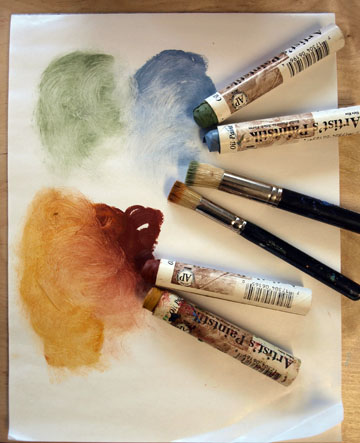 First, I chose some colors. I almost always choose bright colors to play with, but I know that many of you like softer colors. So I poked through the small fabric stash in my office and rounded up a few of the Dusty Matte Colors to make a few samples. (I can't wait for my new home to be finished so I can get my studio back in working order!!!)
I also picked out a couple of my Design Magic stencils that I thought might be useful for making borders. Rather than using both the A and B stencils, I used just one of the stencils, stenciling one image after another.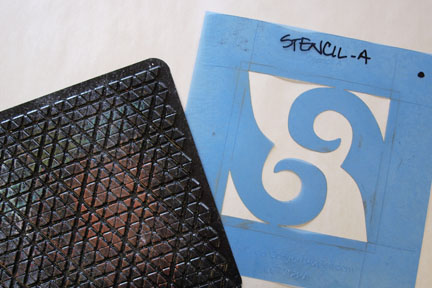 Using Stencil-A from the Scroll stencils and one of the Triangles rubbing plates, I created an interesting repeating pattern that would make a great border.

I chose Celadon Green and Slate Blue paintstiks colors to compliment the muted batik. It's not the colors I would normally choose, but it will be beautiful with the right set of fabrics. With that, I was on to the next sample…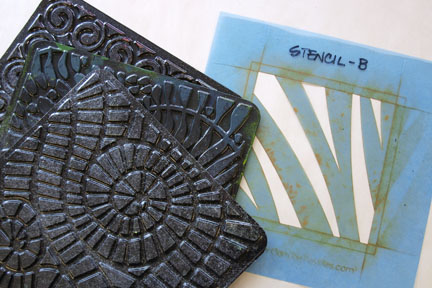 Next up, I decided to take an idea from Linda's little quilt and use more than one texture. I grabbed one of the Safari Design Magic stencil, a handful of rubbing plates, and the Barn Red and Yellow Ochre paintstiks colors.

I stenciled repeating images on a pale yellow batik with different rubbing plates. Done in these colors, I think this would make a beautiful border for an African-theme quilt. By using different colors and rubbing plates, you could make perfect borders for just about any project.
I'll be talking more about Design Magic over the next few weeks. In the meantime, click over to the website to learn more. Be sure to click on the pull-down menus under the main header. (There's a lot of information hidden on the page.)
That's your lesson for today. Go forth, paint a bunch of borders — and, as always, have fun with your paint!