A new year has arrived and it's time for some new adventures. Doing the same old thing gets old and I'm feeling the need to spice up my life and my business. After all, doing the same old thing makes Shelly a very dull girl. It must be time to change things up so I don't get bored. 🙂
In the spirit of new, I've decided to add one old thing and a couple of new things. I'm going to start teaching classes again, I've signed up for a coaching program, and we're getting ready to launch a new website and online store. Nothing dull and boring on that list!
Back to Teaching
I stepped away from my teaching schedule a couple of years ago to take care of some health issues and to deal with the demands of a growing business. It was the right thing to do, but I've really missed getting out and working with students and watching them use our products. I really love being in a classroom setting. It's a wonderful, creative atmosphere and I always learn something new from my students. Sometimes I think I learn more than they do.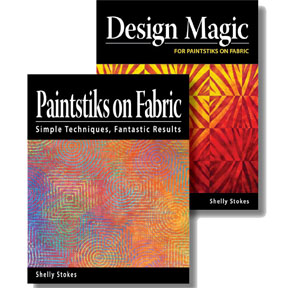 I'll be teaching a couple of paintstik related classes. After all, that's what I do best! One is a general class that covers a variety of paintstik techniques. The second is a full-day exploration of Design Magic. That class is, of course, based on the Design Magic book I released in 2010.
I'm also teaching a class on mixing colors for paints and dyes. When I was dying fabric, I found a pretty neat way to mix various colors using a limited number of dyes. I discovered that I could mix up pretty much anything with 2 reds, 2 yellow, 2 blues, black and brown. I'm really excited to teach this simple method to my friends in the quilting world. Color simply does not have to be that big a mystery.
Hired a Coach
You may think it odd that a successful business owner would hire a coach, but I'm really looking forward to this. It's so easy to get caught in the day to day details and ignore the long term goals. I get busy with this and that, and before I know it, another year has slipped by and I haven't made headway on important goals.
Instead of doing the same old thing again, I've signed up for a coaching program with Morna McEver Golletz. Morna is the founder of the International Association of Professional Quilters and I've found her to be a wonderful resource. It will be interesting to see if this helps me get off the dime on some of my big goals. I'll let you know how it goes.
New Website Coming Soon
Yes, coming soon to a computer near you… it's a brand new website for Cedar Canyon Textiles. It's going to take a few more days to get the new site up and running, but we're very close to completion. I've been working hard with my graphic designer and webmaster and I think you will like the results. Matthew designed a beautiful structure for the site and Carol had waved her magic wand over my wish list and found ways to keep the site very user friendly and allowing me  to add educational content to my heart's desire. Now that's what I call service!
We are also bringing back our online store. As much as I have enjoyed being strictly in the wholesale business, we field calls every week (sometimes daily) from people who can't find our products in a nearby store – or the store carries only a few items. And yes, there are still people out there who don't like to shop online.
I've accepted that our paintstiks and accessories are still a niche product and we need to make it easier for people to buy them. So, after much consideration, we're reopening the online store and looking forward to serving all our customers in a timely manner. And now that I've made the decision to do it, it's time to get excited and make it great.
So, that's where I'm starting my new year. What are you up to in 2011?