If you are a regular reader of this blog, you know it is my personal playground for posting ideas, answering questions, and occasionally ruminating about life in general. I started posting articles about 3 years ago, and over that time I've posted a treasure trove of information.
When the blog was new, it was easy to scroll around to see what was available. Now that it's several years old, it can be intimidating to look back and find things. (Even for me.) Fortunately, when our new site was launched, we added a Search function to this page. I'm finding this function really helpful – and if it helps me, it should help you too! Here's how it works.
First, go to the new Cedar Canyon website and click on Blog (near the top on the right). You already know this – you're here, right? Read on… the Search function really is helpful.

Enter the term or terms that you want to search on in the box, then click on Search. In return, you'll get a listing of every page on the site and every blog entry that contains the search term.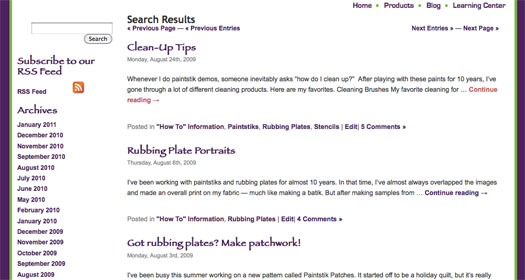 If you click on Rubbing Plate Portraits, you'll go directly to the blog entry that explains how to make a single image from a rubbing plate that can be turned into a quilt block (or whatever you want to do with it). If you click on Clean-Up Tips, you'll get the blog entry that discusses my best ideas for cleaning up brushes, stencils and rubbing plates.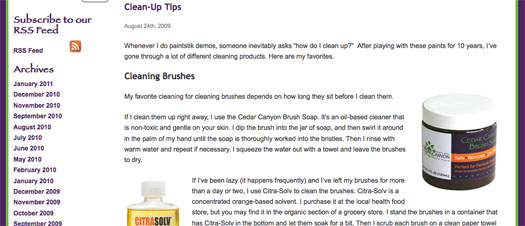 Keep in mind that searching for "rubbing plate" will yield different results than "rubbing." The more detailed the search term, the less you see. In this example, the search results for "rubbing" include a link to the Video called Top Tips for Better Rubbings. The search for "rubbing plate" does not include this link.
Search results are sorted by date, with the most recent higher up in the list. To find older blog entries, I had to get down to the 2nd or 3rd page of the search results, but that was still much faster than trying wander through the archives. And I like finding things fast!
I hope you enjoy reading my Blog. If you want to read the articles as soon as they are posted, you can subscribe to our RSS feed. (Click on the link right under the search box and follow the instructions.) If there is a particular topic you would like to see covered in the blog, send me a note. I'd love to know what's on your mind.