The Product pages on our site contain information about how to use the product – not just descriptions of products. To keep the pages neat and tidy, the information is hidden in collapsible sections. My highly technical term is a peek-a-boo section and I assure you that I'll know exactly what you're talking abut if you call it that too. At any rate, I want to show you how the collapsible sections work so you don't accidentally miss these as you are looking through the site.
When you click on the main Products tab, you get a window that look like this:

You can click on one of the menu items at left or on one of the buttons on the right to get to another page. If you click on Design Magic, you will see this screen.

I added a red arrow to show you the collapsible sections at the top. If you click on one of these items, the information will expand on your screen. If you click on it again, the information will collapse. Pretty neat! If you click on the line About Design Magic, you will see this screen.

When the page expands, you can scroll down through the information. Click on About Design Magic again, and the information collapses. Next, click on The Design Magic Short Course, and you will see this screen.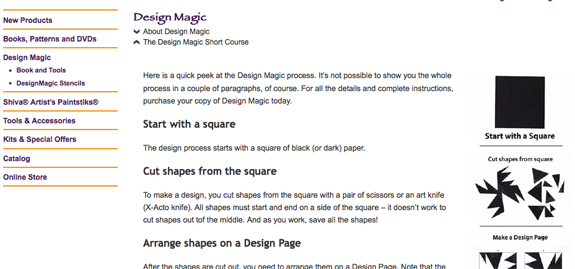 If you scroll through this page, you will get a short overview of how the Design Magic process works. Between the two informational sections, you should have enough information to decide whether you want to purchase a copy of the book. (And I hope you do!) When you are finished with a section, just click on the title to collapse the information and tidy up your screen.
And that's how you use the peek-a-boo sections (ahem… collapsible sections) on our product pages. You'll find instructions for stenciling and making rubbings, information about different types of stencil brushes – you name it! While some of this information is also posted in the Learning Center, we've done our best to put product related instructions and information right on the product page so you don't have to search for it.
So take some time and browse through the product pages – even if you already have everything you need. You might find just what you need to take the next step with your art!