We've been in our new home for just over a month now, and things are starting to take shape. After getting things reasonably settled in our living quarters, I'm slowly tackling my new studio space. I thought you might like a peek.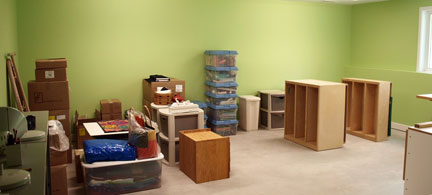 As you can see, I had a lot of stuff to put away. (And you're only seeing the stuff that wasn't stacked up in my office while we were living in temporary quarters!)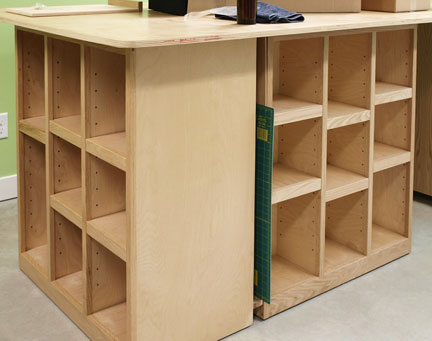 I decided to start with the work table. Jack and I went up to my office and hauled the big 4′ x 8′ table top home, along with a third shelving unit.
I love these studio furniture shelf units. Each unit has a tall, thin slot on the back that is absolutely perfect for cutting boards, extra large rulers, and other stuff that I can never seem to find a home for. And, I can adjust the shelves.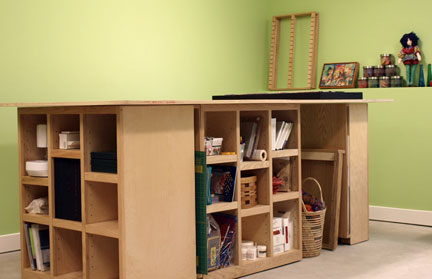 Once all the shelves were in place, I started unpacking boxes. I know that I'll be moving some of these things around as the studio evolves, but I was happy to unpack the first 6 boxes and reduce the pile just a bit.
I now have access to my sewing machine, serger, and felting machine. Woohoo! My art doll has found a home on the ledge where she can cast her blessings on everything going on in the room. And, I found my boxes of paintstiks. Now that's what I call progress.
Need Tools For Your Summer Play Time?
I'm definitely planning for some play time over the next few months, and I hope you are too. If you're short on any supplies, just click over to our Online Store.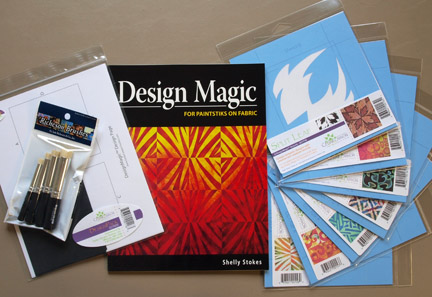 You can whip up some summertime magic with our Design Magic Book and Stencils. We'll send you a FREE DesignPack when you purchase the Design Magic book — and you can pick up all Design Magic tools at a special price through July 11.
All Design Magic supplies are at least 20% off the regular retail value, including our Design Magic Sampler and Super Pack. Have fun making magic this summer! I can't wait to see what you create.