In preparation for my series of articles on printmaking, we've added Easy-to-Cut Linoleum blocks and sheets to our Online Store. Most of the time I'll refer to them as 'lino' products rather than linoleum. (It's so much faster to type…)
[If you are a shop owner, the answer to your question is YES. The Easy-To-Cut Lino products are available at wholesale prices to shop-owners and distributors.]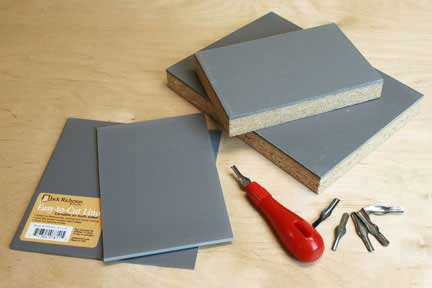 Now the image in your brain of linoleum is probably the flooring in your grandmother's kitchen (or great-grandmother for you young folks). It's the same stuff, only different. The new version of artist's linoleum is an innovative material that can be worked with traditional lino tools – with a lot less work. The tools leave nice clean edges, it's much easier to cut curved lines and tight corners with the 'new' lino, and the entire surface stays workable longer than traditional linoleum.
We will be using the Easy-To-Cut Lino blocks and sheets from my friends at Jack Richeson & Co. The lino blocks are the traditional battleship gray, but much softer. Best of all, it has a very long shelf life, so you don't have to worry about it getting hard before you get a chance to carve it up. I've had some samples sitting in my office for 2 or 3 years, and they are still easy to cut. (And I feel a lot less guilty knowing that I'm FINALLY getting around to using up products that I acquired a long time ago!)
E-T-C Lino comes mounted or unmounted, so you get to decide what you want to work with. The unmounted sheets are 1/16th" thick and very flexible. Sizes range from 3″ x 4″ to 12″ x 18″. If you're really excited about printmaking, you can get them in 12″ rolls up to 50′ long(!), but I'll stick with the smaller stuff for now. The lino may be 'easy-to-cut', but I'm pretty sure I'm not that ambitious!
If you prefer a sturdy block over a flexible sheet, the Precut Mounted Lino blocks range in size from 3″ x 4″ to 9″ x 12″. The linoleum is mounted to 3/4″ particle board.
Mounted or Unmounted… which to choose? It's really up to you. Do you have lots of space to store things? Take your pick. But if storage space is at a premium, start with the unmounted sheets. You can pack a lot of carved sheets in a pretty small space. And save a few bucks in the process.
As we explore the world of printmaking over the next few months, you'll need a few supplies to follow along. 4-6 sheets of unmounted lino and a set of lino cutting tools is plenty to start with. (If you're shopping locally, be sure to look for Easy-To-Cut lino products or something similar.) If you can't find them, click over to our Online Store and we'll send them your way.