One of my all-time favorite days of the year is the day new paintstik colors arrive in our warehouse. It's very exciting to see the actual product after months of discussion about exactly what shade of green, testing 14 versions of red (which don't turn out the way I have my heart set on) and then figuring out what we should name them. After all the up-front work, I'm thrilled to announce "they're here!!!"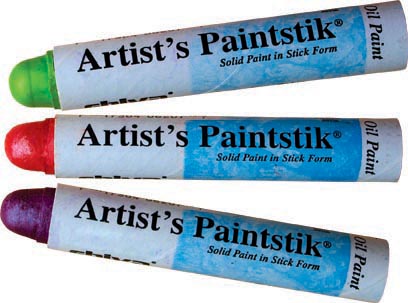 Let me introduce you to the new additions to our iridescent paintstik family.
Iridescent Lime is a color that truly matches it's name. It's very bright when applied to fabric and definitely leans toward yellow. As a matter of fact, it looks a bit yellow on black fabric until you put it next to Light Gold (which I call Yellow). Then it most definitely looks green.
Iridescent Grape is the color of red grapes. It fits nicely between iridescent purple and magenta. To the best of my knowledge this is simply the iridescent version of the Grape color in the matte paintstik family.
Iridescent Watermelon was the result of our search for a bright red. It didn't turn out to be a true red (nor did any of the other upteen attempts…) but it is a spectacular color and it fits perfectly in between iridescent red and orange. And it maintains it "bright" quality on dark fabric, which is not true of the current red.
Sets and Minis
These lovely new colors are available as single full-size paintstiks, a set of minis, and as a part of a new full-size set. Here are photos of the new sets.
Mini Sorbet Colors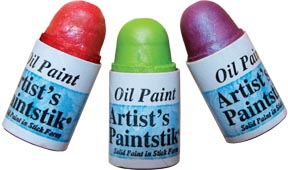 We decided to call the set of three minis our Sorbet Colors. After all, they are named after fruits and really do look good enough to eat. (I thought "Tutti Frutti"  sounded like a great name for this set, but I guess that sounded a bit frivolous to the powers in charge of product names. :-)) Ah well, Sorbet is a lovely name and very appropriate for the new colors.
Set of 6 Tropical Colors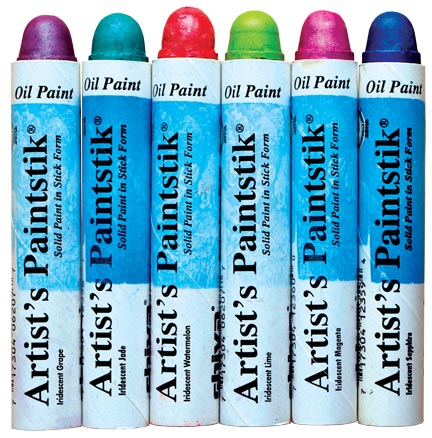 With 6 new colors between last year and this year, we also had the opportunity to create a new set of full-size colors. With all these bright colors in one place, the only logical name (in my mind) was Tropical Colors. After looking at the same sets for the last 10 years, it's really exciting to see something new – and I have to say this is a gorgeous sets of paints!
Coming soon to your favorite paintstik retailer…
With the new colors just in the door here at Cedar Canyon, it's going to take a few weeks to get the new colors out into distribution. Please contact your favorite paint source and ask them to order the new colors for you. If you are really in a hurry, you can contact Dawn's Quilt Shop in Alexandria, MN (the shop closest to me) or Laura Murray Designs. They can both get the new colors off to you even though they may not be up on the websites.
Happy painting! I hope you enjoy these wonderful new colors as much as I have!