I just love having new products to announce! Our paintstik minis have been so popular that I worked with my paint company to put two special assortments together for you! It always seems like forever when I'm waiting for new products to come in the door, but I've been told that these are truly "on the way." Now, as long as they didn't send them on the scenic route… but you probably don't want to hear our shipping stories.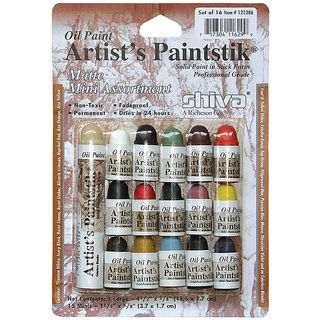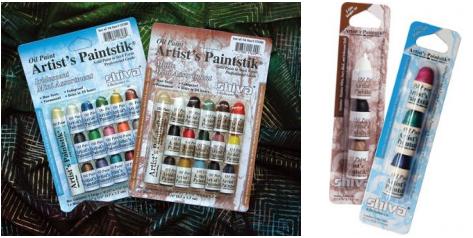 The iridescent set was easy – we only had 15 colors to choose from along with the iridescent blender. With 51 colors in the matte line, choosing 15 for the set was a little more interesting.
I wanted you to have a full color wheel along with black, white and a couple of browns. Since I use the matte colors extensively for shading, I made sure that the set had a full range of dark values along with lighter and brighter colors. If you like to stencil with your paintstiks, this new Matte Mini Assortment is a keeper! The final list of colors includes 2 reds, orange, 2 yellows, 2 greens, 2 blues, purple, black, white, and 2 shades of brown. What a great collection!
With any luck, these sets will be in the hands of our retailers by the end of next week. Happy painting!