Our new paintstiks colors have been wildly popular — especially new new iridescent jewel colors. So, without further ado, let's take a look at all six colors.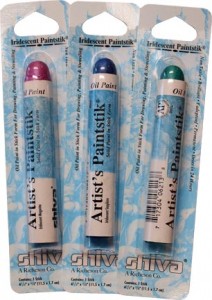 New Iridescent Colors
The new iridescent colors are really lovely. They are all the more special to me because I had the opportunity to work with the paint company to develop the colors. (Creating new colors is a most interesting process — there is a limit to how many times I can say it needs to be "just a little more toward the blue" before my paint guy tosses in the towel.) At any rate, our new iridescent colors are Jade, Magenta, and Sapphire. And they are simply yummy!
Jade was easy — we knew this was a winner as soon as we saw the first sample. It's a lovely blue-green that sits in between Green and Turquoise.

Magenta is a wonderful deep pink. I really wanted iridescent fuchsia, but by the time we added the "shiny stuff" that makes a color iridescent, it was no longer truly fuchsia. None the less, I love the color and think its a great addition to the line.
Sapphire was the most challenging. The first sample came back a deep purple. It was a lovely color, but not what I wanted. After 3 times of saying "it needs to be a little more blue…" we had a winner. Sapphire darker than most of our colors, and sits perfectly between the original blue and purple iridescent colors.
We also put the 3 colors in a set of Mini Jewel colors for those of you who like "just a taste!"
I was testing out the new colors while I played with the new Snowflake stencils. (It's always nice to do two things at once!) I'm probably more than a little biased, but I think they are all just delightful.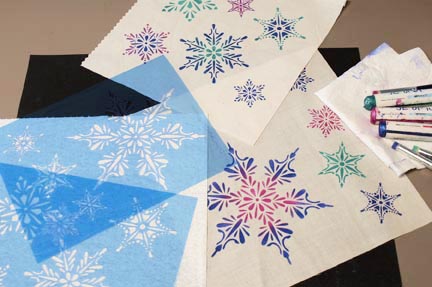 New Matte Colors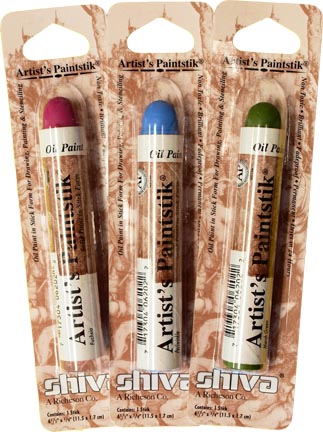 The new matte colors were developed for an amazing painter named Diana Lynn Cote. If you want to see some incredible paintings, visit her online gallery. Diana paints exclusively with Shiva Artist's Paintstiks, and her work is truly amazing. The new matte colors are Fuchsia, Periwinkle and Marsh Green.
Fuchsia is, well, very fuchsia. It's a fabulous, vibrant pink.
Periwinkle is a medium value "blue" that is similar to the iridescent Sapphire — it's not really blue, not really purple.
Marsh Green is another great color. It's more yellow than Meadow Green. One of my friends called it "Mr. Yuck green" after the symbol on the poison control stickers. That's actually a pretty good description — although not terribly appealing.
Here's a quick sample I made up to show the colors on fabric.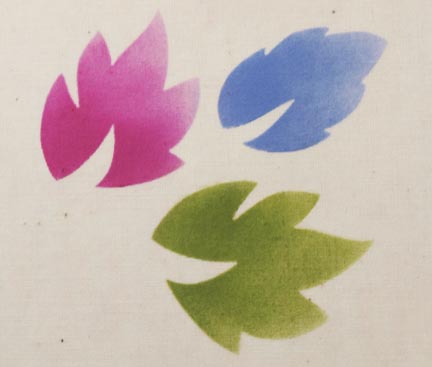 Enjoy the new colors — and as always, happy painting!