By Susan Stein
While we usually think of stencils as tools to use with paint, they are very useful any time you want to create a specific shape, regardless of your materials. In today's lesson, we look at how to use stencils with needle felting. Whether you work by hand or machine, stencils make it easy to create beautiful shapes with your fibers.
Supplies:
~ Ginkgo Leaves Stencils [Cedar Canyon Textiles] ~ Wool roving
~ Hand-held needle felting tool [Colonial Needle Company or Clover] ~ Thick foam pad
~ Needle felting machine or sewing machine attachment (optional)
~ Masking tape
~ Firm piece of black felt- 9" by 12"- or other background fabric
Step 1 – Attach stencil to background fabric
Tape the stencil onto the black felt and place on the foam pad.
Step 2 – Create an outline by hand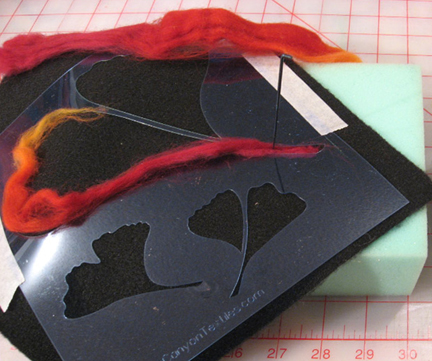 Using a single felting needle, punch wisps of wool into the background around the edges of the openings in the stencil. (I remove one of the needles from my punching tool to do this.)
Note to felting machine owners: Do the outlining step by hand — the stencils are tougher than they look — and you'll break needles if you get too close to the stencil.
Step 3 – Fill in the open areas with roving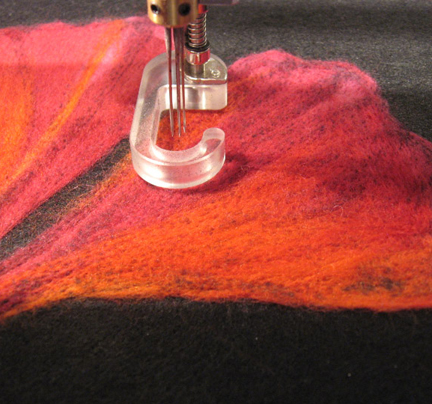 Once the outlines are complete, remove the stencil and fill in the leaf with more roving, either by using the hand-held needle felting tool with several needles in it or by using the needle felting machine or attachment.
Colonial Needle Company makes a felting tool that holds up to 6 needles, and Clover has a spring-loaded tool with multiple needles.
For those who wish to work with machine felting, Bernina makes a needle felting attachment that fits a number of their machines. There are also a number of dedicated felting machines on the market, such as the Baby Lock Embellisher and the the HuskyStar from Viking Husqvarna.
Step 4 – Punch from the back
After the leaf is filled in, turn the felt over and punch from the back to bring some of the black background through to the front. This also helps to lock the fibers into the background.