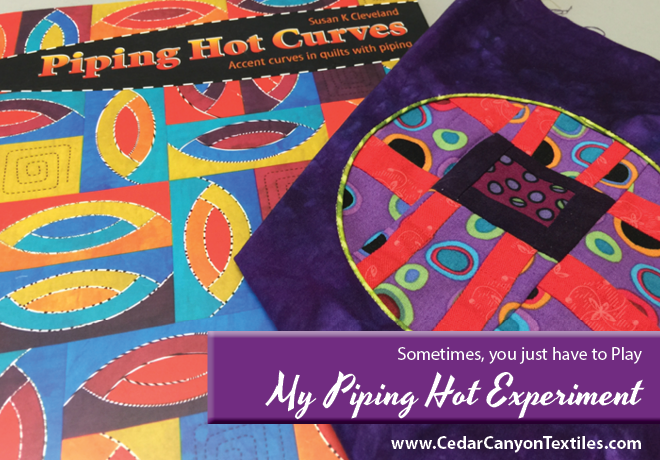 A couple of months ago, I finished work on a set of three art quilts that took 18 months to complete. (Whew!) Since then, I have been thinking about how I might scale up one of the medallions into a Really Big circular motif. Now I'm not sure just exactly what "Really Big" would actually be, but I'm quite sure it will be big enough that I won't be able to do my hand stitching on a single piece.
One of my options is to construct the medallion in pieces and then put them back together to form the finished piece. But… how would I do that? (Have you noticed there is always a "But…" in there somewhere?) Thus began my Piping Hot Experiment.
First off, I sat down with a cup of my favorite tea and read the Susan Cleveland's Piping Hot Curves book. Carefully. Susan has developed some amazing techniques, but you really have to pay attention to the details.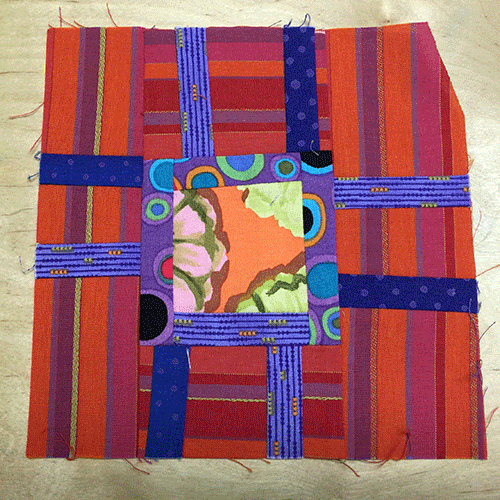 For a simple experiment, I really didn't want to do a whole lot of work. (I am inherently lazy when it comes to experiments!) I grabbed some orphan quilt blocks given to me by my good friend Deb Mohr and set out to play.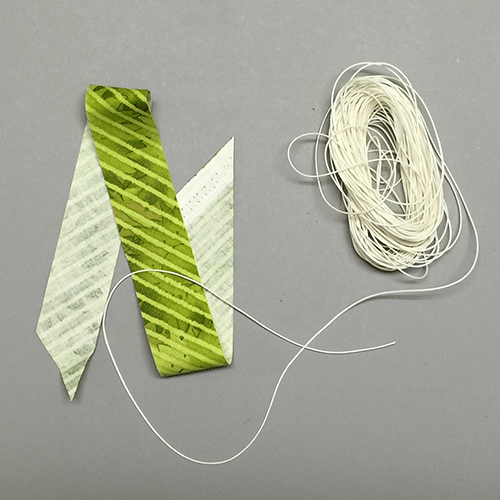 The first step with any of Susan's piping hot techniques is to… make piping. Imagine that! I found a chunk of fabric in my stash that was not quite lime green and cut up some bias strips.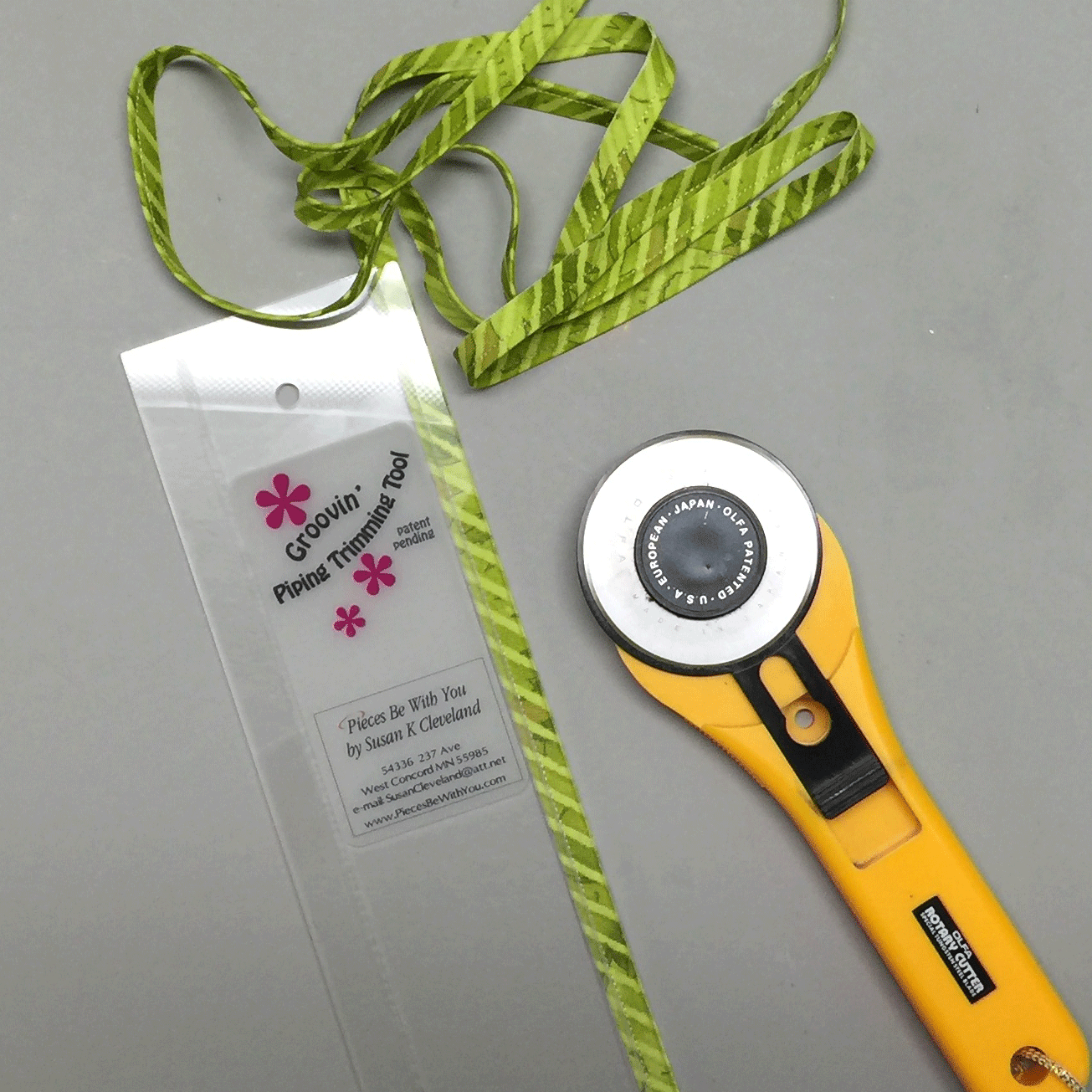 The next step is to add the tiny cording to the piping, stitch close to the cord and trim the edge to a consistent size. I have to say that Susan's incredible instructions and her Groovin' Piping Trimming Tool make this super easy. I can't imagine trying to trim piping with a regular ruler.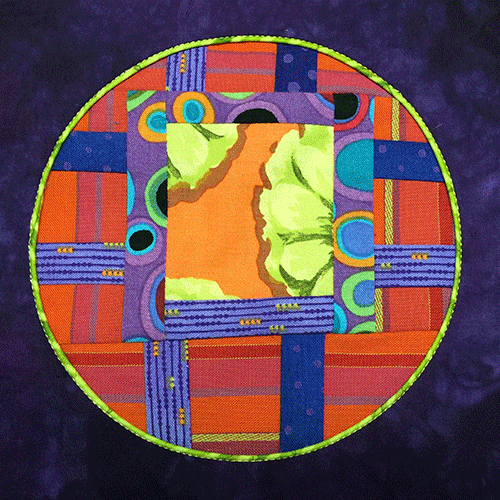 This is where the rubber hit the road. Would it actually work? I browsed through the projects in the book and chose the one that called for making a circular frame. It was certainly not the easiest one in the book, but I wanted something that would look good with Deb's wonky patchwork blocks.
I followed the instructions Very Slowly and Carefully – and it worked! (Susan's instructions work perfectly, of course. I was tickled that I managed to get my brain and hands coordinated enough to figure it out on the first try!) And just so you know, I kept the book right by my sewing machine for the entire time. I flipped back and forth more times than I can count, but it got the job done.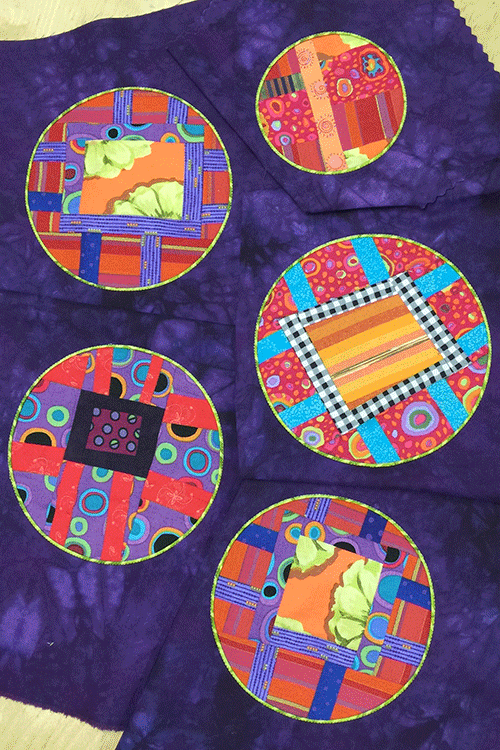 After doing my Piping Hot Experiment, I have five wonky blocks set into circular windows, edged with awesome piping. And, as much as I hate to admit it, I woke up dreaming about curved piping two out of the last three nights! I'm thinking there's a message in there somewhere, but I'm just going to let it percolate while I move on to the next experiment.
As for those wonky blocks, I figure they are one step closer to becoming Something. Maybe. I think I should "gift" the blocks back to Deb and let her figure out the next step!
Resources
If you want to do your own Piping Hot Experiment, you'll need Susan's trimming tool. It comes with piping instructions, but I would definitely recommend the Piping Hot Curves book if you want to do anything with curves.
You can find the Groovin' Piping Trimming Tool, all of Susan Cleveland's books and lots of other fun stuff at PiecesBeWithYou.com.
Your Turn
Have you used piping on your quilts? Did you use Susan's techniques – or those from someone else? Leave a comment below or click over to our Facebook page.