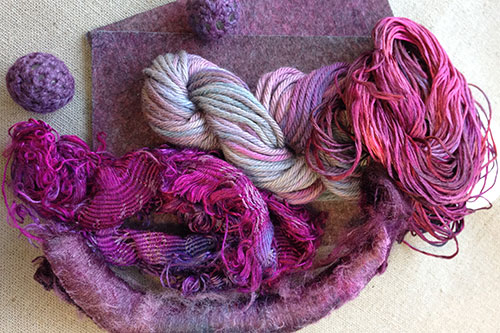 Each year, my small group of adventurous quilting friends does a challenge project. This year, the challenge was to create something using the contents of Painter's Pixie package. Each pack contains an interesting assortment of coordinating threads, fibers, painted Lutrador and one or two other interesting bits like a silk rod. The challenge is what in the world to do with some of this stuff!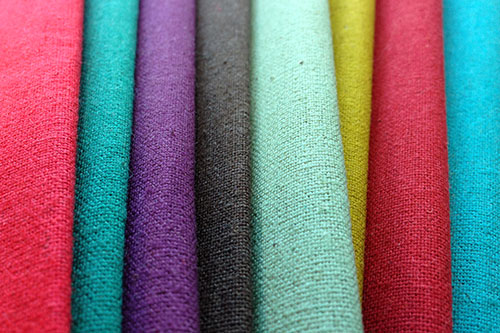 I had my Pixie pack ready to go. Next step was to choose some fabric. I purchased a range of linen-blend fabrics from Moda a few months ago, so I grabbed that stack of fat quarters, heated up my iron, and I was ready to play.
I took a class from Gwen Marston in June, and I really enjoyed the process of making interesting small bits and pieces. Since I managed to put off doing the challenge until the last moment, working small was a good plan. (Are you nodding your head knowingly about that "last minute" thing? Fantastic! I like to think I am not the only procrastinator out there.)
As I looked at my pixie goodies, I knew I had to eliminate stuff. I had one day in the studio to get this done. My fabric was very matte, so I eliminated the fibers that had shiny stuff in them. I decided to work with the silk rod and some goofy fringe-like fibers.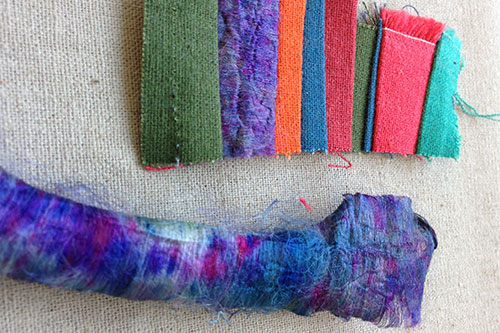 The first dilemma was how to use the silk rod. It was too stiff to use it as it was, so I decided to see what happened if I peeled off a layer. Much to my delight, it was soft enough to use like a strip of fabric and strong enough to hold up just fine after stitching.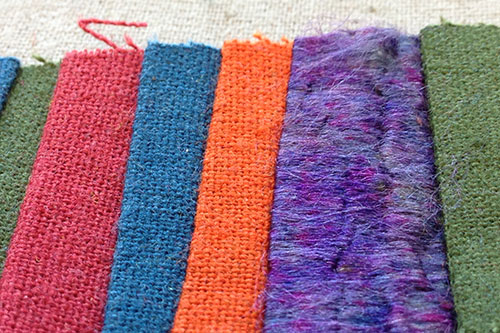 Better yet, the texture of the silk looked great with my fabric. After sewing a long uneven strip set, I was ready for the next step.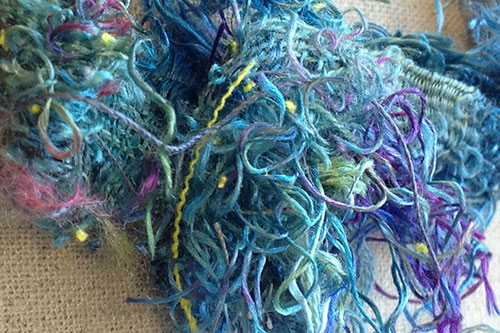 Actually, I had to stop and make a cup of tea. I needed some time to figure out what to do with this fringy stuff. I was not excited about having loose stuff hanging off the surface of my little quilt, so I pondered different ideas for sticking the stuff to my fabric.
I settled on fusible web. I could not find my supply of MistyFuse. (I know it is here somewhere, but it was in hiding yesterday.) I knew the SteamASeam 2 was too heavy for what I was doing, so I pulled out the WonderUnder and figured it would work just fine.
I fused WonderUnder to the top of several strips of fabric, pulled a bunch of fibers from the fringy stuff and stuck it all together with my iron. What in the world did we do before fusible web?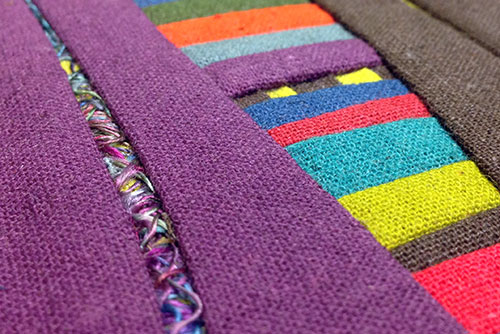 I used one piece of my "fringy" fabric as an insert between two strips of purple.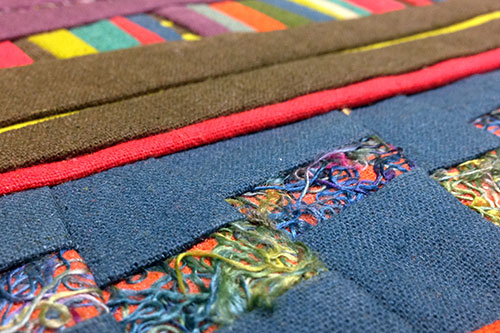 I made a strip set with the other one with blue linen and then chopped it up and put it back together in a wonky pattern. (There are no rules with free-form piecing — so you really can't make a mistake. It's just a matter of whether you like the bits once you are finished with them.)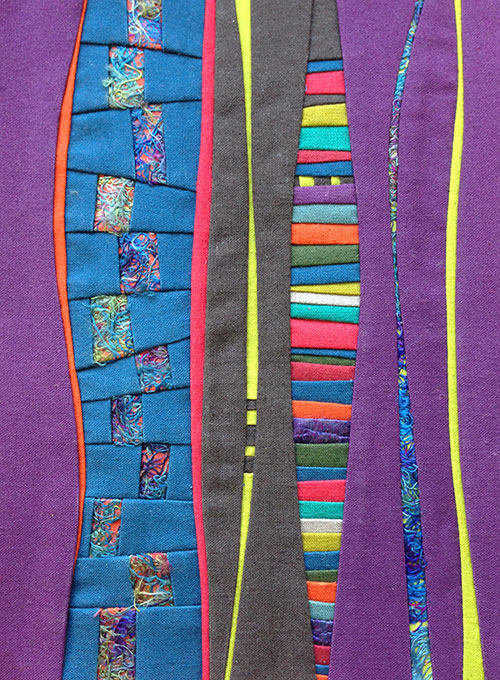 At the end of the afternoon, I had a small but interesting composition. (It's about 8" x 10") I loved that it took all of 4 or 5 hours start to finish — and that I had a finished piece to share with my group on Wednesday.
Best of all, I loved that I just sat down and created something.
Resources:
You can find a full selection of Painter's Pixies — and an unbelievable selection of fiber art goodies at Artistic Artifacts
For inspiration on making small studies, you can order a copy of 37 Sketches from Gwen Marston. (Gwen does not have an online shopping cart, but you can download the order form from this page.)
Your Turn
Do you like challenge projects — or do you avoid them like the plague? Leave a comment below or over on our Facebook page. I would love to hear your story.