I've shared a number of ideas for keeping track of your Shiva Artist's Paintstiks. I absolutely love the paper color swatches that I used to create my Swatch Buddies color cards. (You can read about that by clicking here.)
While painted swatches are by far the most accurate representation of a color, you really can't make up the entire set of swatches unless you have the whole color collection. Duh! And I'll bet that only a few of us have the entire set of paints. (Even then, chances are good that we won't actually USE all of them, but that's a story for another post…)
A Paintstik Color Card — Just For You!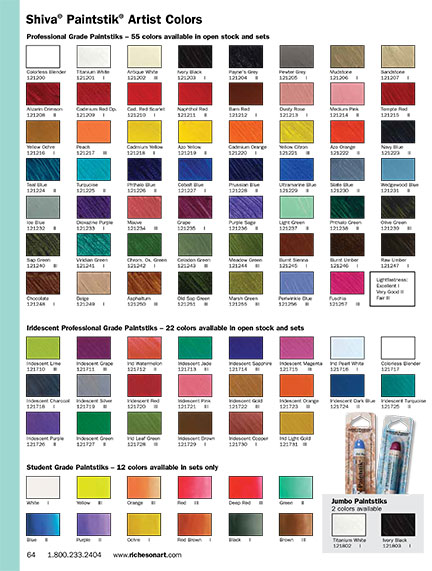 So, what's a girl to do? Download this color chart and mark it up! Yes, we finally have a one-page color showing all the paintstik colors — and it's my gift for you!
This color card was created by my friends at Jack Richeson & Company, our paint makers. They took all the color chips I made up a while back, did some color correction, and put them all on a single page. While the actual colors will vary when you view them on a monitor or print them on a home printer, this color chart came out pretty darn good on my HP home printer.
Click here to download your Shiva Paintstik Color Chart
Print out as many copies as you want. I've got 3 quick ideas on how you can use them, but I'm sure there are more…
Mark one up to reflect your current paint collection.
Use another for your  wish list. (It's a great way to help your family shop for you!)
For those of you who keep records about your projects (yes, some people do that!), mark the paint colors you use on the sheet and tuck it in with your notes and fabric swatches. That way you'll know what color you used.
Most of all, enjoy this fast and easy way to keep track of your paints.
By the way, you may be wondering about the Student Colors shown at the bottom of the color chart. I have never sold the student colors because they don't have the same level of pigment loading as the Professional (Matte) and Iridescent Paintstik colors. The thing I love most about these wonderful Paintstiks is the intensity of the colors, and I have chosen not to use colors that are less saturated and intense.
Technical Disclaimer (the fine print about color cards)
I'm thrilled to make this color card available online, but there are a few things you need to know when you look at this on your monitor or print it out.
1. Not all printers print in true color. For example, a printer that has more cartridges will have better print depiction of the chart, the type of paper you print on will affect the ink color absorption (such as a glossy finish versus a card stock or plain paper), and whether or not you print in draft, normal or best mode will also affect the final result.
2. You should not to rely on your screen to match colors because different graphic cards output different color representation.
Having said all that, I hope you find the color card helpful in organizing your paint collection and your wish list. Enjoy!