When my sister was visiting a few weeks ago, she wanted to experiment with a technique she learned from Jane Dunnewold. The best name I can give this is Multicolor Screen Printing with Interfacing Stencils.
I'm not going to give you the blow-by-blow on how to do this. I know this information is included in Jane's Improvisational Screen Printing book, and it may be referenced in her Art Cloth book. (I'm not sure about that — it's the only one of Jane's books that I don't have in the studio!)
Shelly's Short Course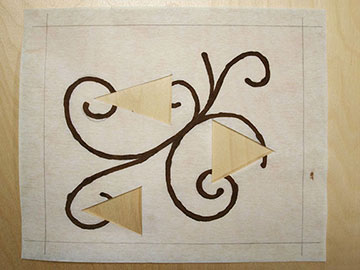 You start this process by making a stencil from non-fusible interfacing. The first step is to add a design of some kind with acrylic paint. This will act as a resist when you make your prints.
The second step is to make some simple cutouts in the stencil.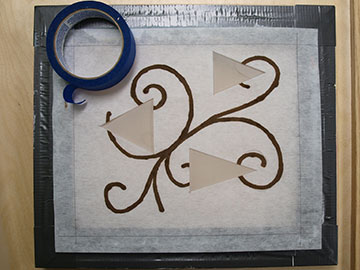 When your stencil is ready, tape it to the back of a blank silk screen that has been prepped and taped.
With your screen ready to go, you'll need to mix up a series of thickened dyes. We used Jane's recipe for making print paste, but you can also purchase print paste kits from Dharma. We chose a natural color wheel rather than brights. We used Golden Yellow, Strong Red and Indigo as our primary colors.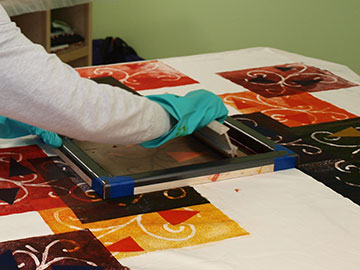 Before you start printing, you put your screen on a piece of scrap fabric and push yellow dye through the screen until the interfacing stencil is saturated. Then you move the screen over to your good fabric.
To make the first print, you add orange dye to the screen and make a print. You can see my first print below my elbow in this photo. Even though I was printing with orange print paste, the bulk of the print came out yellow, and the cutouts printed orange. After 2 prints with orange, we switched to red print paste. Those prints came out with orange backgrounds and red cutouts.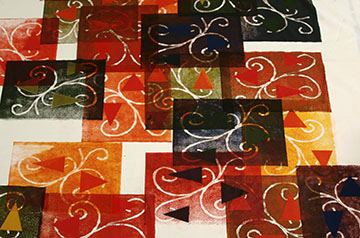 As you cycle through the color wheel, you continue getting these really cool multicolor prints!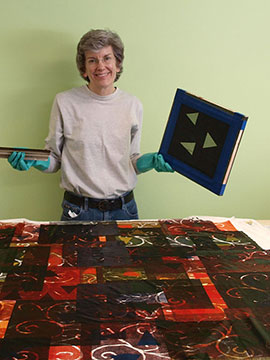 Jane's instructions call for overlapping your images, and printing several times around the color wheel. I got carried away and made 3 passes through each color on my yard of fabric. My piece looked like mud, but I have enough experience with fabric dyes to know that a lot of this dye was simply going to wash out.
We covered our fabric in plastic and let it sit (batch) for 24 hours, and then we rinsed away the excess dye and tossed our pieces in the washer.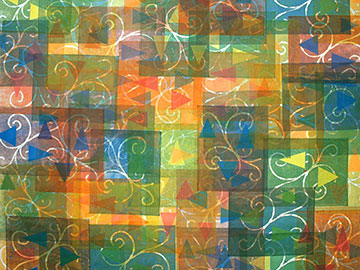 As you can see, my finished fabric looks a whole lot better once it was washed out. These colors are a little muted for my tastes (I prefer brighter colors), but I consider our experiment to be a grand success.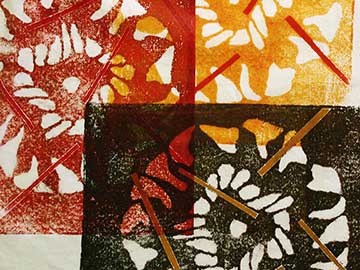 Here's a photo of the image that Sharon was using for her fabric.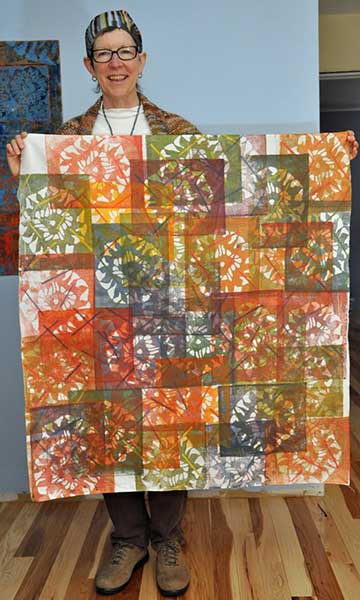 And here she is showing off her finished fabric.