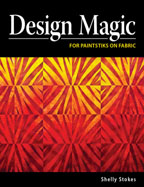 In last week's blog post, I shared Linda Clark's Split Leaf Flowers. Linda also did a lot of experimenting with Design Magic and combining different designs to make a more interesting composite image. Let's take a peek to see how she did it.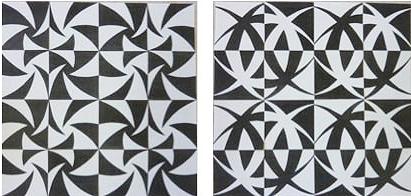 Here are two of Linda's designs. In the first, Linda cut one shape from each side of the original black square to make an off-center pinwheel design. In the second, she created a design that looks like a series of overlapping ovals once the design is put into a repeating pattern.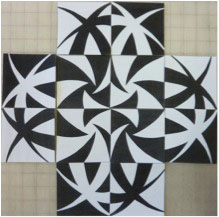 Here's the neat part. If you combine 4 squares from Design 1 in the center and then add squares from Design 2 around the outside, the outer designs make a very interesting frame for the inside.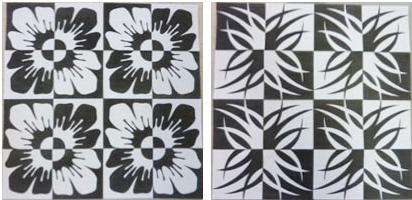 Here's another fantastic combination. Design 3 is a very cool flower motif, and Design 4 looks like Iris leaves or tall grass.
Linda put the flower in the middle with leaves/grass around it as a border to create a fabulous Design Magic composite design.
Ready for one more cool combination?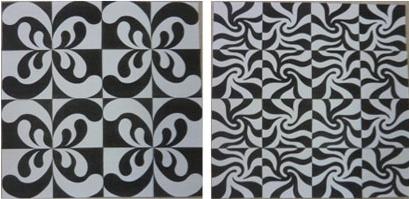 Design 5 and Design 6 are interesting curvy designs. I'm not sure I would use either design as a stand-alone repeating pattern, but I was totally blown away by the next composite design…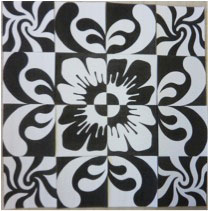 In this composite, Linda used the flower in the center, elements from Design 5 on the edges, and squares from Design 6 in the corners. All I can say is Wow!
As an author and a designer, I am just thrilled when I see one of my readers take the concept that I put in a book and make it her own. I know I've succeeded in passing my love of a concept on to my reader — who then adds her own experiences when she passes it on to the next person.
Photos like this really make my day. When I come to work, my mission is to inspire you to explore the magic of fabric art. I simply love color, pattern, texture and fabric, and I'm so gratified that you share my creative adventures.
A special thank you and a big, warm hug to Linda for sharing her inspiring adventures with stencil brush rubbings and Design Magic. Linda is an accomplished long-arm quilter and teacher. You can visit her at www.borntoquilt.ca.
Make Some Magic — and Save Some Green!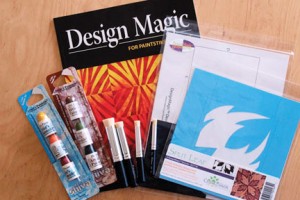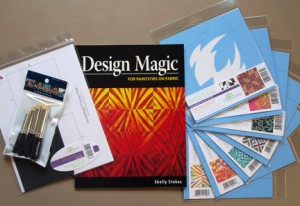 In honor of Linda's amazing Design Magic combo designs, I'm leaving our Design Magic Sampler and Super Pack specials up on the website for another week. When you order by midnight on May 9th, you'll save a full 25% off the cost of purchasing the items separately.
The Sampler (on the left above) is perfect for getting started with Design Magic. You get one set of stencils in the back of the book, the latest Split Leaf stencils, a Design Pack for making your own designs, some paintstiks and a set of brushes.
If you want to play with the Mix & Match concept like Linda has, take a look at the Super Pack (on the right) The Super Pack contains ALL of our pre-cut mylar designs and you can mix and match to your heart's content.
Have a great time playing with Design Magic — and please send me pictures! I love to see what you're up to.