I don't normally carry large handbags, but Lazy Girl's new Candice bag was an absolute lifesaver at the big Houston Quilt Market. As I mentioned in the newsletter, she's perfect for a business trip, with a pocket for my iPad and that all-important cord and power converter. She's big enough to carry my show paper work or a magazine and had plenty of room for a water bottle and a few snacks. Perfect!
My adventure with Candice started a few weeks before Quilt Market. Since I wanted to use fabric decorated with paintstik rubbings, I had to plan ahead. And, of course, I needed an excuse to use my new Doodles Rubbing Plates. They were practically shouting at me from my work table every time I walked past.
I painted up 2 fat quarters of fabric on a Friday afternoon so they had plenty of time to dry. I like to layer up my rubbings, and that means I need at least 3-5 days of dry time before I can heat-set the paint and start my sewing project. Here are photos of the 2 fabrics that I painted for Miss Candice.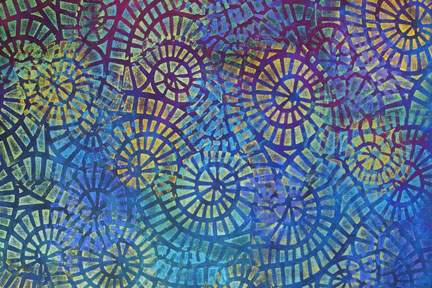 For the first fabric, I used just one rubbing plate and half a dozen iridescent paintstik colors. The fabric is a lovely piece of hand-dyed fabric made by Carolyn Abbott. The graduated color of the fabric adds a little magic to the completed fabric.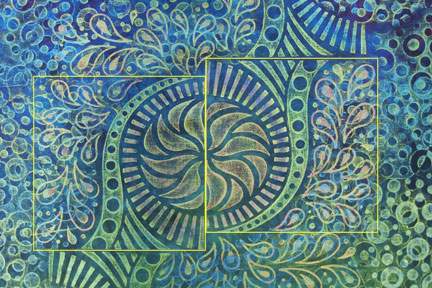 For the second piece, I worked with one of the bolder designs in the rubbing plate set. I painted the motif, then turned the plate around and carefully matched up the swirl motif. It worked, but it was challenging at best to get these lined up. I wound up using my window as a lightbox, but trying to place a rubbing plate in just the right spot is not easy. The window-as-lightbox trick worked, but I had to make sure I cleaned all the paintstik color off the window. Let's just say I'm not in a hurry to try this again soon.
I started my bag a week before I left for Houston. Joan's pattern calls for a lot of interfacing, so my first task was to get all the pieces cut to size and fused to the right stuff. It takes a little bit of time, but it makes all the difference in the finished bag. I think my next treat for me is going to be one of those nifty presses to save time on fusing.
By noon on Saturday, I had the pieces all properly fused and ready to go. Here's a quick pic of the front of my bag.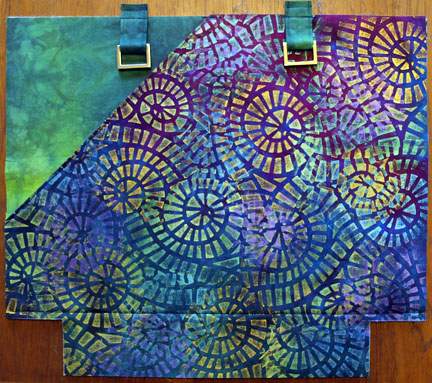 Joan thinks of everything in her patterns. I mean everything. It took me the longest time to figure out why she called for the line of stitching just above the notches at the bottom. I just knew there had to be a reason. Once I assembled the bag, I had one of those "oh duh!" moments. Of course! It's to keep the stuff in the front pocket from dropping down under the bottom of the bag. Now why didn't I think of that?
Here's my lovely Miss Candice. I took a few photos before I headed to Houston. I figured she would be most photogenic before I started taking her off on my travels. I'm a little hard on bags. (My Margo bag is practically in tatters. Still useful, but looking more than a little tired.)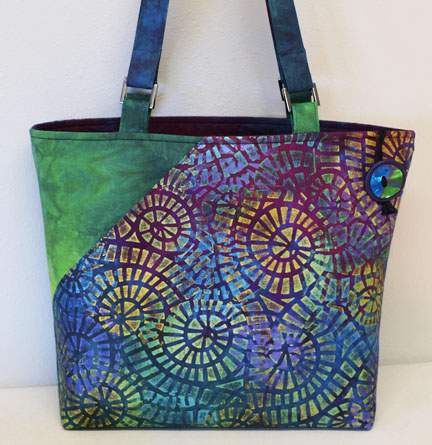 I think Miss Candice turned out great. I chose a different section of the original hand-dyed fabric for the insert and the lining. The fabric actually went all the way to lime green (my favorite!), but that was a bit overpowering. This color was just perfect.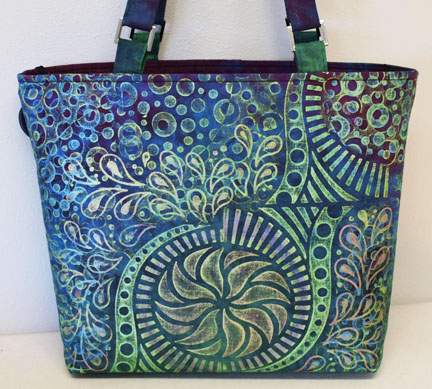 I used the wild and crazy piece for the back. The swirl motif is a lot of fun, but it sat too far down on the fabric to work well on the front. No matter which way I pick her up, Miss Candice draws a lot of attention. I had tons of compliments at Houston, which I enjoy as much as anyone else.
Enter to Win — And Create Your Own Fantastic Candice Bag!
I had a wonderful time making my Candice bag and I'm sure you will too. I shared my recent newsletter with Joan Hawley (Chief Lazy Girl) and she suggested that we give away the key ingredients that go into the making of a really great Candice Bag. What a great idea! If you're the lucky winner, here's what you get:
– Candice pattern (the pattern — not the lovely bag pictured below…)
– Bag-E-Bottom size A
– Two sets of rectangular rings (4 rings total) in Glossy Nickel finish by Nancy Zieman for Clover Needlecraft
– Doodles Rubbing Plates (6 designs in the set)
– Iridescent Mini Sorbet Paintstiks
What a fantastic prize!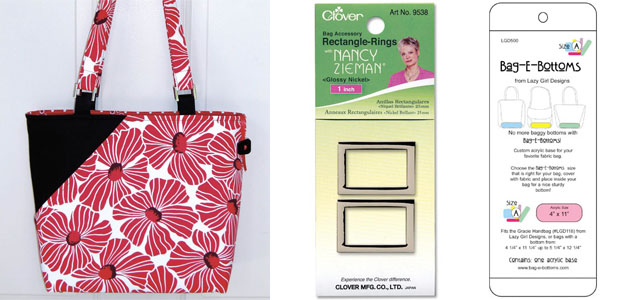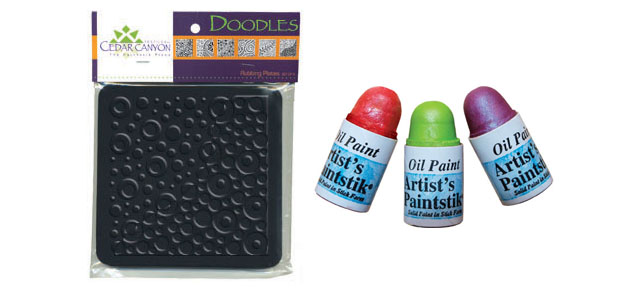 Enter To Win
– Enter by posting a comment at our blog. Tell me what you think of Joan's new Candice bag and how you might decorate her.
– One comment per person.
– Be sure you type your email address correctly so I can contact you.
– I'll pick 1 winner using the random number generator.
– Enter by Friday November 11, 2011, 10 pm Eastern time.
– I'll contact the winner via email.
– Joan and I will send the prizes off to the winner. Simple!
Want to Learn More?
To learn more about Lazy Girl's Candice Bag, visit Joan over at www.lazygirldesigns.com.
To learn more about Paintstiks, Rubbing Plates and all the fun we have here at Cedar Canyon, join our community. When you join, I'll send you a free Sunflower Quilt pattern, a guide to embellishing Gift Bags, and a weekly newsletter featuring tips, tricks, product news and more. Click here to Join Our Community.