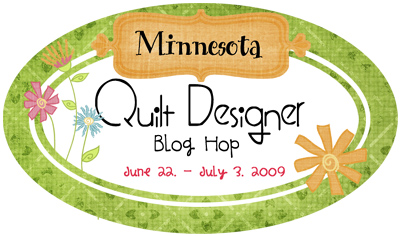 Well here's something new and different — I've been invited to take part in a Blog Hop that starts next Monday, June 22.  A group of 10 blogging quilt designers, all from Minnesota are taking part in this adventure. Starting next week you can visit a new blogger every weekday. Each designer will have a free demo or pattern, show you a new technique and tell you a little bit about themselves. There will be some type of prize for those who visit the "blog of the day" and make a comment.
But that is not all — If you are really dedicated and visit each and every blog and post your comment, you will be entered in a drawing to win a phenomenal grand prize!
Stay tuned for more info on Friday and then the blog hop will start on Monday at Gudrun's blog. The link to all of the blogs is  listed below.
Please please tell your friends….blog about it….Tweet about it….anything to spread the word.
Here is the lineup of fabulous designers, all from Lake Woebegone country. (That's somewhere in Minnesota for those of you who don't tune into Prairie Home Companion…)
June 22

.
Gudrun from GE Designs
June 23

.
Heather from Anka's Treasures
June 24

.
Celine from Perkins Dry Goods
June 25

.
Roseann from Rosebuds Cottage
June 26

.
Sherri from This 'N' That
June 29

.
Kari from New Leaf Stitches
June 30

.
Terry from Atkinson Designs
July 1

.
Shelly from Cedar Canyon Textiles
July 2

.
Jamie from Scrap-bags
July 3

.
Mary from Quilted Treasures
See you on Friday…