During my recent visit to Chapala, I had the chance to have a "girls day out" with my dear friend Victoria, and a delightful young lady named Claudia. We left the men on their own and headed into Guadalajara. First stop, Tlaquepaque for the artisan district. It's chock full of galleries and shops packed to the gills with pottery, glass, furniture, antiques, and textiles made by artisans all over Mexico.
We wandered through all manner of galleries and shops, immersed in color and texture. In places like this you can get to sensory overload in a pretty big hurry, but we took our time and really enjoyed a leisurely walk up and down the plaza. And then I found the textile place…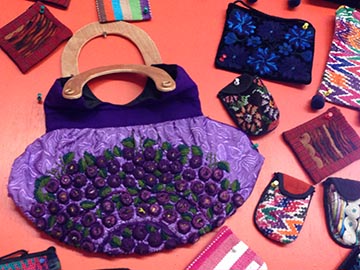 We walked into this amazing store and I knew I was in dangerous territory. Quilts, runners, tapestries and table cloths lined the walls, and the tables and shelves were stacked high with all manner of textile treats.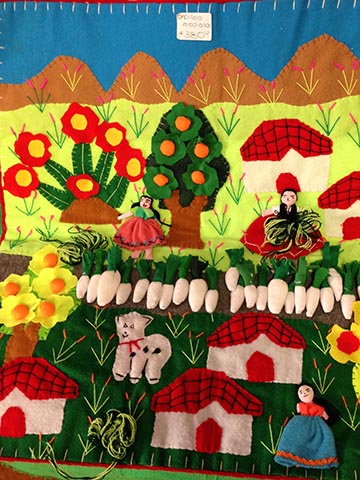 The variety was amazing! Everything from fantastic 3D pillow covers to purses, wallets and totes.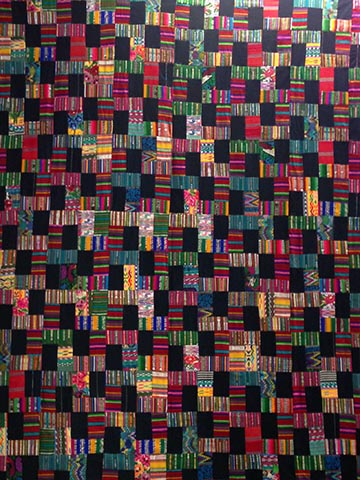 The quilts were simply beautiful. The designs were simple, but the incredible variety of local woven stripes made them incredibly vibrant.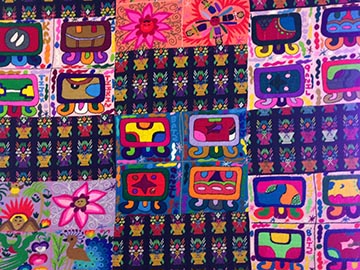 One quilt was made of a fascinating combination of woven panels and bold prints with ethnic designs. I didn't have time to inquire about the origins of the designs, but I was incredibly thankful that they allowed me to take photos to share with you.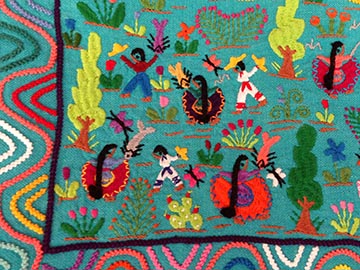 While it's easy to find machine embroidered pillow covers and runners at any local market, this shop was filled with hand embroidered pillow covers, table cloths and textiles large enough to make sizable wall hangings, even bedspreads. When you look at these closely, the detail is amazing. I can't even imagine how many hours go into some of these pieces!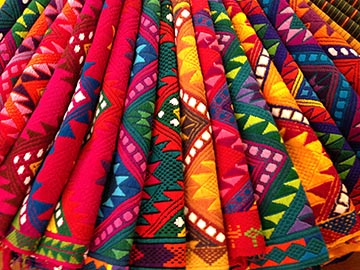 Needless to say, I was not leaving this store without something to take home with me. When I found this display of woven runners, I was hooked. The problem was deciding which color variation to choose. With everything from fuchsia to lime green to blue and purple; I finally settled on one with a really rich teal green background. It's so yummy I just may use it as the color scheme for my new living room!
After browsing through the shops, Claudia took us to one of her favorite restaurants and ordered up a traditional dish for us to share, then whisked us off to a spa for some end-of-day pampering. What more could we possibly ask for?
The next time you're on a vacation, take some time to search out the local textiles. It's a treat for your eyes and your creative soul – and completely calorie free. Not to mention its a great way to support the local artists.
Have you got any good textile-hunting stories? Leave a note here on the blog or over on our Facebook page. I'd love to hear from you!