Sheli Ricci, of Apple Valley, MN, is one of the most fun and energetic people I know. She always has a smile on her face and a song in her heart — when she's not singing out loud, that is! I had the good fortune of meeting Shelli several years ago, and I'm just thrilled to see her quilts evolve into amazing works of art.
As soon as I arrived at the Minnesota Quilt Show several weeks ago, at least 4 different people told me that I absolutely had to go see Shelli's painted quilts. One person even took me directly to the quilts so I wouldn't have to hunt them down! As we walked through the hall, I thought "Wow! This must be something special." Oh my goodness — "special" doesn't do her quilts justice!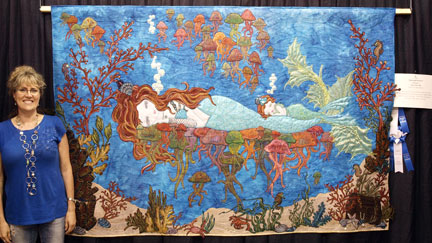 Check out this amazing mermaid! I apologize that this isn't the best photo of the full quilt — I wasn't carrying a tripod.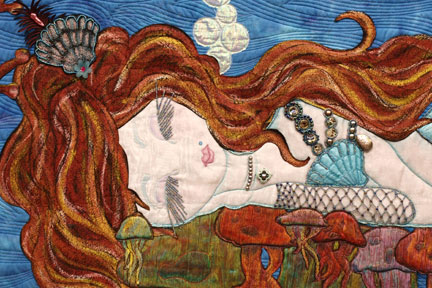 As I stuck my nose into the quilt to enjoy the details, I realized that Shelli had used Paintstik colors almost everywhere on this quilt! The mermaid's hair, the coral, the scales on the body — even the jellyfish were colored with Paintstiks. Holy buckets! This was an amazing treat for me to see. (And believe me, everyone else looking at this gem was equally inspired.)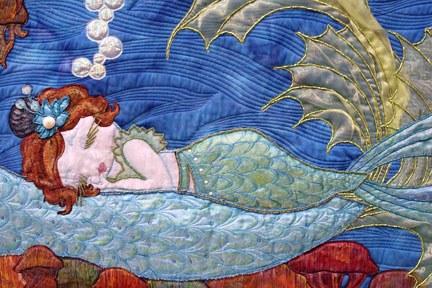 I love the baby mermaid sleeping on her mother's tail. Sweet dreams, indeed!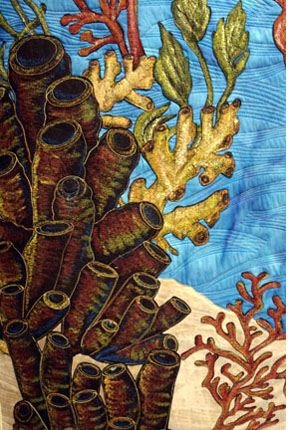 I was totally intrigued by the coral and the jellyfish. The coral (and other various critters) were painted on some type of heavy black fabric. It looked like felt, but firmer. I made a note to contact Shelli to find out more.
And the jellyfish? What a perfect bed for a mermaid — and another mystery for me to solve. How did she do this???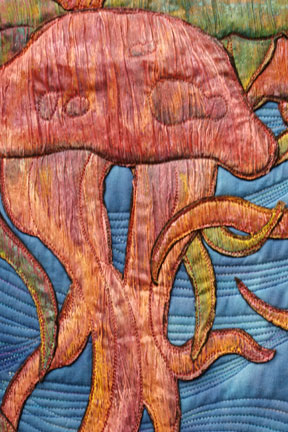 The details in this piece are amazing, right down to the little sea critters. I love this little guy. I'm not sure if he is a lobster or a shrimp, but he fits beautifully into the scene.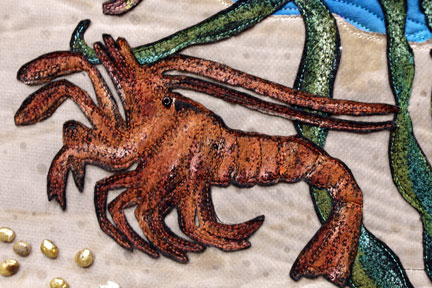 I had the good fortune to run into Shelli just as I was getting ready to head home from the show. She had been teaching at an art camp for kids all week, but dashed down to Rochester to see the show.
After a big hug and another round of photos, I twisted Shelli's arm to reveal her secrets about the materials in her quilt. Shelli created the coral, mermaid hair, and seaweed from black Peltex heavy duty stabilizer, and she used crinkled organza for those amazing jellyfish. After attaching the shapes to the quilt, she added the color with Artist's Paintstiks. How cool is that?
Better yet, Shelli agreed to put together a quick tutorial to teach us how to create our own design elements with the black Peltex. I can't give you a firm date on that, but rest assured, you haven't seen the last of this mermaid! (And I'll be shopping for some black Peltex… what about you?)
After spending a lot of time viewing Shelly's Mermaid Dreams quilt, I started down the aisle to view the other quilts. What did I find? Yet another award-winning painted quilt by Shelli Ricci!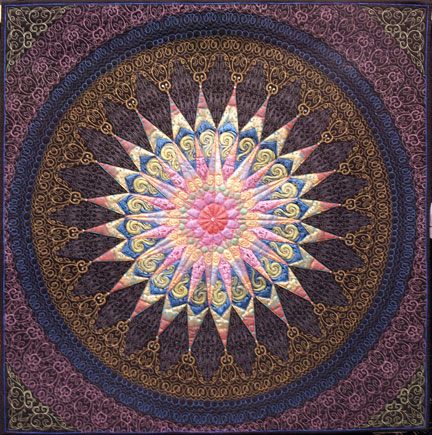 Shelly created this quilt top using Laura Murray's StarBuilder technique and stamps, then turned it over to her quilter and collaborator Page Johnson. Page is a very talented long-arm quilter who clearly knows how to take advantage of the features of her Statler Stitcher. Between them, Shelli and Page produced an amazing quilt that combines the best of hand-painted fabric and modern technology.
By the way, Page also collaborated with Shelli to produce Mermaid Dreams. I see a great future for this pair of artists!
Learn With Laura Murray At Long Beach
She doesn't do mermaids, but Laura Murray is the master of making incredible stars and stunning painted blocks from deceptively simple techniques. If you would like to to make your own painted quilt, Laura will be teaching two classes at the Long Beach Quilt Festival at the end of July. Here are the details: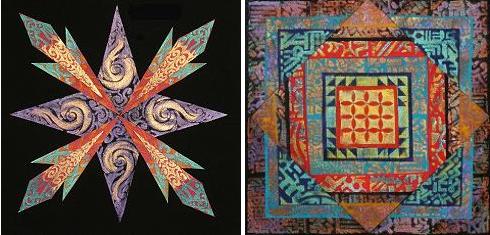 Star-O-Rama
Create no-sew sensational designs with paintstiks, StarBuilder stamps and fusible web. Learn a breakthrough method which puts amazing images within the reach of everyday quilters and sewers. Students will enjoy the use of instructor's paints and stamps while learning simple techniques that bring the WOW factor to stars, flowers, borders and other decorative images for use in quilts, garments, and home dec projects.
Painted Block
Using paintstiks, stamps, and fusible web, learn Laura Murray's "Stackers" technique, which uses painted, layered squares and triangles fused to create the appearance of intricate detail without the need for sewing. Students will complete the basic block during class, and get inspired by samples illustrating the technique in wallhangings, garments and home dec projects.
To register for Laura's classes, click over to the Long Beach Quilt Festival page and click on the link for the catalog and class enrollment. If you're not making the trip to California, you can check out Laura's Teaching Schedule on her site.
Attention Teachers: Are you teaching Paintstik-Related classes at a major event? Let me know. I'll do my best to let our Community Members know about your classes. Please send your information at least 30 days prior to the event so we can get your class in our newsletter schedule.
Check Out The New Samples In Our Online Store
While we are waiting for the new website and online store, I took some time to do a little "upgrade" in the Rubbing Plate aisle. I created complete set of new images that show off our rubbing plates — and they are beautiful. Finally, you get to see exactly what each rubbing plate will produce when you make a rubbing on fabric.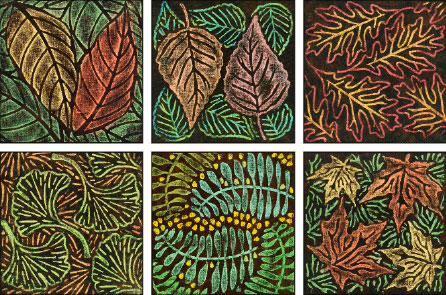 Here's a picture of the Leaves Sample. Isn't that soooo much better? I had a great time painting up all of the new samples, and I hope you find them helpful. You can see the entire batch over on the Rubbing Plates page — and choose some plates for your next project knowing exactly what you can create!