I'm delighted to introduce Alyssa, creator of the most amazing alphabet full of animals I've ever seen! As I mentioned in another post, I had the good fortune to meet Alyssa on an airplane flight. You just never know where you're going to run into exactly the right person! (I used to think I met the right people by coincident. Now I know I meet them by appointment – it's just not always obvious at the time.)
Here is some information from Alyssa's "official" biography. Click over to her site to see more of her delightful menagerie.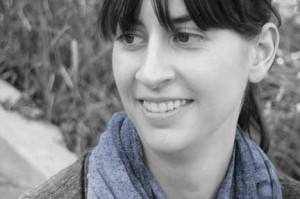 Alyssa Thomas, the founder of Penguin & Fish is an illustrator, designer, and artist. As a child, Alyssa would make everything from beaded bracelets to large papier maché masks and then barter them with her brothers at the "trading post" outside her bedroom door.
Alyssa earned a Bachelor of Fine Arts degree in graphic design from the Minneapolis College of Art & Design. She works as a product designer for the children's apparel and stationary industries and illustrated her first children's picture book, No Monster Here.
Alyssa started Penguin & Fish in 2004 as a hobby to create lovely and quirky hand embroidery patterns, embroidery kits, sewing patterns, and artful plush. Today, Penguin & Fish's products can be found in quilting, sewing, gift and children's stores worldwide and at www.penguinandfish.com. (Be sure to check out the embroidery patterns and you'll see where she corralled her ideas for our Forest Friends collection!)
Penguin & Fish is a Minneapolis, Minnesota based company and all products are designed and manufactured in the USA. Alyssa blogs at penguinandfish.blogspot.com and tweets under the handle @penguinandfish.