I usually do my blog posts on Monday, but we're having a SALE and I want to get the news out before the weekend.
Forget March — It's Time For Matte Color Madness!
March Madness is finally over and not a moment too soon! I'm a little tired of hearing about basketball. I'd much rather be working on a quilt or painting up some fabric. It's much more fun than hearing endless discussion about who is shooting at what percentage from behind the 3-point line.
In all fairness, I have to say that the Women's championship game was fun to watch and very inspiring. I could only watch in awe of the raw talent and athleticism on the court. Basketball has sure changed in the years since I played in high school — and no, I'm not going to count how many years it has been.
Back to the topic at hand… I started working on this series about matte colors last week. I'm having a wonderful time – this is a great excuse to break out my paintstiks and actually play with each and every one of them. It's interesting to see which colors are densely opaque, which are translucent, and which fall somewhere in between.
Last weekend, I had an idea that will make this a little bit more fun for all of us. Instead of just telling you about the colors, we're going to give you an opportunity to purchase the Colors of the Week at a discounted price. And in a tip of the hat to basketball fans out there, we've got a buzzer-beating 3-point play for you. If you've ever wanted to explore the matte color line, you can do it now and save some money at the same time.
The Matte Madness Sale started Thursday and runs through May 4. Here's how it works:
Colors of the Week
Each week, the colors featured in our e-zine will be offered at a discounted price in our online store. We've set up a special section in the Online Store called Matte Madness Sale. (What else?) This way you won't have to hunt through 4 pages of matte colors to hunt down the featured colors. We're letting you pick and choose the colors you want so you don't end up duplicating colors you already own.
Colors will be added to the Matte Madness Sale each Thursday. They will be removed at noon (central time) on Wednesday the following week. Single color sale prices will be at least 15% off our regular prices. If you want to get a reminder each Thursday, Join Our Community. Your membership includes a free weekly e-zine that will keep you up to date on any special sales.
This Week's Featured Colors — Neutrals and Lights
I wrote about the Neutral Colors before I dreamed up this sale, so I'm adding them to our sale this week. Click over to the Matte Madness Sale page to add your favorites to your paintstik collection.
Tip Off Special! Order the Complete Set of Matte Colors at our BEST PRICE EVER!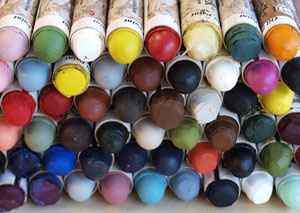 Here's a deal that won't last. It's the best price we have ever offered for the Complete Set of 55 Matte Paintstik Colors.
For one short week, we are offering this gorgeous set for just $300. The full retail price for this set is $406.05, so your total savings are a whopping $106.05, more than 25% off. Now that's some serious savings!
Click here to take advantage of this very special offer.
I just did a quick calculation. The retail prices for Matte Colors are $6.50, $9.75 and $12.95. This works out to an average price of $7.38. If you take advantage of this offer, your average cost for each paintstik is just $5.45. That's over a buck off the every day cost of the lowest priced paintstiks — and more than 55% off the highest priced sticks. Wow!
So is this really a good deal? Absolutely. We offer the Complete Set at a small discount every day on our site, but nothing that comes close to this offer. For one week only you can get the complete set for $64.95 less than our regular everyday price. And that's more than enough to cover the postage to Australia, South Africa, or Timbuktu.
It's your choice. You can pick and choose the colors you like as we go through the Matte Madness Event over the next month. Or, you can treat yourself to the complete set at our best price ever, pay only one shipping charge, and know that you have it all! Once again, here is the link to fabulous savings.
But don't think about it too long. Cinderella turns into a pumpkin on 12 Noon on Wednesday, April 13. After that, you'll have to be content with the Color of the Week discounts. (Yes, I know, that was one too many basketball analogies. With any luck, I've got them out of my system for another year!)