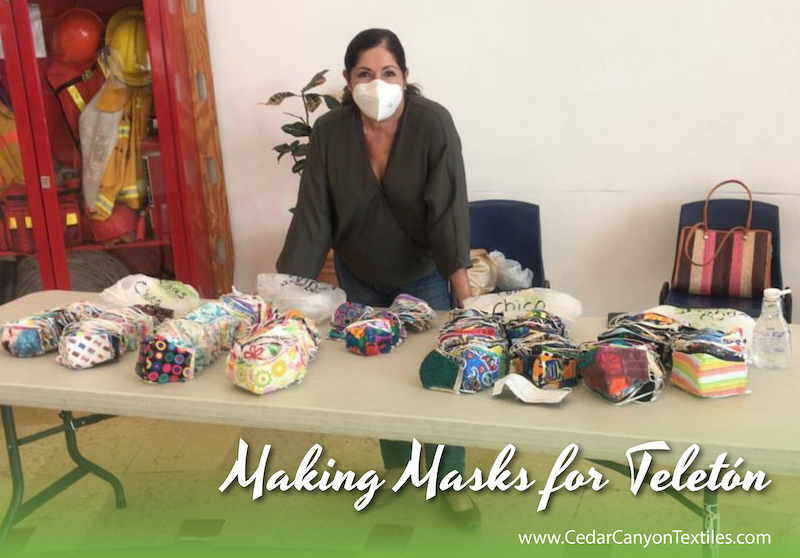 It started with a phone call. "Benjamin? It's Becca in Chapala. I have a question. Are they going to need masks for Teletón when they re-open the hospital in Guadalajara?"
Still in the midst of a mask-making project for adults, Becca thought the folks at Teletón might need 400 masks for the children in the rehab programs. A big project, but not overwhelming. Her mask-making team had already made hundreds of masks for sale in the local area and for donations to police officers and front-line workers. (You can read more here and here.)
Then came the return call.
"Becca, it's Benjamin. We definitely need masks for Teletón. There are 1900 children that come for appointments."
You need how many masks?
I'm pretty sure Becca looked like a deer in the headlights when she heard the number. I'm sure there were 500 different questions popping into her brain all at once. Where can we find fun fabric for kids masks? How will we find enough elastic? Do we have enough money for materials? Exactly who is going to make 2000 masks? And you need them when???
When she told me about the phone calls with Benjamin, I just shook my head and chuckled. I wasn't sure how she was going to pull this off, but I had absolutely no doubt that she would find a way to make it happen. Becca doesn't just talk about stuff. She makes it happen. She always finds a way.
A hand up, not a hand out
A lot of NorteAmericanos would have got a group of friends together, pooled materials, and divvied up the work to make the masks for the Teletón charity hospital. But not Becca. She and her husband Alan Pohl look at every need through a different lens. They always looks for a way to give local people a hand up, not a hand out.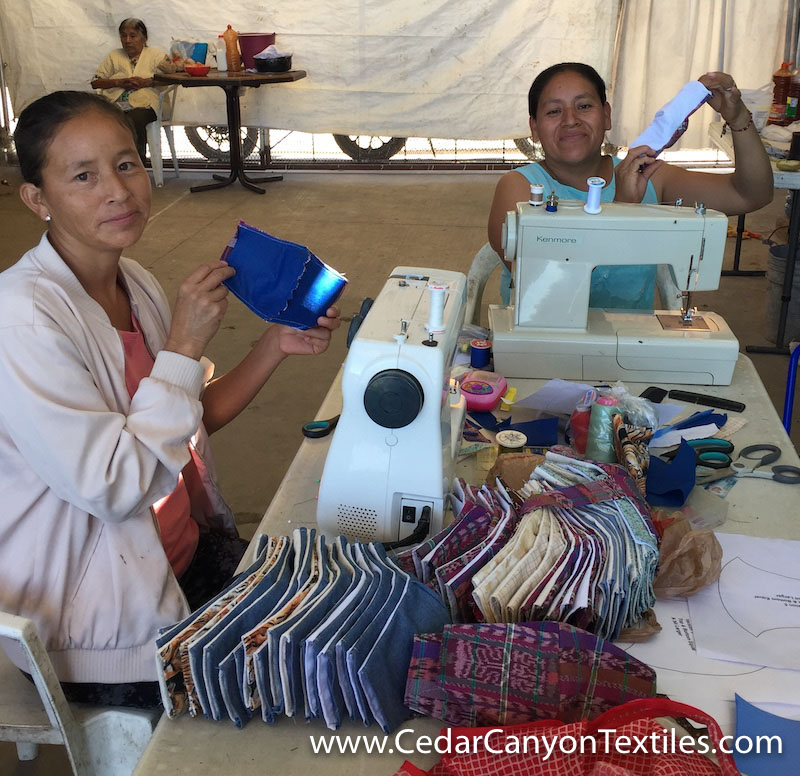 The masks for Teletón were no exception. With facemasks for adults becoming readily available at this point in the pandemic, Becca asked the women in her sewing co-op to start making masks for kids. When it was more than Nico and Sylvia in Agua Caliente could produce in a short time, she recruited Ángeles, Joana and Selena in San Luis Soyatlán. Between these five women, they made 2050 masks for the children in a matter of weeks. All I can say is Wow!
You helped make this happen!
Of course, the women sewing the masks needed to be paid. With so many folks out of work due to Covid-related shutdowns, these women needed a way to help support their families. (And by finding ways to work efficiently, they made excellent wages by local standards!)
To pay for 2050 masks, we not only needed a load of materials, we needed over $40,000 pesos to pay for the labor. (At today's exchange rates, that's about $2000 USD.) It's not a huge sum of money, but it's certainly not trivial.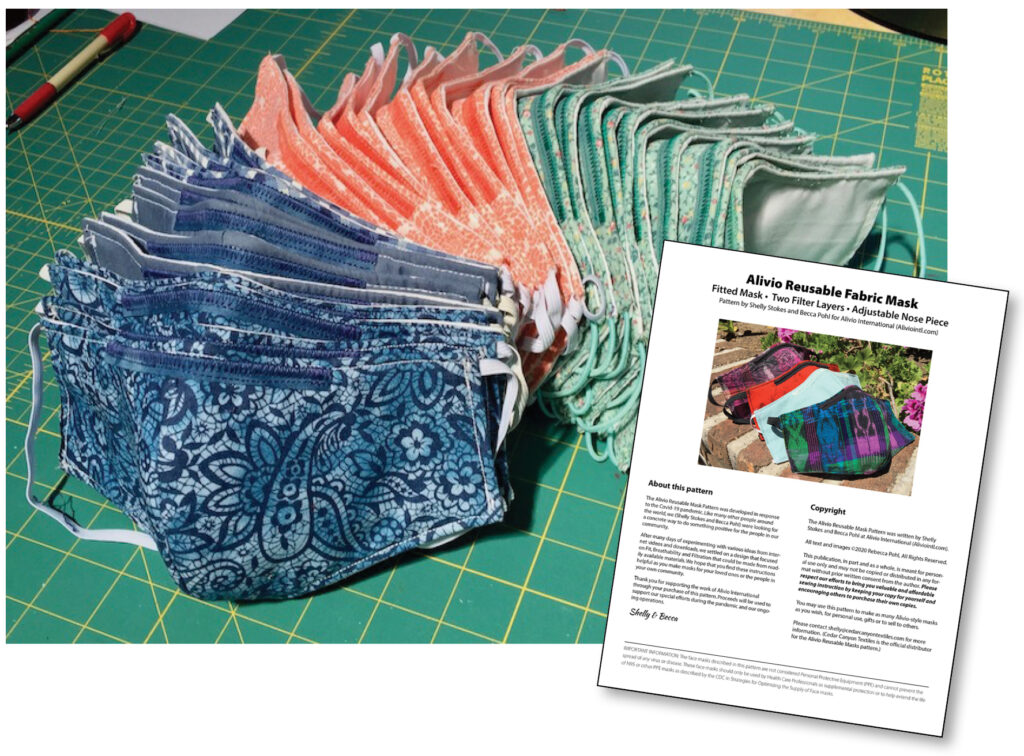 Here's where you helped out! If you purchased a copy of the Alivio Reusable Mask Pattern or bought an Alivio Mask here in Chapala, the proceeds from your purchase helped us buy materials and pay wages. Thank you, thank you, thank you! We couldn't make this happen without your support!
Masks for Teletón
So how did this adventure turn out? The proof is in the pictures!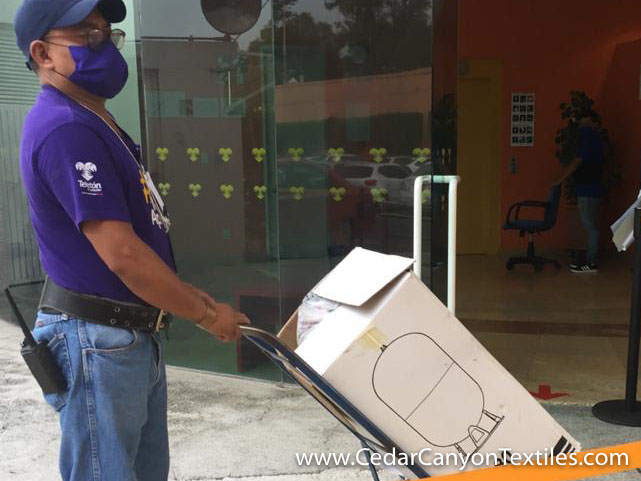 When Becca arrived in Guadalajara on delivery day, a wonderful man loaded up her very big box on a handcart.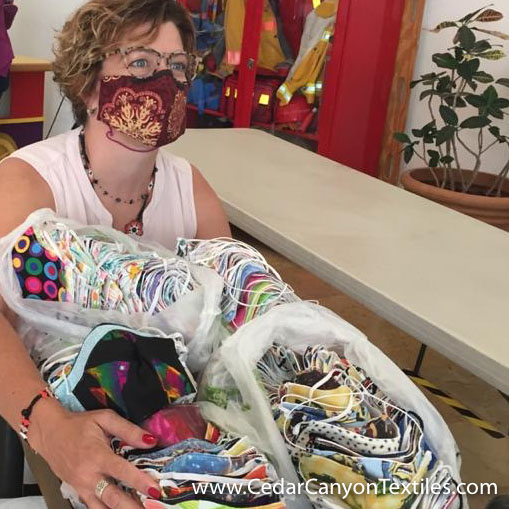 In one of the lobbies, Becca and a volunteer sorted through bags of masks in different sizes.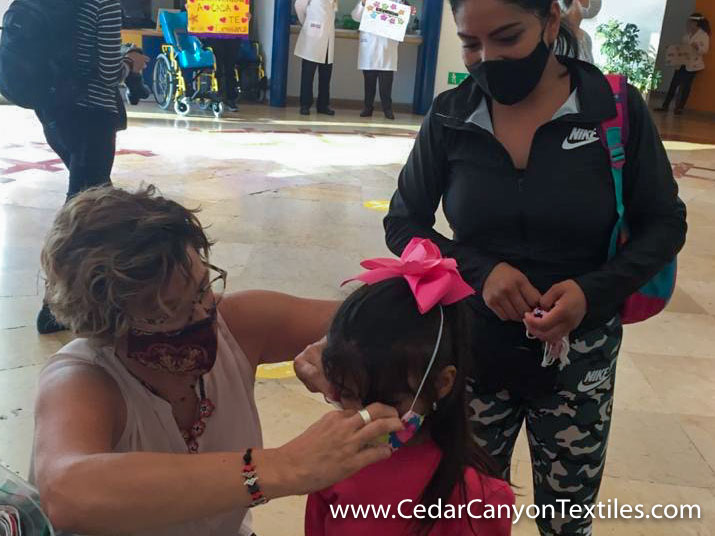 Choosing masks for the young patients was great fun. It was so nice to have masks in bright colors and fun fabrics!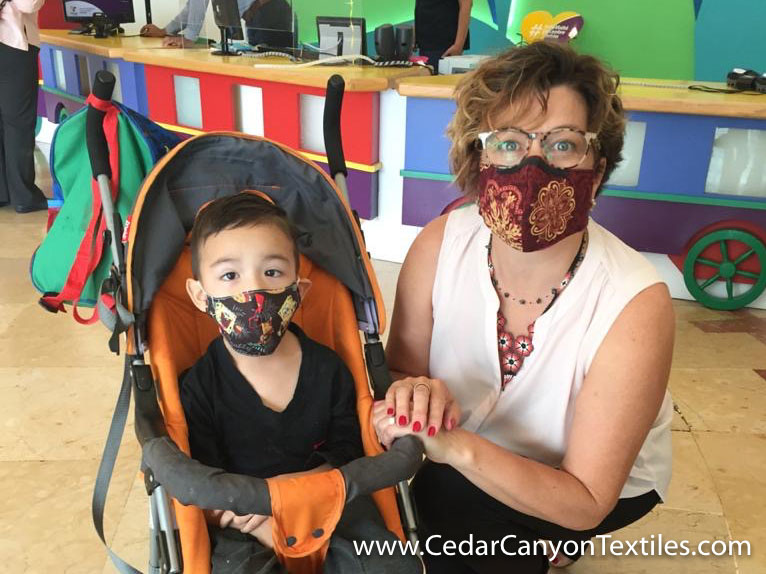 Aw, isn't he handsome in that little mask?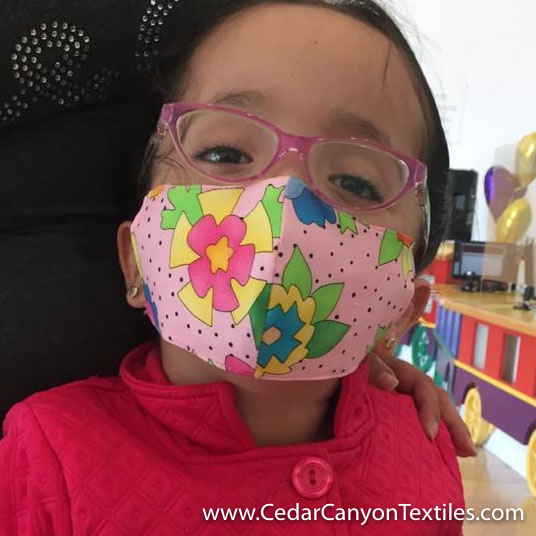 Of course, we can't see the kids' smiles through the masks, but a happy face says it all. Parents were delighted to have properly sized masks for their kids — and more than happy to get back to the routine of visits to Teletón that helps their kids adjust to their medical challenges.
Thanks again, from the bottom of our collective hearts. Your support allowed us to pull off a daunting challenge, giving a hand up along with a hand out. Becca and I thank you. The sewing co-op thanks you. The kids and their parents thank you.
How you can help
The masks for Teletón is just one example of the work that Becca and Alan do here in Chapala and the surrounding villages. If you want to support their work directly, make a donation to Alivio International at their Bridges of Hope webpage. (Note:  If you donate using the US donation link, please choose ALIVIO INTERNATIONAL in the Designation drop-down menu.  Gracias!)
If you would like a copy of the Alivio Reusable Face Mask Pattern, click over to the Online Store to purchase a copy. Proceeds from pattern sales are donated to Beccca and Alan's ongoing projects.
Thanks for reading
And if I haven't said it enough, thanks for reading. Your attention is the greatest gift you can give to a writer. I appreciate the invitation to be a small part of your creative world and hope you enjoy this little story.
To join the conversation, leave a comment below.