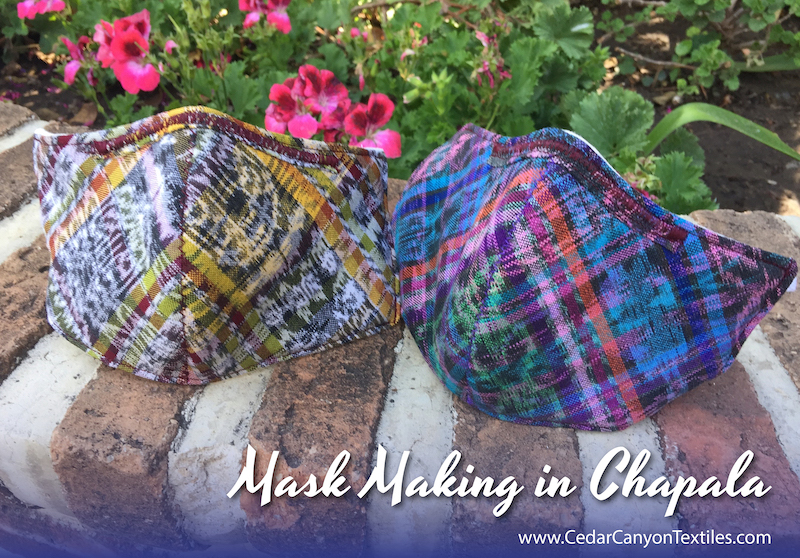 With the Coronavirus turning our world upside down right before our eyes, my friend Becca Pohl and I decided it was time to stop talking and start working. Like so many other sewists in the world, we set up a small Mask Making operation in Chapala, Jalisco. We know that good quality (washable) masks will help free up disposables for medical workers. They will also help the care-giving community if push comes to shove and the proper disposables are not available.
Using the best information we could find on the internet, we are making masks from cotton (inside and outside) and two layers of non-woven fabric for filtration. (And fun fabric, of course!)
As with any mask that is not made in a medical-grade factory, our masks are in no way perfect. But they will certainly help our friends and families keep their sneezes and coughs to themselves — and provide reasonable protection when we have to be out and about in the community.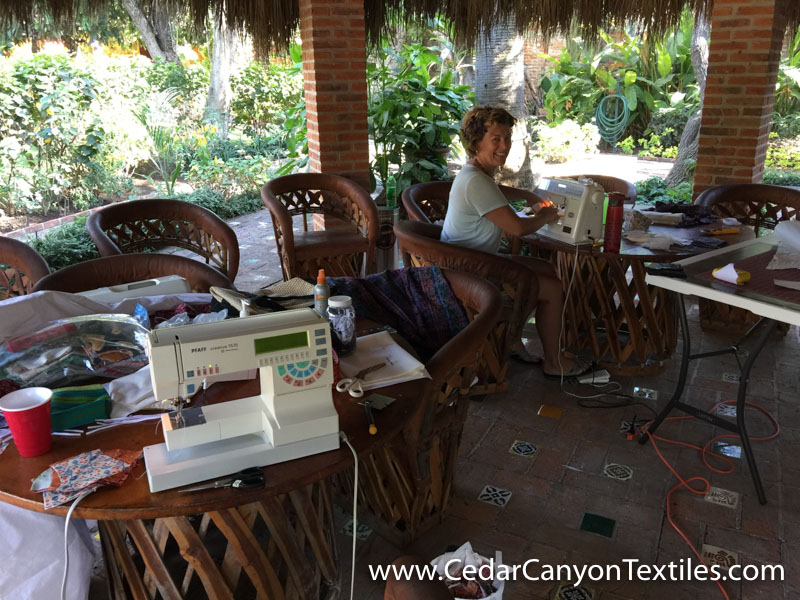 In our era of "social distancing," we needed a work space that allowed us to work together without sitting close together. Fortunately, the Palapa at my condominium has a couple of large tables and electrical power. Plus, it's outdoors and shaded. What more could we ask for?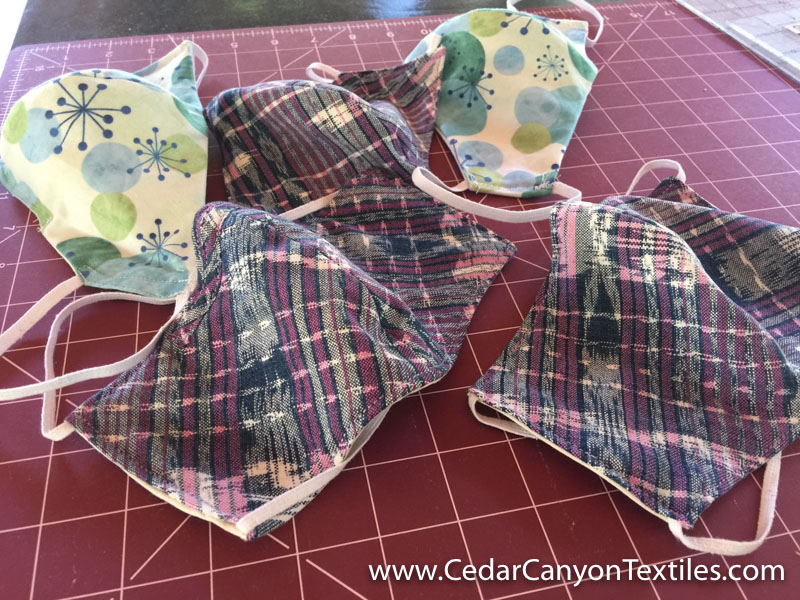 We started, like everyone else, watching videos on YouTube. Then we made modifications. As in lots of modifications…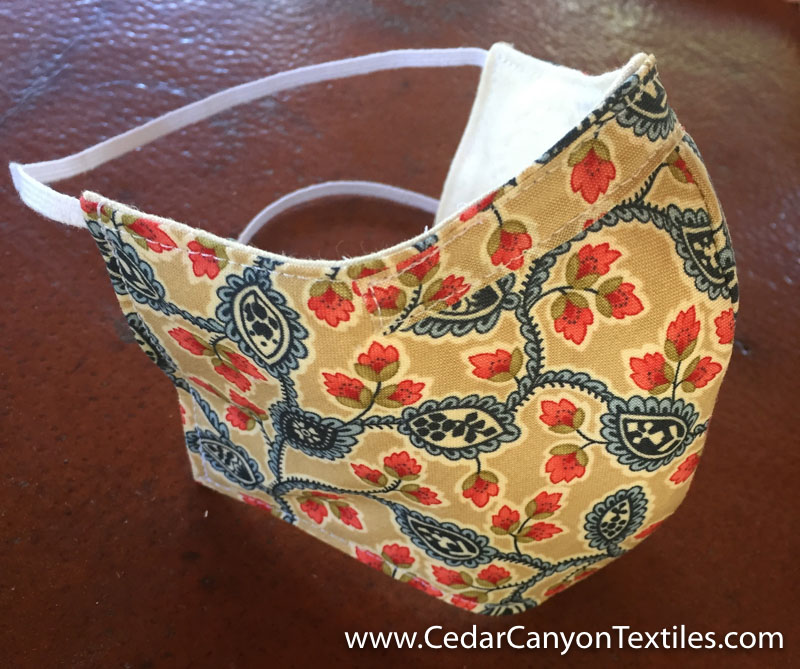 … until we arrived at a workable pattern. The nose piece has proven to be the biggest challenge. The only sources for the "real deal" I have found are factories in China. And gosh, I just don't want to order 100,000 pieces! We substituted wire wrapped in fused fabric for nose pieces. It's not elegant, but it works!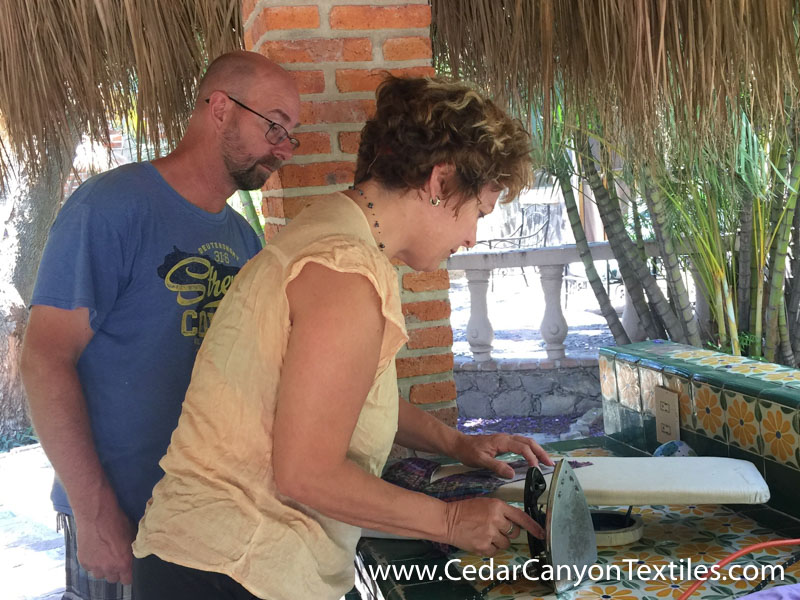 With the virus on the horizon, I'm being careful about inviting people into our condominium. But Becca and I really needed some "work together" time to get a system worked out. Becca's hubby Alan is an important part of our team, running for materials, making the wire nose pieces, and keeping us from going crazy!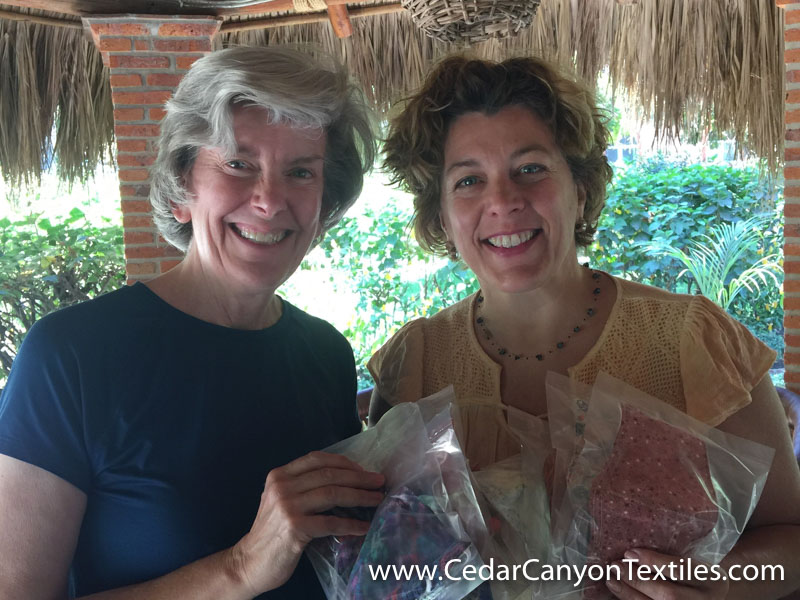 After a frantic week of testing, changing, and more testing (and more changing!), we delivered the first batch of masks on March 27. And since then? It Mask Making morning, noon and night!
Our current task to transfer a chunk of our mask making work to the ladies that sew for Becca's Bela Femenina project. That will allow us to ramp up production and serve care givers in our area as well as individuals using the masks for their own protection.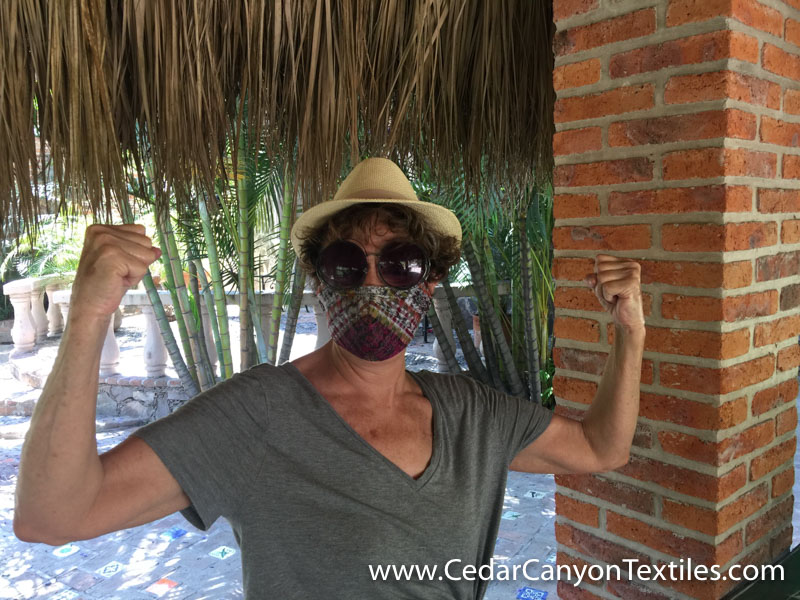 Mask making is about the last thing I expected to be doing, but it's a whole lot better than having my nose in the internet looking at the virus news from around the world.
Mask Making Materials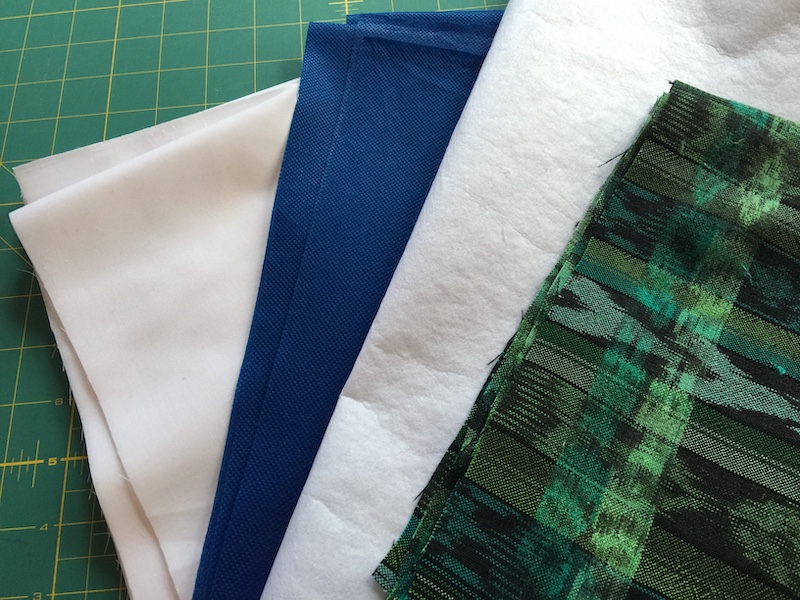 For the inside lining and the exterior of the mask, we are using breathable cotton fabric. No batiks, no high thread-count fabrics. The object is to have layers, but keep it easy to breathe through.
For the filtration layers, we are using non-woven polypropylene. We have been fortunate to find interfacing (think mid-weight Pellon) and the fabric used to make reuseable grocery bags. The manufacturing process for non-woven fabrics makes them ideal for filtration.
Elastic has been challenging to source, but we are managing to find supplies so far. (Let's just say that God takes good care of Miss Becca — and I hope that Amazon Mexico does the same!) When we're out of elastic, we are making fabric ties.
To make the nose pieces, Becca's husband is cutting lengths of wire and folding the ends over to make sure no-one gets poked. We fuse the wire inside a strip of fabric (cut on the bias), that I stitch to the masks with my industrial machine. We have yet to find the "perfect" wire. One is too thin, the other is heavier than we would like.
How you can help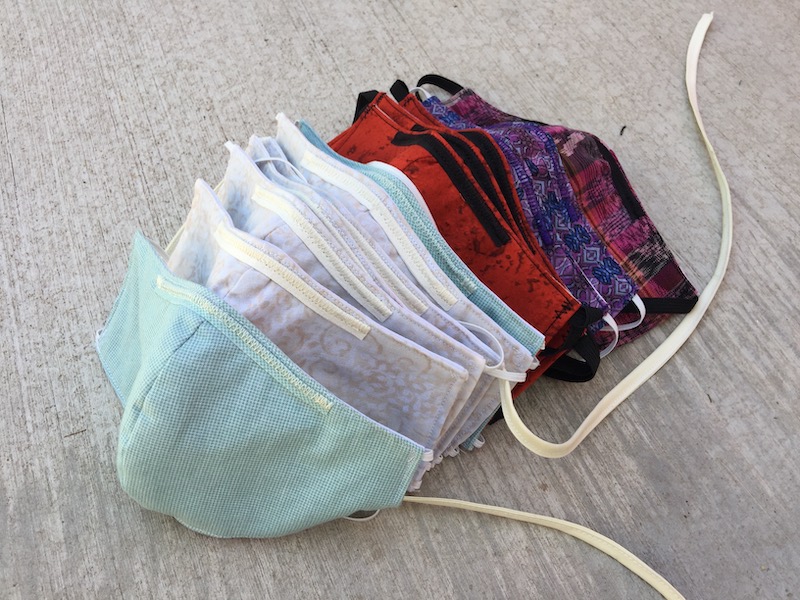 Our mask distribution is set up as a Get One, Give One project. We are asking for a 200 peso donation for each mask, which will fund at least one additional mask for someone in need. (At the moment, 200 Mexican Pesos is less than $10 USD.)
After expenses, proceeds will go to Becca's Bela Femenina project. She works with women in a Lake Chapala village to make reusable menstrual pads that are distributed to girls and women in the surrounding area.
If you want to support the mask making operation or the Bela Femenina project, you can make a donation to Alivio International at their Bridges of Hope webpage. (The webpage has not been updated to reflect our mask-making — we're too busy sewing! — but it's the best way to make donations that will support the Mask Making effort and the Bela Femenina project.)
Chapala Area Residents Only
If you live in Chapala, Jalisco or the neighboring communities, you can place an order for your mask at the BelaFemenina website. Please keep in mind that this is a local project only. We are not able to ship masks or make deliveries.
Your Turn
Got a question or comment? Chime in below!