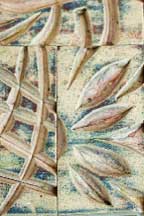 Ten or twelve years ago, I took a one-week Complex Cloth seminar with Jane Dunnewold, followed by a 2-year independent study course. (That was BP – Before Paintstiks took over my life!)
I fondly think of Jane as the 'godmother' of art cloth. She is an amazing artist and one of the best teachers I've ever had the privilege to study with. (If you want to pursue some serious fabric art education, you can learn more at Art Cloth Studios.)
When I look back, I really wasn't ready to think about my fabric as 'art' when I was in class. Or perhaps I'm just not wired to be a 'serious' artist. Whatever the case, my time with Jane was well spent. I learned dozens of ways to add images to fabric, had a wonderful time, and created some pretty cool pieces of fabric. Best of all, I became totally addicted to the process of adding images to fabric.
Of all the techniques I learned from Jane, my favorite is still carving out stamps from various materials. There's something very relaxing about sitting down with a blank piece of stamping material and some carving tools and creating an image that is unique to me. For me, it doesn't have to be art – it just has to be fun. If I enjoy the process and I can use the tool I create to add images to fabric, I'm a happy camper. Can you relate to that? Good, we're on the right track.
Over the next few months, I'm going to share a series of articles about creating images with carved tools and I'm inviting you to join me in this creative journey. We're going to start by working with linoleum blocks and sheets because they are available in a huge array of sizes, they are inexpensive, and the newer version of 'lino' is much easier to work with than what was available when I was in school.
Why carve your own images? Well, why not? You are a talented and creative person and I know you can do this. (Really, it's not rocket science!) But here's the best part. When you (yes, you!) carve your own tool, it's yours. You imagine it, you create it, and you get the reward of transferring an idea out of your brain, into a tool, and onto your fabric or paper.
Before we start, I want to share a few pictures of tools I created over the years. Some I fell in love with, others not so much. But all were successful. I can Make a Mark on fabric (or paper) with each and every one of them.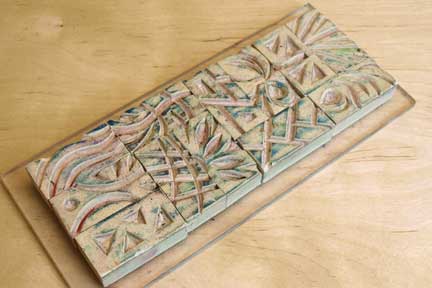 One of the stamps that came out of Jane's class was a composite stamp made up of a dozen erasers. While erasers are easy to carve, they come in 1″ square and 1″ x 2″ sizes, so it's challenging to create large designs. Plus, they have to be glued to a backing plate to turn them into a useable stamp.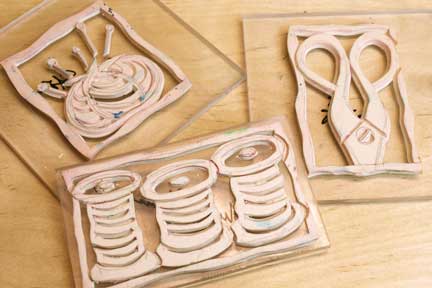 Next are 3 stamps I carved using an adhesive backed stamping material. The down side of this stuff was the thickness. I had to pile up 3 layers of the material to get it thick enough to make a useful stamp. At least I didn't have to mess with glue to stick the pieces to the backing plate. (Linoleum would definitely be a better choice for these stamps.)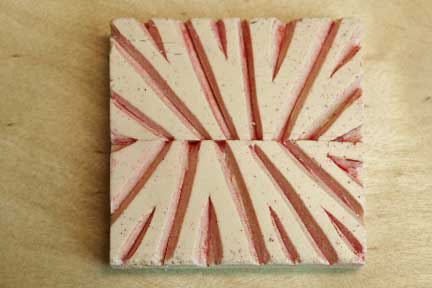 Stamp 3 is a simple 2″ x 2″ piece of soft stamping material. While I like this material for it's softness, I never found a glue for sticking it to a backing plate. The material would curl and separate from the backing. No problem for something small like this, but no fun when I worked with larger pieces.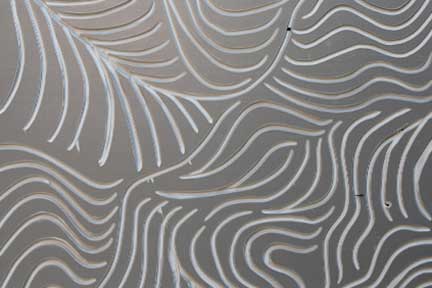 This photo shows a section of a lino sheet that I carved on Sunday evening. I was practicing making curved lines with a small u-shaped tool. I didn't test it out (it was past my bedtime when I finished), but I'm very satisfied with the result of this practice piece. By the time I finished working on a 6″ x 6″ piece of unmounted lino, I had a pretty good feel for making curved lines without making too much of a mess.
But, I'm getting ahead of myself… Next week, I'll start at the beginning as we create carved tools with linoleum blocks. We'll have a great time exploring this process together!
————-
Do you have a favorite method for carving stamps? What's your favorite stamping material? Here's your chance to join the conversation. You can post your comments below and show off your favorite hand-carved stamp over at the Share Your Project page. Simply upload a photo and share information about your stamp and how you made it – it's easy!