I'm the first to admit that I'm not a natural-born artist. Just like you, I have to start at the beginning, learn the basic skills, and practice. Heavy on the practice. Sound familiar? Good – I'm glad to know it's not just me.
Linoleum carving is no different. A little practice goes a long, long way to creating stamps and rubbing plates that you're happy with. Fortunately, today's linoleum sheets and blocks are much, much easier to cut than the stuff we used back in the 8th grade.
To get started, I drew some very basic shapes on a 4 x 6 lino sheet. I put the sheet on a Grip-n-Grip mat to keep it in place, then chose the #6 blade from my lino cutter set. I suggest you test the various blades in the set to see which you like best.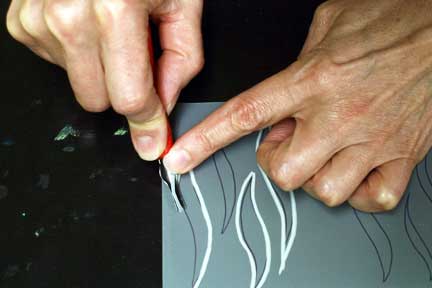 The first step is to create the outlines around the shapes. For me, it works best if I 1) don't press to hard, 2) keep the flat part of the blade parallel to the linoleum, and 3) use the index finger on my non-cutting hand as a 'brake' while I'm cutting. Perhaps most important, I get much better cuts when I relax and work slowly. Impatience is dangerous around sharp objects!
Speaking of sharp objects, community member Joan Riley suggests a Kevlar cut-proof glove for your non-cutting hand. (Joan had a mishap with a cutter and speaks from experience, so I think we should all listen!)
The next decision is whether to cut away the background (leave the shapes raised) or to cut away the shapes (leave the background raised. Obviously, you'll get opposite images when you print with the two shapes. I suggest that you don't think about it too hard for your practice pieces. The point here is to get the feel for the carving, not to create a masterpiece.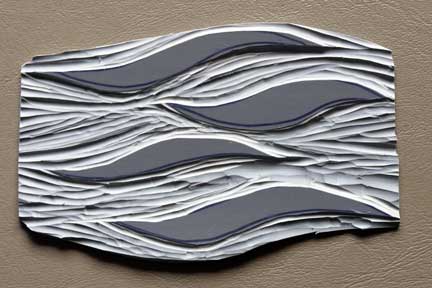 I cut my 4 x 6 stamp into two pieces. On the first half, I cut the background away.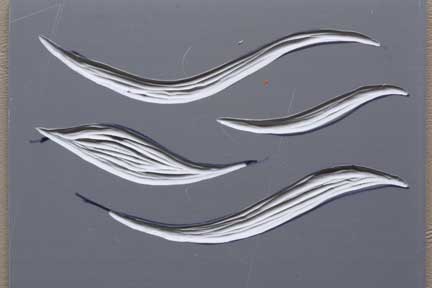 On the second half, I carved out the shapes. Both will be useful when we start making printed images.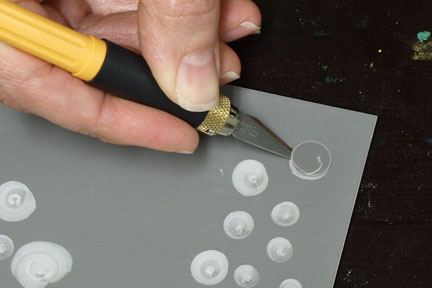 While I was playing around, I wanted to try my hand a cutting out small circles. My friend Deb loves 'all things dots' and she has me thinking about dots whenever I'm dinging around in the studio.
To make recessed circles, stick a sharp craft knife into the linoleum at an angle and hold the blade still. Use your free hand to spin the linoleum sheet or block around in a circle. Holding the blade at different angles will make larger or smaller recessed 'dots' in the surface. Warning: My blade almost always pokes through the back of a linoleum sheet when I do this — make sure you have something under your Grip-n-Grip mat to protect your work surface. Trust me on this one!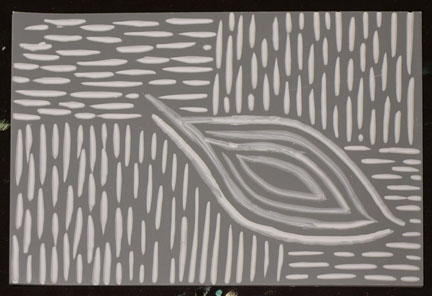 At this point, the best thing you can do is to practice. Here's a 4 x 6 sheet that I carved. I simply wanted to practice making a background based on straight lines. Is it beautiful? Not really. Did it serve it's purpose? Sure. By the time I finished, I felt much more comfortable using the cutter and I was much more relaxed. As I mentioned before, a little bit of practice goes a long way.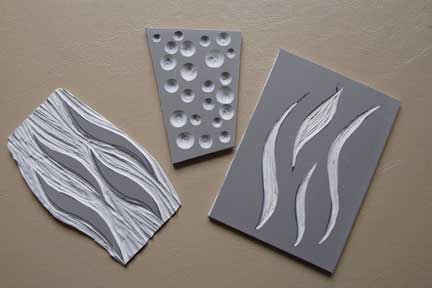 On Friday evening, I spent less than 2 hours carving up these stamps and taking pictures. At the end of the evening, I had 3 stamps, a pile of pictures to share with you, a happy heart, and a relaxed mind. And that's a fabulous way to start the weekend. Don't you agree?
If you've got some carved linoleum stamps or rubbing plates you'd like to share with us, click over to our Share Your Project page. You can upload pictures of your stamps or the projects you made with them — or both! If you're willing to share, I'll post some of your stamps in a future issue of Fabric Art Magic.