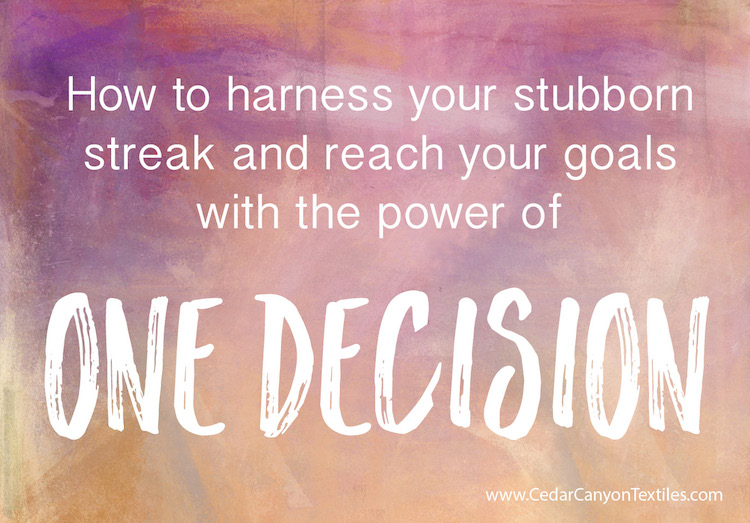 Can I ask a personal question? Do you have a stubborn streak in you? Do the people around you say "uh-oh" when you get That Look in your eyes?
If you're wondering what in the world a stubborn streak has to do with fabric art, hang in there with me. A Stubborn Streak and making One Decision are a powerful combination for making progress and achieving goals in your work, your art, and your life.
Before we talk about this One Decision thing, I have a confession to make. I have a stubborn streak that runs a mile wide. It's not a dig-my-heals-in-at-all-costs kind of a stubborn streak. I'm not unreasonable. I'm willing to change my mind or my plan when necessary.  But I am a determined-with-a-capital-D kind of stubborn gal.
I had no idea that this stubborn streak went back to my early childhood until my uncles were telling stories on me at a family reunion. From their telling, I was one heck of an independent little girl with no qualms about expressing my opinions – even to my not-so-amused grandfather.
My husband simply smiled and told my uncles that "not much has changed in the past 50 years." Ummm, okay. He's right. Not much has changed. With that said, let's get back to today's topic.
One Decision
When you want to learn, do, or create something, you only need to make One Decision. That's right. One Decision.
I want to design my own fabric.

I want to learn to use my Silhouette machine.

I want to write a book.
Why One Decision? Because committing to one long-term decision is a heck of a lot easier than committing to a series of smaller steps. Now I'm not much for using sports stories, but I love the message from Christopher Sommer, the former men's gymnastics national coach. (From the Tim Ferris blog post here via Pocket.)
"If the commitment is to a long-term goal and not to a series of smaller intermediate goals, then only one decision needs to be made and adhered to. [It is] much easier than having to make small decision after small decision to stay the course when dealing with each step along the way. … The single decision is one of the most powerful tools in the toolbox."
I had never thought about it that way, but Sommer is right.
A Stubborn Streak
And that stubborn streak? That's what you need to get through the rough patches. Let's go back to Coach Sommer:
"Dealing with the temporary frustration of not making progress is an integral part of the path towards excellence. In fact, it is essential and something that every single elite athlete had had to learn to deal with. If the pursuit of excellence was easy, everyone would do it.
In fact, this impatience in dealing with frustration is the primary reason that most people fail to achieve their goals. Unreasonable expectations time-wise result in unnecessary frustration and a perceived feeling of failure.
The secret is to show up, do the work, and go home. A blue collar work ethic married to [a stubborn streak]. It is literally that simple."
When I read Coach Sommer's message, I thought, "Wow. This isn't just for athletes – this is for ALL of us!" Whether you are a quilter, painter, or a designer, it all goes back to "chop wood, carry water." If you want to learn something, if you want to become very skilled at that thing, you have to keep working, keep practicing, and not give up because it doesn't come quickly.
One Decision + Stubborn Streak = Magic
When we put these two things together – the One Decision and the Stubborn Streak – that's where the magic happens. That's when we learn to enjoy the journey as well as the excitement of creating something beautiful.
Coach Sommer put it this way:
"Accept that long-term results require long-term focus. No emotion. No drama. No beating yourself up over small bumps in the road. Learn to enjoy and appreciate the process. This is especially important because you are going to spend far more time on the actual journey than with those all too brief moments of triumph at the end.
Certainly celebrate the moments of triumph when they occur. More importantly, learn from defeats when they happen. In fact, if you are are not encountering defeat on a fairly regular basis, you are not trying hard enough. … Throw out the timeline. It will take what time it takes."
For me, this is where the message hit home. It's the process. It's one step at a time. It's learning to trust – and to keep going – when it feels like nothing is working. This is where having a bit of a stubborn streak can be a Very Good Thing!

And the bit about throwing out the timeline? Priceless! It will, indeed, take whatever time it takes.
Join us for Design Magic
Is designing your own fabric on your list? This is the perfect time to make One Decision to make it happen. Join us for the next session of Design Magic. Click the button to learn more now.
Your Turn
Does your "stubborn streak" help you through the tough times with your projects and your art? Leave your story below. I'd like to think I'm not the only stubborn one out there…